Introduction
I have been reading the latest articles regarding Galena Biopharma (NASDAQ:GALE) carefully. I liked the interview of Regarded Solutions and the valuation model of Brian Nichols here on Seeking Alpha and I really think the company has enormous potential going forward. I even think it will be acquired at the end of next year.
Galena Pharmaceuticals represents a lucrative opportunity for investors to profit from a game-changing product.
Great news
The company announced yesterday some very positive news. The European Patent Office notified Galena of an intention to grant a Pharmaceutical Use Patent for NeuVax" (nelipepimut-S). The patent covers the use of NeuVax as a vaccine for the prevention of relapse in breast cancer patients with an immunochemistry (NYSE:IHC) rating of 1+ or 2+ for HER2/neu protein expression and a fluorescence in situ hybridization (FISH) rating of less than 2.0 for HER2/neu gene expression. The patent protection is afforded in all of the European countries and will expire in April 2028.
"This patent expands our intellectual property protection for NeuVax in Europe, and further validates our novel, cancer immunotherapy approach to preventing the recurrence of breast cancer in women who otherwise have no treatment options," said Mark J. Ahn, Ph.D., President and CEO. "NeuVax is the only drug currently in Phase 3 development for patients with early-stage, node-positive breast cancer with low-to-intermediate HER2 expression status."
Main driver
The company's main driver NeuVax, which is in late-stage development for preventing recurrence in women with breast cancer that has infiltrated the lymph nodes and has low or intermediate HER2 expression, could be the holy grail for both investors and the company.
As mentioned in my previous article about Galena, big pharma is paying close attention. Companies like Novartis (NYSE:NVS), Pfizer (NYSE:PFE) and Roche (OTCQX:RHHBY) are making deals with potentially very large payoffs to acquire these technologies, hoping to help offset patent and revenue losses.
Galena is a potential buyout candidate going forward. Between $2 and $2.15, investors have a chance to buy a company that could be valued at $4-$5. As the NeuVax and FBP trials progress and interim data are presented, the stock price could get a boost. No one wants to miss the boat if Galena's therapy proves itself to be safe, effective and marketable.
Milestones
These dates investors have to keep in mind going forward.
4Q13 - Commercial launch of Abstral
4Q13 - Initial results from Phase I/II for FBP vaccine
Year-end-2013 - Completion of enrollment in NeuVax Phase III PRESENT trial
1H14 - Interim analysis (70 events) for NeuVax Phase III PRESENT trial
Biotech
The biotech sector had enjoyed flourishing merger and acquisition activity over the last couple of years, a trend that is likely to be continued. Also expected is a significant pick-up in licensing activities and collaborations.
According to the IMS Institute, the branded medicine market is expected to rise from $596 billion in 2011 to some $645 billion by 2016. The introduction of medicines and procedures targeting unmet needs and soaring patient access from Obamacare will also boost industry growth.
The golden age for biotech will be beneficial for Galena's product NeuVax for HER2-positive breast cancers.
Galena's current product pipeline
Below you will find the company's current product pipeline.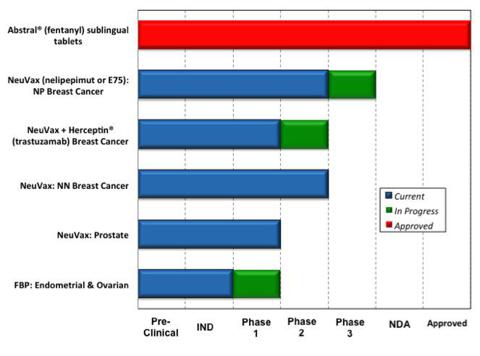 Click to enlarge
Source: company's website company's website
The company website gives a good description of Galena's two main products (excluding Abstral):
NeuVax™ (nelipepimut-S)
NeuVax consists of the E75 peptide derived from Human Epidermal growth factor Receptor 2 (HER2) combined with the immune adjuvant granulocyte macrophage colony stimulating factor (GM-CSF). Treatment with NeuVax stimulates cytotoxic (CD8+) T cells in a highly specific manner to target cancer cells expressing any level of HER2. NeuVax is given as an intradermal injection once a month for six months, followed by a booster injection once every six months to keep the body's immune response against HER2 strong. Based on a successful Phase II trial, which achieved its primary endpoint of disease-free survival, the Food and Drug Administration (FDA) granted NeuVax a Special Protocol Assessment (NYSE:SPA) for a Phase III clinical trial in adjuvant therapy of women with low-to-intermediate HER2 expression breast cancer.
According to the National Cancer Institute, over 230,000 women in the U.S. are diagnosed with breast cancer annually. Of these women, about 75% test positive for HER2 (IHC 1+, 2+ or 3+). Only 25% of all breast cancer patients, those with HER2 3+ disease, are eligible for the standard of care Herceptin® (trastuzumab; Roche-Genentech) which had revenues of over $5 billion in 2010. NeuVax targets the remaining 50% of low-to-intermediate (also known as HER2-Negative, not eligible for Herceptin) HER2 expression breast cancer patients who achieve remission with current standard of care, but have no available HER2 targeted adjuvant treatment options to maintain their disease-free status.
Folate Binding Protein-E39
Folate Binding Protein-E39 is a targeted vaccine aimed at preventing the recurrence of ovarian, endometrial and breast cancers. The FBP vaccine consists of the E39 peptide derived from the folate binding protein combined with the immune adjuvant granulocyte macrophage colony stimulatingfactor (GM-CSF). FBP is over-expressed (20-80 fold) in more than 90% of ovarian and endometrial cancers, as well as 20-50% of breast, lung, colorectal and renal cell carcinomas. FBP has very limited tissue distribution and expression in non-malignant tissue, making it an ideal immunotherapy target, theoretically with very little chance of autoimmune response.
Ovarian cancer occurs in over 22,000 patients per year in the U.S. and is the most lethal gynecologic cancer. Despite the fact that the incidence of ovarian cancer is only approximately 20% of that of breast cancer, the number of patients dying from ovarian cancer is nearly 50% of the number due to breast cancer deaths. This is due to the lack of specific symptoms for ovarian cancer, the majority of ovarian cancer patients are diagnosed at later stages of the disease, making treatment more difficult with a poor prognosis. These patients are routinely surgically debulked (tumor is partially surgically removed) to minimal residual disease, and then treated with platinum- and/or taxane-based chemotherapy. While most patients respond to this treatment regime and become clinically free of disease, the majority of these patients will relapse, and once the disease recurs, the treatment options and successes drop dramatically.
Endometrial cancer is the most common gynecologic cancer and occurs in over 46,000 women, with over 8,000 deaths, in the US annually. There are two basic types of endometrial cancer: endometriod and papillary serous. The latter has a much more aggressive clinical course and the majority of these patients will die of this form of the disease. If FBP clinicals begin yielding positive interim results, the therapy could take some of the spotlight off NeuVax but would give shareholders the benefit of yet another promising therapy and minimize the downside risk with diversification. With another possible candidate with catalysts coming soon, Galena will not be considered a "one trick pony" like many development-phase companies, increasing its investment potential and perhaps garnering a bit of larger pharmaceutical interest as events unfold.
Partnerships
The pact with Teva Pharmaceuticals (NASDAQ:TEVA) to commercialize the biotech's lead product, NeuVax, in Israel will tackle regulatory submission and support local development of the product.
Also the partner deal with U.K.'s Leica Biosystems is a promising one. Leica will support the development of a companion diagnostic to measure the presence of HER2 to select which patients should be treated with Galena's NeuVax. Taking a bit of guesswork out of candidate selection and providing regulatory agencies with a more objective means of patient selection should help Galena progress through the regulatory process if Phase III data are worthy of a new drug application (NDA).
Conclusion
Galena has a very high degree of confidence that NeuVax is targeting the right disease and the right patient population to give the drug the best chance of success in their PRESENT trial. Acquiring cheap shares is still possible, so let's jump on the bandwagon.
Disclosure: I am long GALE. I wrote this article myself, and it expresses my own opinions. I am not receiving compensation for it (other than from Seeking Alpha). I have no business relationship with any company whose stock is mentioned in this article.
Additional disclosure: Dutch Trader is managing partner of RJT Capital, a Dutch-based investment fund. RJT Capital is long Galena Biopharma (GALE). For our current holdings check: iextraders.nl/Portfolio/1139129/RJT.aspx