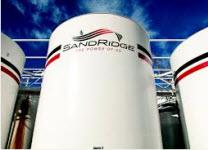 Executive Summary
It is time to buy SandRidge (NYSE:SD) according to activist Leon Cooperman and I agree with him. Cooperman gave his top ten picks at the recent Delivering Alpha conference. Last year all ten of his picks were big winners. Cooperman put SandRidge in his "Phoenix Rising from Ashes" category. He stated the market is undervaluing the company's proven assets. He thinks the company is worth $10 a share and I do as well. In the following sections I will lay out my bullish case for the stock.
Areas for Improvement Leading to EPS Gains
The company has a valuable set of proven assets. Nonetheless, former management wasn't doing the best job of putting those assets to work. Improvements in these areas will vastly increase EPS which should drive the stock price higher.
Management Effectiveness

Click to enlarge
Management effectiveness was sorely lacking and the negative ROI, ROE and ROA results prove that out. Luckily, one of the big changes was at the top with the dismissal of CEO Tom Ward. The new CEO has a financial background which is perfect for cutting costs and streamlining the organization.
Profitability

Click to enlarge
The company is struggling with profitability. SandRidge is behind the curve on both a gross and net profit basis compared to its peers and the industry average. The positive takeaway is the large spread between the gross and net profit margins for the company. This is hopefully a signal there is significant room to cut costs.
Financial Strength

Click to enlarge
The company has been on a buying spree. The long term debt to equity ratio is vastly higher than SandRidge's peers or the industry average. No one questioned Ward's ability to spot a good deal, it was how and when had planned on realizing the revenues that some questioned. New management is focused on reducing long-term debt costs and realizing revenues from assets currently on the books.
Areas Doing Well
SandRidge fundamentals are not all bad. The company's valuation and growth are both flashing the company is currently undervalued.
Growth

Click to enlarge
SandRidge's five-year projected sales growth rate is vastly higher than its peers or the industry average. Hopefully with the new team in charge, management will be able to net more profits from the increased revenues. Someday maybe they could even start returning wealth to shareholders in the form of a dividend.
Valuation

Click to enlarge
SandRidge is vastly undervalued on a price to tangible book value when compared to its peers. The company is trading for 1.3 times tangible book while peers are at 2.3 and the industry average is 5.9 times tangible book. That is a huge discount. This is a major factor behind my bullish view on the stock at this level.
Price to Sales Peer Comparison

Click to enlarge
SandRidge is trading for a much lower price to sales ratio than the competition. The company trades for a price to sales ratio of less than one while Chesapeake Energy Corporation (NYSE:CHK), Halcon Resources (NYSE:HK), EOG Resources, Inc. (NYSE:EOG) and Kodiak Oil & Gas Corp. (NYSE:KOG) all trade for over one.
Macro Environment
The major point regarding the macro environment is the fact the Middle East appears to be falling apart at the seams. The weird thing is no one seems to care. I remember a time these types of news stories would move the market. Apparently they no longer matter. The problem is they don't matter until they do. If things take a turn for the worst and oil production or distribution gets affected, you will see SandRidge's stock move higher.
Downside Risk
The emerging markets could finally implode causing another credit crunch large enough to disrupt the US and global economy. This would cause demand to dry up and lower oil and gas process.
Execution risk: SandRidge's new management does not meet earnings expectations due to lagging sales or inability to get operations under control. They are going in and doing the best they can. This does not mean all the efforts will be successful.
Conclusion
SandRidge recently easily beat estimates for second quarter earnings and revenues. The average production for its Mississippi Lime wells, a key source of growth, rose 20% quarter over quarter and 88% year over year. The company raised its 2013 forecast for Mississippi output by 4% and increased its outlook for total oil and gas production by 2%. This positive development along with putting former CEO Tom Ward and his severance cost of $128 million behind the company are a darn good start. Furthermore, the stock has not moved yet. With new management focused on cutting costs and optimizing assets, I see the stock regaining past glory and moving back to the $10 range within the next twelve months.
Disclosure: I have no positions in any stocks mentioned, and no plans to initiate any positions within the next 72 hours. I wrote this article myself, and it expresses my own opinions. I am not receiving compensation for it (other than from Seeking Alpha). I have no business relationship with any company whose stock is mentioned in this article.