Cal Dive International, Inc. (NYSE:DVR) - a marine contractor - provides manned diving, light well intervention and pipe burial services to its diverse customers from the natural gas and offshore oil industry, as well as to pipeline transmission and offshore engineering firms. The company's headquarters is in Houston, Texas. It mainly operates in the Gulf of Mexico, the Middle East, Southeast Asia and Australia. DVR currently owns and operates a diversified fleet of 23 surface and saturation diving support vessels along with 3 shallow water pipe laying vessels.
Cal Dive seems to be on its way to growth, as its shares jumped as much as 12% after the announcement of the fairly positive results of its 2Q13.
Maintaining a leadership position in the worldwide diving market and increasing share of revenues from the International segment.
As per DVR's management, certain international regions, such as Latin America, the Middle East, Australia and West Africa, offer promising long-term growth opportunities. This belief stems from anticipated future increases in capital spending in these markets and the highly fragmented competition currently within these regions.
The company operates in the following four International geographical regions:
Australia
In 2012, DVR built upon this success by expanding their service offerings in this region into saturation diving services through a joint three-year charter of the DP DSV Toisa Paladin, and the placement of one of their portable saturation diving systems on a third party's vessel. During 2012, DVR also purchased two small four-point DSVs from which they provide surface diving services.
DVR believes that their potential in this market remains promising due to the significant number of large liquefied natural gas developments which are expected to materialize over the next decade.
Mexico
DVR expects to see their activities increase substantially in this market as Petroleos Mexicanos (or Pemex) replenishes its production. Since 2011 Pemex has awarded contracts to DVR. Thus far in 2013, Pemex has awarded DVR with four contracts which include a contract awarded in March, two contracts in May and a contract in August amounting to $63 million, $188 million and $40 million respectively.
The company expects that approximately 50% to 60% of the contracts awarded by Pemex are expected to be performed during 2013 excluding the $40 million contract as announced in Aug 2013. With the $40 million Pemex contract announced in August, total contracts awarded from Pemex currently stand at $290 million.
In the fourth quarter of 2012, DVR also commenced a two-year charter of their DSV Kestrel to a major contractor in Mexico for work for Pemex. In early 2013, DVR entered into an agreement with the owners of the MSV Sampson according to which they will provide vessel management services.
West Africa
The operations in this region commenced in 2012 through DVR's joint venture with Petrolog International, Ltd. DVR repositioned its MSV Texas to West Africa and were successful in securing three contracts. Under the first award DVR provided diving services as a subcontractor off another contractor's vessel. The second contract provided full utilization of the MSV Texas from the second quarter 2012 through the end of the year and into the first quarter 2013, and the third award will keep this vessel utilized through mid-2013.
Southeast Asia
According to the current and foreseeable activity levels in this region DVR is focused on restructuring its operations in Southeast Asia. During 2012, DVR sold their facility in Singapore and moved into a leased facility that is more suitably-sized.
DVR is efficiently able to secure good utilization for DLB Sea Horizon, and commenced a three-year contract in China for the provision of diving personnel and management on a third party portable saturation diving system. DVR has experienced healthy utilization for their portable saturation diving systems in this region and also expects to see an activity increase in this region over the next term.
Fiscal 2012 was the first year in DVR's history that their international revenues exceeded their domestic revenues. As per the geographic regions, the revenues for the past three fiscal years are as follows (dollars in thousands):

Revenues for 2Q13 increased by $0.7 MM to $121 MM as compared to the revenues reported in 2Q12. Though the revenues were flat for the past two fiscal years, there was a significant difference in the consolidated revenue mix. The revenues generated from the International Segment and domestic segment were approximately 65% and 35% respectively of the total consolidated revenues for 2Q13, as compared to the 2Q12 percentages of 39% internationally and 61% on the domestic end.
DVR has significant debt but is keen to reduce it with adequate measure.
DVR has a credit agreement providing for a secured senior credit account which matures on April 26, 2016, consisting of a term loan and a $125 million revolving credit facility. They also have an outstanding $86.25 million of 5.00% Convertible Senior Notes due 2017.
As of June 30, 2013, DVR's total debt consisted of convertible notes, senior secured term loan, revolving credit facility and an unsecured term loan amounting to $86.25 million, $32.7 million, $61.9 million and $20.0 million respectively. As reported in 2Q13 cash and cash equivalents were $8.5 million, for a net debt amount of $192.3 million. The net secured debt subjected to financial covenants amounted $94.6 million. The total debt as reported by DVR for six months ending June 30, 2013 is net of a debt discount on the convertible debt amounting to $20.8 million.
The projects as awarded by Pemex require a large up-front procurement for pipe and other project materials which resulted in an increase in the company's revolving credit facility during 2Q13. DVR also experienced its typical increase in seasonal working capital requirements due to the seasonal increase in its offshore activities in the Gulf of Mexico. To meet the working capital demands for Mexico, DVR entered into a $20.0 million unsecured term loan.
During 2Q13, DVR hived off its Louisiana shore-based facilities and dive equipments for $6.1 million and $3.4 million respectively. Until June 30, 2013 DVR received $7.8 million from the above mentioned sale transaction which was utilized in repaying a portion of its secured term loan. The balance $1.7 million is expected to be received by the end of 2013 and is projected to be used to pay back a portion of its secured term loan.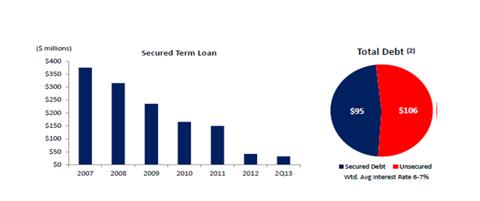 Earnings per Share
During 2Q13, the company reported strong growth of 66.66% in its earnings; it also reported significant improvement in EPS compared to 2Q12. Over the past two years the company's EPS shows a positive pattern, suggesting improving performance of the company.
Cal Dive posted EPS of $(0.06) for 2Q13 falling short of the Street's $(0.05) expectation, though EPS remained same as of 2Q12, it is much better compared to EPS of $(0.19) for 1Q13. A recent contract loss in Australia coupled with slow seasonal quarter in the Gulf of Mexico resulted in the flat operational results this quarter.
Increased backlog after being awarded with Pemex contracts
Backlog is not a reliable indicator of total annual revenues because it doesn't account for substantial portion of DVR's revenues that are derived from the spot market. The contracts included in the backlog are terminable without penalty in most cases.
As of June 30, 2013, DVR's backlog supported by written agreements or contract awards totaled approximately $400 million, which is the highest since 3Q 2008. The contract as awarded on Aug. 6, 2013 amounting to $40 million is not included in the above mentioned backlog figure. The backlog related to the International work amounts to $340 million and the balance $60 million relates to the work to be performed in the U.S. Gulf of Mexico. DVR expects that 70% of the total backlog shall be executed during the next six months of 2013.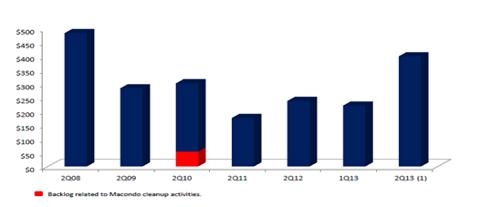 Growling Gross Profit
The company's gross profit for 2Q13 was extremely low at $2.6 million, but still it managed to show an improvement of $2.5 million versus 2Q12. The main reason behind the improvement is the cost savings initiatives taken by the company last year and also from improving margins in the international markets. Despite little improvements in gross profit margin, its net profit margin underperformed by -1.37% compared to industry average.
Conclusion
One of the fastest growing offshore services industries faces dual constraints during the lag time with significant pricing pressure as well as with idle time for vessels and diving systems. Hence, pricing is unlikely to improve much during the rest of the quarters for FY13 given that the global offshore construction market remains highly competitive. However, the company's solid performance in stock price, compelling growth in earnings per share, strong contract bookings, changes in revenue mix, execution of over 70% of backlogs and net income makes Cal Dive an attractive 'BUY' for investment.
Disclosure: I have no positions in any stocks mentioned, and no plans to initiate any positions within the next 72 hours.
Business relationship disclosure: The article has been written by an Analyst at ResearchCows, ResearchCows is not receiving compensation for it (other than from Seeking Alpha). ResearchCows has no business relationship with any company whose stock is mentioned in this article. Any analysis presented herein is illustrative in nature, limited in scope, based on an incomplete set of information, and has limitations to its accuracy. The author recommends that potential and existing investors conduct thorough investment research of their own, including detailed review of the company's SEC filings, and consult a qualified investment advisor. The information upon which this material is based was obtained from sources believed to be reliable, but has not been independently verified. Therefore, the author cannot guarantee its accuracy. Any opinions or estimates constitute the author's best judgment as of the date of publication, and are subject to change without notice.