Note: This article covers a micro-cap stock. Please be aware of the risks associated with these stocks.
India Globalization Capital Inc. (IGC), based in Bethesda, Maryland operates in the rapidly growing materials and infrastructure industry & supplies iron ore to India and China. IGC acquired Ironman, a company with operations in Inner Mongolia, and has three beneficiation plants and four mine sites with iron ore reserves totaling about $500 million based on the current pricing of $125 per ton.
Beyond the production from the three plants and four mines, we expect IGC to further increase its iron ore output in Inner Mongolia by executing 4 to 6 accretive mine acquisitions. As a baseline, each beneficiation plant is capable of producing about 80,000 to 100,000 metric tons of high-grade iron ore per year. By combining a total of seven sites with plants, IGC projects beneficiating on average over 600,000 metric tons of high-grade ore per year, which is projected to generate annual revenue of approximately $70 million, at current pricing, with net margins ranging from 20 to 30 percent.
Mining and Trading
IGC's mining, trading and quarrying activity currently centers on the sale of iron ore beneficiated at its plants in China, the sale of iron ore to customers in India and in China, and sale of rock aggregate to customers in India. India is the fourth largest producer of iron ore while China is the world's largest steel producer. The Freedonia Group projected in May 2010 that China's $1.15 trillion construction industry would grow 9.1% every year until 2014. A Reuters' poll published on the week of September 10, 2012, reports that the market consensus is for growth in 2012 to come in at 7.7 percent, with the last three months of the year picking up from 7.4 to 7.6 percent. However, China's government has also announced a one trillion yuan ($158 billion) infrastructure spending drive. This stimulus package is projected to rekindle China's demand for steel. According to the World Steel Association, China accounted for 648 million metric tons of steel production in 2010. As The Wall Street Journal reported, this production was almost half of total global output. On August 6, 2012, The Wall Street Journal stated that China produced 683 million metric tons in 2011 and is expected to produce about 679 million metric tons in 2012. China is also a net importer of iron ore from Australia, Brazil, India and other countries. According to Reuters, September 11, 2012, "China produces about 1 billion tons a year of iron ore and buys 60 percent of the steelmaking raw material traded globally."
Iron Ore Prices
Global prices for iron ore are set through negotiations between China Steel and the large suppliers Rio Tinto (NYSE:RIO), BHP Billiton (NYSE:BHP), Vale (NYSE:VALE), and occasionally Atlas Iron (OTCPK:AGODY). Once prices are set, the rest of the global markets follow that pricing. Prices for iron ore have increased about seven fold from 2003 to a high of $180 per metric ton at the end of 2010. However in fiscal 2012, iron ore prices dropped to between $95 and $125 per metric ton.
We believe that IGC is well positioned to provide some Chinese steel mills with the iron ore needed to meet their demand. IGC has relationships, and in some cases agreements, with mine owners in Orissa and Karnataka, two of the largest ore mining belts in India. In addition, IGC operates facilities at seaports on the west coast of India and to a lesser extent on the east coast of India. The facilities consist of an office and a plot of land within the port to store iron ore. IGC has the capacity to service a customer in China by buying ore from Indian mine owners, transporting it to seaports and then subcontracting stevedores to load the ships. For about two years the Indian government, pending an inquiry into illegal mining and environmental concerns, had closed the Indian mines. However, on September 3, 2012, the Economic Times announced that the Supreme Court lifted the ban on eighteen iron ore mines in Karnataka. While this decision opens up to 5 million tons of production a year, Karnataka still has not allowed exporters to ship raw material overseas. This prompted IGC to explore other countries from which to obtain a supply of low-grade iron ore, including the country of Mongolia.
In China IGC is engaged in the processing and extraction of iron ore from sand and dirt at its beneficiation plants, which converts low-grade ore to high-grade ore through a dry and wet separation process. This provides IGC with a platform in China to expand its business. IGC's goal is to ship low-grade iron ore, when available from India, to China, convert the ore to higher-grade ore and sell it to customers in China. This allows IGC to maximize capacity at the beneficiation plants. IGC's customers include local traders and steel mills near the port of Tianjin and several other steel mills in the area. This area has excellent access roads consisting of multi-lane highways. IGC's staff is experienced in delivering and managing the logistics of ore transport.
Demand for Raw Materials in India
As Indian infrastructure modernizes, the demand for raw materials like rock aggregate, iron ore and similar resources is projected to increase. In 2009, according to the Freedonia Group, India was the third largest stone aggregate market in the world. The report projected that Indian demand for crushed stone will increase to 770 million metric tons in 2013 and 1.08 billion metric tons in 2018. In 2012, the Freedonia Group announced "the global market for construction aggregates (e.g., sand, crushed stone, gravel) is expected to increase 5.2 percent annually through 2015 to 48.3 billion metric tons." IGC's share of the mining and trading market is significantly less than 1%. However, the Company has an opportunity to consolidate and grow its market share in a specific geographic area, which is its focus.
Construction: Highway and Heavy Construction
According to the global market researcher eMpulse, the size of the construction industry in India is approximately $53 billion. The Indian government has developed a plan to build and modernize Indian infrastructure. The Wall Street Journal reported on March 23, 2010 that the government planned to double infrastructure spending from $500 billion to $1 trillion. It will pay for the expansion and construction of rural roads, major highways, airports, seaports, freight corridors, railroads and townships.
According to the BBC, India's government has pledged to move ahead with major infrastructure projects to give a boost to the country's slowing economy and revive the plans to build new highways, airports and ports, among other things during the ongoing fiscal year. Prime Minister Manmohan Singh stated last June 6, 2012, that some of the projects to start the economic boost include contracts to build 9,500 kilometers of roads; three new airports at Navi Mumbai, Goa and Kannur; the upgrade to international standard of at least "three or four" of five airports - Lucknow, Varanasi, Coimbatore, Trichy and Gaya; two new aviation hubs to make India a major transit point and two new ports in Andhra Pradesh and West Bengal. Minister Singh estimated 1 trillion dollars in the next five years to building the infrastructure planned and said that the government alone would be unable to invest the amount.
Through its subsidiary, TBL, IGC has been engaged in highway and heavy construction. In the past, IGC has constructed highways, rural roads, tunnels, dams, airport runways and housing complexes, mostly in southern states. IGC is currently pre-qualified by the National Highway Authority of India (NHAI) and other agencies for construction contracts. Even though IGC has a very small portion of the overall Indian construction market, the prequalification and prior track record provides a way to grow the Company in highway and heavy construction. Currently, the focus is on the recovery of construction delay claims that IGC is pursuing against NHAI, the Airport Authority of Cochin, and the Orissa State Works.
Investment Highlights
· India Globalization Capital Reports Third Quarter Net Income of $311,000 and $2.9 Million Increase in Quarterly Revenue
· IGC dramatically reduced overheads in the construction business and recovered claims filed on construction projects that were delayed for no fault of IGC's.
· India Globalization Capital Establishes Shipping Hub at Border of Mongolia and China
· India Globalization Capital to Open Iron Beneficiation Plant in Inner Mongolia
· India Global Cap: First Of Three Plants To Drive 2013 Rev Growth
· India Globalization Capital Completes Acquisition of Minority Interest in TBL
· India Global Cap 3Q EPS 1c, 3Q Revenue $3.93M, 3Q Net $310,892
Balance Sheet:
· IGC reduced its cost of capital by paying off high interest debt and liabilities.
· IGC settled almost $3.79 million in notes, short-term borrowing, and trade payables, which will reduce its interest and expenses by over $700 thousand a year.
· IGC has reached agreements with two construction investments in India whereby IGC will own 100% of one construction company and exit the other.
· IGC plans to acquire additional assets in the iron ore sector.
· F2012 - Changed focus to building mining assets like iron ore mines.
· F2013-F2014 - Expect year-over-year revenue growth, as a result of acquisitions, beginning production and trading.
· At capacity Ironman's beneficiation plants can produce $9 to $11 million each in revenue with net margins of 20 to 30%. Procuring raw materials in Mongolia or India will increase output capacity.
· Restructured $1.8 million in unsecured notes in October 2012.
· Increased stockholders' equity to $15.6 million in 2012 from $7.2 million in 2011.
· Increased total assets to $21.4 million in 2012 from $18.1 million in 2011.
Competitive Advantages
· $500 million in iron ore reserves.
· Ownership of three beneficiation plants that can refine low grade ore to high grade ore, a high margin business that will drive earnings.
· Unique platform and positioning in Inner Mongolia for add on acquisitions that can increase both reserves and earnings.
· Rapidly growing, profitable iron ore business.
· Vertically integrated iron ore business that extends from India into China.
· Positioned to uniquely provide raw materials from India to the plants in China to enhance production capacity and increase earnings.
· Only Indian/Chinese mining and infrastructure company listed in the U.S.
Industry Highlights
· Rising steel demand in China sent iron ore prices soaring to a 15-month high in January.
· Iron ore prices have rallied 75 percent from September's lows.
· Stockpiles of iron ore at local ports in China totaled 71.3 million metric tons as of December 21st, the lowest in two years.
· China's largest steelmaker Baoshan Iron and Steel has stated it will raise prices for the third consecutive month in February.
· China's economy is projected to grow 8.2% in 2013 and 8.5% in 2014.
· India is projected to grow 5.9% in 2013 and 6.4% in 2014, according to the International Monetary Fund..
IGC's Organizational Structure
(click to enlarge)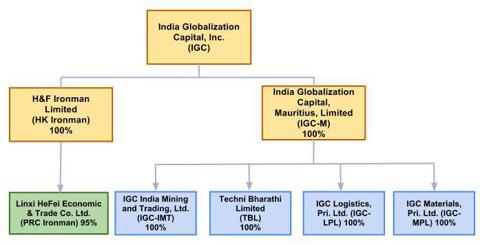 Click to enlarge
Senior Management
Executive Officers
Mr. Ram Mukunda - Chief Executive Officer, Executive Chairman, President and Director
Mr. John B. Selvaraj - Treasurer and Principal Financial and Accounting Officer
Mr. Daniel Ngai - General Manager, China
Mr. Belur Ram Kishan - Director for Operations of IGC mining and trading
IGC Board of Directors
Mr. Richard Prins - Chairman, Audit Committee Chairman and Director
Mr. Sudhakar Shenoy - Director and Compensation Committee Chairman
IGC Special Advisors
Dr. Ranga Krishna - Senior Advisor
Dr. Anil K. Gupta - Senior Advisor
Senator Larry Pressler - Special Advisor
IGC China Advisors
Mr. Hua Zhang - Senior Advisor
Mr. BenQuan Li - Senior Advisor
Mr. JingYu Mu - Senior Advisor
Mr. Wen Sang - Advisor
Disclosure: I am long IGC. I wrote this article myself, and it expresses my own opinions. I am not receiving compensation for it. I have no business relationship with any company whose stock is mentioned in this article.
Additional disclosure: A company I control has performed non-material financial and corporate consulting services for IGC in the past, but does not currently.