Wild Craze (OTCPK:WILD) is a company that claims to be involved in the sale of a fabric accessory called Snaptagz. The company's product is a fashion accessory that attaches to clothing and fits flush to a range of products. However, I don't believe that this is a "real" company. Wild Craze has only one full time employee and weak fundamentals. The stock is up 80% in the past 3 months, but I believe that the recent surge in the share price is due to a spam email campaign.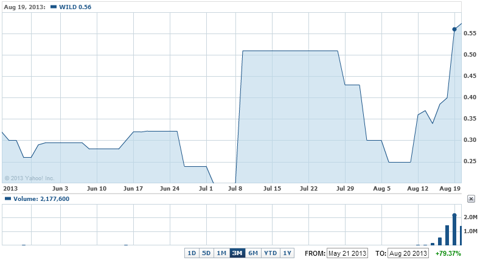 Click to enlarge
chart from Yahoo! Finance
Promotional Activity
Although some pump and dump operations only release the "pick" to subscribers, many spam emails have been sent on Wild Craze. According to PennyStocks24, the group that has been sending these emails has been WallStreet Pennystock Advisors. I received two spam emails from this group on August 21. The spam group has sent a total of 8 emails on Wild Craze since August 15. The spam email campaign will likely lure in many uninformed investors. Stay away from this pump if you are receiving these emails. WallStreet Pennystock Advisors is the same group that was behind USA Graphite (OTC:USGT).
Lawsuit
On August 16, George Sharp sued Wild Craze for violation of anti-spam laws. Mr. Sharp stated that the defendants deliberately used offshore promoters and advertisers disseminate unsolicited emails veiled as newsletters with names such as "Stock Castle" and "Wall St. Penny Stock Advisors." George Sharp believes that investors will see harsh losses once the promotional activity ends. Wild Craze's attorney, Joesph Lucosky, has acknowledged that investors could get hurt by the promotional activity. Mr. Sharp believes that the company is worthless. George Sharp's lawsuit is another serious red flag. He has been one of the leading voices in ending penny stock fraud.
Fundamentals
Lastly, the fundamentals for this company are very poor. The income statement looks very weak. The company's total revenue for 2012 was at zero dollars. The company suffered an operating loss of $397,000 for 2012. In addition, the company lost $97,000 in 2011. The balance sheet looks just as bad as the income statement. Total assets grew from $11,000 in 2011 to $35,000 in 2012. However, total liabilities grew from $121,000 to $558,000. For 2012, total stockholder equity was -$524,000. Cash flow wasn't pretty with total cash flow from operating activities coming in at -$377,000.
Conclusion
There are many serious red flags with Wild Craze. The company has poor fundamentals and an illegal stock spam campaign is currently ongoing. In addition, George Sharp has filed a lawsuit against this company. Many of the stocks that Sharp has filed lawsuits against like Xumanii (XUII.OB) eventually went on to collapse. USA Graphite was pumped by spam emails in a similar fashion earlier this year and the stock eventually dumped. If you are receiving emails spam emails about Wild Craze please ignore them. You should not invest in this company.
Disclosure: I have no positions in any stocks mentioned, and no plans to initiate any positions within the next 72 hours. I wrote this article myself, and it expresses my own opinions. I am not receiving compensation for it (other than from Seeking Alpha). I have no business relationship with any company whose stock is mentioned in this article.