I expect shares of Noble Corp. (NYSE:NE) to trade over $50 by next year, and then continue to grow at a rapid rate to more than $60 by 2015. This would mean a minimum 30% return by next year and minimum 55% return by 2015, which should greatly outperform the overall market. This is based on a mix of fundamentals, historical prices, technical factors, and a quickly growing offshore drilling market due to new oil discoveries and higher energy demand.
Background
Noble Corp. is an offshore oil and gas drilling company with a market cap of 9.76B. It generates revenue by contracting its fleet of rigs to an array of different companies in the oil and gas industry looking for a solution to their offshore drilling needs. It owns a fleet of 79 offshore drilling units: 14 semisubmersibles, 14 drillships, 49 jack-ups, and 2 submersibles. A semisubmersible is a floating unit with a platform deck that carries drilling equipment and machinery. They are less mobile than drillships because they lack propulsion and are partially submerged when in operation to foster stability in harsh conditions. Submersibles are similar but are lowered to the sea floor instead of being partially submerged, making them unable to drill in deeper waters.
A drillship, as its name implies, is a modified vessel used to drill for oil and gas. Drillships have their own propulsion making them extremely mobile, so they are often used for exploratory drilling. A jack-up rig is a non-self-propelled drilling platform that can adjust its elevation to an appropriate height relative to the water depth. The legs of the rig can extend to the bottom of the seafloor to stabilize it depending on the depth. Noble contracts these different rigs to companies worldwide, in areas such as the Gulf of Mexico, Mexico, Brazil, the North Sea, the Mediterranean, West Africa, the Middle East, India, and Malaysia. The company plans to expand to Australia, Alaska, and Southeast Asia. It currently has a newbuild program in process to add additional drilling units to its fleet, which will be explained in greater detail later in the article.
Impressive Backlog Is Guarantee of Future Growth
One of the most impressive aspects of Noble is its backlog. Almost nothing beats having revenue for future years already locked in. Most other industries can't offer you the luxury of this valuable and important insight. If you review the accompanying graph, you will see that Noble has been able to increase its backlog by $1.7 billion over the first two quarters of 2013 as it contracts its new rigs. Its total backlog of $16B is worth slightly more than 3x its estimated current year revenue of $5.05B. This is a very good ratio, as most offshore drilling companies only have a backlog in the range of 2x to 3x yearly revenues.
Click to enlarge images.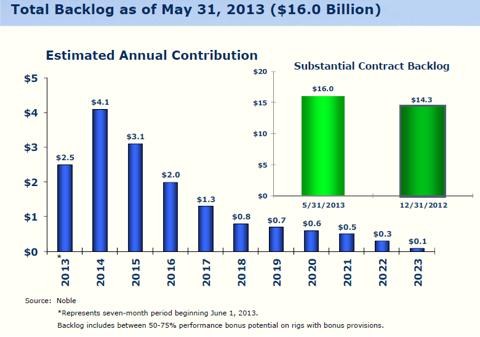 More Premium Assets From Capital Expenditures Are Paying Off
Noble's recent capital expenditures and newbuild program has allowed it to remain a major player in the offshore drilling sphere, while staying competitive with Ensco plc (NYSE:ESV) to have the second-largest offshore rig fleet behind Transocean (NYSE:RIG). Noble expects its capital expenditures to be close to $3B for 2013, an 87.5% increase from 2012. These expenditures are well worth it, and will provide the company with a major increase in revenue for the foreseeable future.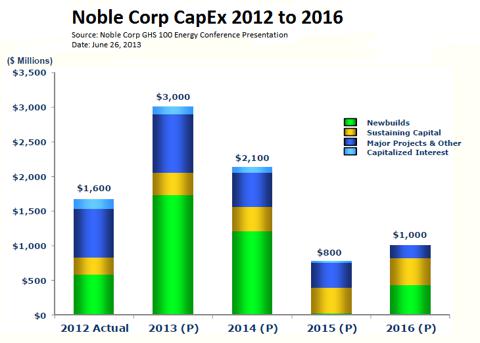 Over the last few years, Noble has considered selling some of its older (standard spec) rigs in order to finance its newbuild program. This program is designed to build additional rigs to meet customers' needs, replace older rigs, and most importantly boost revenues. The divestiture of old assets seems like a logical move to expand the company and increase earnings. Noble's program will increase the percentage of premium assets within Noble's fleet which will push average day rates and total revenue for the company much higher. The program includes the construction of five new drillships (one was delivered and contracted in 2013) and six jack-ups. A few of these rigs are hi-spec, which are in high demand, fetching higher average day rates and contract durations.
Five of the new rigs are operable in up to 10,000 feet of water, allowing Noble to expand in deeper water markets such as the Gulf of Mexico and Brazil. Large oil discoveries in mid-depth water have been decreasing, forcing exploration companies to move to deeper water. These deepwater areas are where the opportunity is and if Noble has a growing fleet of deepwater rigs ready to drill, then the company has put itself in a great position to outperform the market. So far, this has been the company's plan, and it's working out perfectly with new rigs being contracted before they are even built. Noble projects it will receive 40% of its 2015 revenue from ultra-deepwater rigs, up from just 24% in 2011.This reinforces that notion that Noble knows what it's doing as it refocuses its fleet toward deepwater markets.
Contracting Rigs to the Biggest Players in the Gulf
Recent projections have oil production in the United States, specifically the Gulf of Mexico, ramping up over the next couple of years. As shown in the chart provided below, onshore oil production is going to continue to increase, but only at a CAGR of 6.1%. Offshore (GoM) drilling however is projected to have a CAGR of 8.3%, a massive increase over the 2007-12 percentage of -0.3%, mostly attributable to the new regulations that followed the Deepwater Horizon oil spill. Five months after the Gulf was reopened to drilling, this region quickly rocketed to the fastest growing offshore drilling market in the world. The U.S. offshore CAGR of 8.3% indicates that offshore drillers should be in a good position to outperform U.S. onshore drillers and other rig operators around the world who will be experiencing slower growth.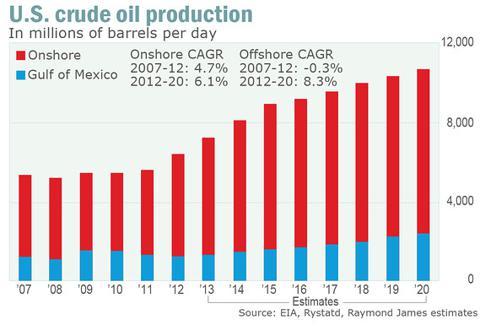 Noble's largest customer in the world is Shell (NYSE:RDS.A) (NYSE:RDS.B). And who is projected to become the largest offshore producer over the next seven years? Shell. If this projected ramp-up in oil production over the next few years occurs, it will be necessary for oil producers to contract rigs to do the drilling and Noble will be able to profit. The company's new ultra-deepwater and deepwater rigs are in a position to provide drilling services for companies pursuing new oil fields in deeper water.
As the projection below shows, Shell could expand its production rapidly after 2015 and continue as the years go on. Noble will be able to use its past experience and connection with Shell to acquire new contracts. The company should then increase its capex/newbuild program post 2015 to further increase revenues. It appears that this is already the company's plan according to its capex projections shown previously. This would support the potential for high upside even in the long-term for Noble.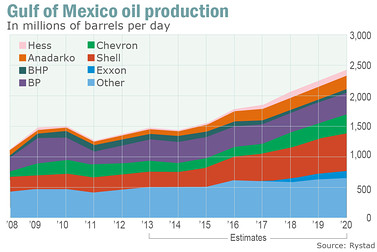 Even Better Opportunities Abroad
Although the U.S. Gulf of Mexico provides excellent opportunities for the company to expand in coming years, other opportunities exist abroad. Just the other day, Mexico released plans to allow foreign companies some involvement in the state oil monopoly. If this proposition is accepted by Mexican legislature and amended to the Constitution, it could mean a substantial increase in revenues for the companies involved. Currently, Pemex (Mexico's state-owned oil company) is Noble's third-largest customer accounting for 10% of Noble's revenue. Additional investment in Pemex would result in higher revenues for Noble because of their close relationship and the Mexican government signaling its intent to use large portions of the investments for deep-water exploration and drilling.
Analysts believe that the investment could result in 20 additional floating rigs for Mexico within the next two years. But the main concern here remains whether or not the legislation will pass. Although the Mexican people are very prideful of their country's nationalistic oil production system, it appears that Pemex has reached its exploratory limits. Without foreign investment, the country runs the risk of becoming an oil importer in the next five years, which would be greatly damaging to its reputation as an oil producer.
Last quarter, Noble Corp. reported that clients in the Middle East were requesting additional rigs for long duration contracts. This follows the trend of an increase in drilling expenditures in the Middle East. GBI Research estimated the drilling expenditures in the area to increase from $13.56B in 2012 to $17.03B in 2016. This trend should also resonate through much of the surrounding area, with West Africa (an area where Noble has good exposure) investing large amounts of money in oil exploration. This is good news for Noble, as its drillships can be contracted for exploration, and major oil finds can spur the need for the company's jack-ups and semi-submersible rigs.
Steadily Increasing Dividends
Since the beginning of 2005, Noble has furnished a dividend to its investors, paid out on a quarterly basis. The dividend for the whole year has been in the range of 50-80 cents. This year, Noble has been paying out 13 cents a quarter for a yield of ~ 1.3%. In April, Noble proposed an increase of its quarterly dividend to 25 cents per quarter, almost a 100% increase resulting in a forward dividend yield of ~ 2.6%. On Aug. 15, Noble issued its first 25-cent dividend, which will produce a yield close to 2% for 2013. Even though this dividend is slightly lower than average for the oil and gas drilling industry, investors should have no problem outpacing inflation and making a return on their investment through the dividend alone.
Growth and Margins
When you review the offshore drilling industry as a whole, you realize that most companies trade at very low P/E ratios. The following chart provides an overview of Noble and its competitors.
| | | | |
| --- | --- | --- | --- |
| Ticker | FY 2013 P/E* | FY 2014 P/E* | FY 2015 P/E* |
| NE | 13.4 | 8.3 | 6.8 |
| ESV | 8.58 | 7.4 | 6.3 |
| RIG | 11.4 | 8.3 | 7 |
| SDRL | 15.1 | 11.7 | 9.3 |
| DO | 13.4 | 9.8 | 8.2 |
* Based on analyst estimates. Source: Nasdaq.
As you can see from the P/E chart, Ensco is clearly the most undervalued company, but its slow growth and failure to meet analyst expectations make Noble a better investment choice. The majority of analysts have upped their expectations of Noble's earnings growth for 2013 and future years while downgrading many other competitors. It seems odd at a time when quite a few banks are downgrading the industry status and including Noble. Below is a chart of Noble's projected growth.

Although it may have had a bumpy past, it's quite evident that Noble is going to vastly outperform the industry, sector, and major indices in terms of growth over the next few years. As you can see, the company's PEG ratio is 0.49, which is very indicative of cheap growth. Stocks with PEGs in this range usually see share price appreciation greater than stocks with a PEG over 1. I believe we could see this share appreciation with Noble as it factors in unrealized and future growth over the next year and beyond.
Noble had an operating margin of 23.52% and a profit margin of 15.22% (FY 2012). These are mid-range for the industry and definitely leave much room for improvement. By last quarter, they had improved to around 27% and 17% margins, a respectable increase. In a June 26 presentation at the GHS 100 Energy Conference, the company laid out four key points for value creation. These included: 1) subsea and critical component integrity; 2) training, safety, and competency assurance; 3) recruitment, retention, and advancement; and 4) fleet modernization, newbuild delivery, and performance.
If Noble were to stick to this strategy, then it seems likely that the company's margins would improve. Without a need to find new workers to replace old ones, costs related to recruitment and training would be reduced. By avoiding involvement in major incidents using the first and second points, Noble will be able to decrease the chance that it will incur major liabilities from drilling incidents.
Technical Analysis
If you take a look at Noble's stock chart for this year, you will notice an ascending triangle. It's not a major uptrend pattern, but it does suggest an accumulation of shares in the company. If Noble shares are able to hold a price above $41.60, they should be primed for a breakout. However, I would make sure to put in a stop loss of around $36 in case any of the risk factors explained later in this article come to fruition. Also included in this chart is the MACD, which is showing mostly positive momentum since February of this year. This momentum and accumulation should continue until a breakout occurs as the company continues to grow rapidly and lacks an appropriate valuation.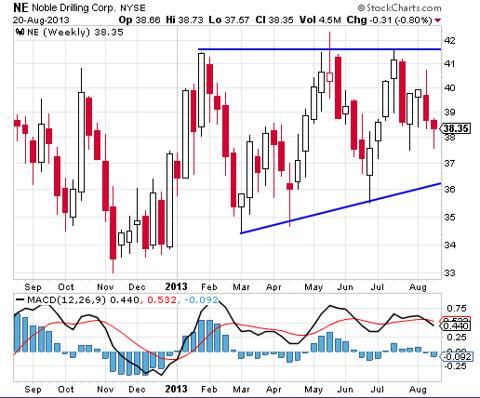 Is History Primed to Repeat Itself?
It's usually said that past performance is not typically indicative of future results. But what if that past performance is about to repeat itself? If you look at Noble's earnings from 2006-08 and compare it to past and projected earnings for 2013-15, you will notice a pattern developing. Based on an EPS and price comparison of 2006 to 2013, it appears as if Noble could be starting on the same path it did seven years ago.
| | | |
| --- | --- | --- |
| Year | EPS | Price Range |
| 2006 | 2.72 | $30.92 - $42.42 |
| 2013 (Est) | 2.88 | $34.67 - $42.26 |
| 2007 | 4.5 | $34.82 - $56.85 |
| 2014 (Est) | 4.67 | - |
| 2008* | 5.96 | $44.82 - $65.44 |
| 2015 (Est) | 5.68 | - |
*Price Range data from before October (and financial collapse) -- the stock price fell to almost $21 by the end of 2008.
With more than two-thirds of the year over, Noble has traded in the same general price range as it did in 2006 when it had a similar EPS. If this is any indication of future price action for the stock, then one could see a high of around $56 in 2014 when the EPS is similar to levels in 2007. This represents a potential upside of 45%-50% from the current price of ~$38 by the end of next year.
Why Noble Is the Best Offshore Drilling Contractor
There are many companies in the oil and gas drilling industry, many of which represent compelling investments, so why is Noble the best? Let's take a look at some of the leading drillers in the offshore drilling industry. The first, Transocean, has a lengthy backlog and a very robust newbuild program. However, as a mid-term player, Transocean does not show the amount of near-term growth that Noble is capable of producing and also has a low 7.52% profit margin. Ensco is also another major player in the industry that lacks immediate growth, but has a very high 27% profit margin and could make up for slow growth with steady growth over five or more years.
Although both trade at deep discounts similar to Noble, I would recommend that investors looking to buy and hold for multiple years look at these two stocks, especially with those companies higher dividend. Seadrill (NYSE:SDRL), the largest offshore drilling company, trades at a similarly low P/E but lacks in value with high P/B and P/S ratios. The company does have an advantage over Noble with its very impressive 24% profit and 41% operating margins. Another driller is Diamond Offshore (NYSE:DO), although its growth prospects do not seem to parallel the others in the industry. Although all of these companies represent solid long term investments, Noble exhibits the kind of growth necessary for a large return in the next two years.
Why Recent Analyst Reports Are Wrong
Zacks downgraded its opinion of Noble to a mildly bullish hold. The analyst's reason for the downgrade was because of increased maintenance times and costs in the rig fleet for the remainder of the year. This was addressed in the conference call, where management stated that these costs will be overshadowed by revenue from the newer rigs. UBS released in a note on Tuesday that it sees problems with the intermediate outlook for the floater market. This is a relative non-issue for Noble as most of its rigs are already contracted out for the next year or two. Softness in near to mid-term day rates and utilization will not as greatly affect a company which has already locked in its revenues for the near to mid-term. This softness could affect companies with much shorter backlogs which does not include Noble.
Risks to the Thesis
There are a few risks associated with an investment in Noble or any other offshore driller that could negatively affect their share prices in the near future. The first and most important would be a saturation of the market by the production of too many rigs, such as what happened in the shipping industry with DryShips (NASDAQ:DRYS). Most companies have been aggressively increasing their newbuild programs and pumping out tons of new rigs. Hundreds have been added to the global market in the past few years. This has not been a problem so far as new discoveries have increased demand for the rigs and prevented the market from becoming saturated. Too large an increase in the rig supply or a lack of new oil discoveries could spark a meltdown in offshore drilling share prices.
A decrease in oil prices, which have stayed above $100 for some time now, could affect any contract prices made in the future, but Noble should be well secured for the next couple of years with only room to improve. Another overlooked concern could be increased regulations in coming years due to rig incidents. Although things had been relatively quiet for years following the Deepwater Horizon incident, a leak on a Talos Energy oil rig in early July and a fire on a Hercules (NASDAQ:HERO) rig in late July rekindled safety concerns about the industry. If there were any new regulations, they would most likely have minor effects on the profitability of companies in the industry.
Conclusion
As you can see, the offshore drilling industry is extremely undervalued as it currently stands with new drilling opportunities developing worldwide. This exploration and discovery should fuel rig demand for the foreseeable future, spurring share appreciation for the industry. Noble will be at the forefront by being one of the largest and fastest growing offshore drillers, while its competitors grow at a much more leisurely pace. There is a massive boom in offshore drilling developing as we speak; take advantage of it.
Disclosure: I have no positions in any stocks mentioned, and no plans to initiate any positions within the next 72 hours. I wrote this article myself, and it expresses my own opinions. I am not receiving compensation for it (other than from Seeking Alpha). I have no business relationship with any company whose stock is mentioned in this article.