Earlier this week, I discussed the impact of Apple's (NASDAQ:AAPL) stock buyback plan and how Carl Icahn's investment in the tech giant could push for a larger buyback. The impact of the buyback for Apple and its stock is rather obvious, and I'm not here to discuss that again. Today, I'm interested in how Apple's buyback may affect some other names in the market. One interesting thing to watch will be Apple's inclusion into a popular buyback ETF, when it becomes eligible, which could be rather soon. This ETF could be due for a major shake up.
The ETF, basic information:
For those who don't know the ETF I am referring to, it is the PowerShares Buyback Achievers Portfolio (NYSEARCA:PKW). The following description of the Fund is taken from its page, where you can get all the necessary information on it. Here's the main description:
The PowerShares Buyback Achiever Portfolio ("Fund") is based on the NASDAQ Buyback Achievers Index (Index). The Fund will normally invest at least 90% of its total assets in common stocks that comprise the Index. The Index is designed to track the performance of companies that meet the requirements to be classified as BuyBack Achievers™. To become eligible for inclusion in the Index, a company must be incorporated in the U.S., trade on a US exchange and must have repurchased at least 5% or more of its outstanding shares for the trailing 12 months. The Fund and the Index are reconstituted annually in January and rebalanced quarterly in January, April, July and October.
So for a company to be included in the index, and make it into the ETF, it needs to meet the following rules. Does Apple? Let's see:
Must be incorporated in the US - YES.
Trade on a US exchange - YES.
Must have repurchased at least 5% or more of its outstanding shares within the trailing 12 months - NOT YET. I will discuss this in the next section.
Apple's outstanding share count:
The following chart shows Apple's outstanding count over the past two years, taken from its quarterly and annual filings.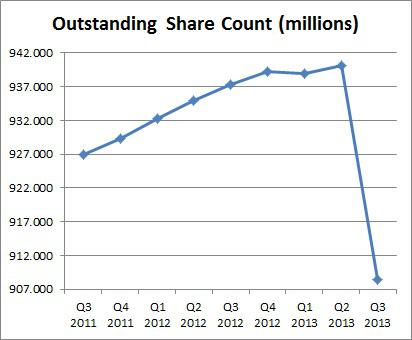 When Apple reported its fiscal third quarter results, the company detailed how it used its in-quarter debt raise to buy back a large amount of stock. According to the quarterly filings, Apple's outstanding share count stood at 940.094 million at the end of fiscal Q2, the quarter that ended in March. By the June end of Q3, the outstanding share count was down to 908.442 million. That's a quarterly decline of 3.37%, but it came from the high point in the share count.
Apple has bought back just under $18 billion in the first three quarters of this fiscal year. Apple originally planned on a $10 billion repurchase that was only to offset dilution from things like executive options. But it hiked the plan to $60 billion at the first quarter report. With Apple expected to finish the plan by the end of calendar 2015, that means roughly $42 billion to be spent over 10 quarters. That's roughly $4.2 billion per quarter. Even after the latest rally has pushed shares back above the $500 level, that's more than 8 million shares per quarter.
Growth in the ETF:
According to this Seeking Alpha article from April 2012, the PKW was up to about $123 million in assets under management. If that number is correct, the ETF has seen a tremendous amount of money flowing into it, as the fact page above now shows more than $1.2 billion for total assets. Part of that has to do with the fact that the ETF is up about 27% over the past year, but you're looking at 10 times the assets. A lot of money has flowed in.
Will Apple be a new holding?
It seems that Apple will make the 5% outstanding share count rule over the next couple of quarters. Over the next three quarters, by the end of March, Apple would need an outstanding share count of about 893 million to qualify for the index, and thus, the ETF. That means that the outstanding share count would need to come down by a little more than 15 million shares in three quarters. If Apple buys back 8 million shares per quarter, or even more, it seems very possible that it will hit the 5% rule, and perhaps in the next quarter or two if it accelerates things again.
The question will be does Apple get into the ETF? Depending on Apple's cash plans over the next 18 months or so, it is possible that Apple could make the 5% rule for a short period of time, but if the buyback slows down, Apple could then fall out of qualifying. Will the ETF put Apple in only to take it out a few quarters later? That will be an interesting debate, and luckily, it's not something I'll have to decide. Depending on how Apple's products do over the next couple of years, Apple could produce enough cash flow to finance another buyback after the current one, which could help it to maintain the 5% qualification for a longer time period. But it will mean Apple will need to buy back tens of billions of dollars in stock per year, and that might be an unreasonable expectation a few years down the road.
Major ETF holdings:
The following image shows the top ten holdings of the ETF as of 8/20. These ten holdings represented approximately 35.8% of the fund as of that date.

Click to enlarge
Now I want to focus on the top three holdings for a minute because they represent more than 15% of the fund. ConocoPhillips (NYSE:COP), Amgen (AMGN) and Oracle (NASDAQ:ORCL) would have the most to lose if Apple were to enter the ETF. Assuming no new money came in, these names have the most money at stake. With a weight of approximately 5% and roughly $1.2 billion in assets, that means that these three names on average have about $60 million or so worth of shares in the ETF. That shouldn't have too much of an impact on these stocks as they all have market caps of $75 billion or higher. One must also remember that these names could also drop out if they fail to meet the 5% rule as well. For now, these are the biggest holdings.
What this means for Apple:
Getting Apple into this ETF would be another positive for the Apple bull case. Another ETF owning Apple would mean that another block of Apple shares would be pulled from the market, meaning the supply of Apple shares would be reduced. Don't forget, with $42 billion left on the buyback, Apple's outstanding share count could be down to 850 million or less by the time this plan is done. Considering that the peak was over 940 million shares, that's a tremendous amount of supply being removed from the marketplace.
Assuming Apple makes it in, the question of course is how much of an impact there will be. Well, that depends on a couple of items. First, it depends on Apple's market cap. If Apple's market cap is $400 billion, there will be more of an impact than if Apple's market cap is $600 billion. The second and third items are dependent on the ETF. First, how much is the asset base when Apple needs to be included. Is it still at $1.2 billion, or is it higher or lower? The ETF having say $1 billion in assets versus $2 billion in assets could make a huge difference. The final determination is what size allocation would Apple get. Apple getting a 3% slot on a $1 billion fund is just $30 million, but a 15% slot on a $2 billion fund is $300 million. There's a huge difference there. Yes, I understand that we are only talking about tens of millions of dollars here. But that is right now. Look at the growth in this ETF over the past year or so. If this ETF has $5 billion or $10 billion down the road, it could have a sizable position in Apple (sizable in regards to the average individual investor).
Final Thoughts:
Apple's buyback is starting to influence more than just Apple itself. The popular PowerShares Buyback Achievers Portfolio ETF may soon need to add Apple, whether it be for a short time or a few years. Apple's share count is coming down, something good for investors as it is. But add another ETF to the list that will need to hold Apple, and supply for Apple shares will come down even more. While this could be a slight negative for some other names that might need to have their positions in the ETF trimmed, it seems positive for Apple. The extent of that positive cannot be calculated yet, but it is just another piece of potential for those that wish to be long Apple.
Disclosure: I have no positions in any stocks mentioned, and no plans to initiate any positions within the next 72 hours. I wrote this article myself, and it expresses my own opinions. I am not receiving compensation for it (other than from Seeking Alpha). I have no business relationship with any company whose stock is mentioned in this article.
Additional disclosure: Investors are always reminded that before making any investment, you should do your own proper due diligence on any name directly or indirectly mentioned in this article. Investors should also consider seeking advice from a broker or financial adviser before making any investment decisions. Any material in this article should be considered general information, and not relied on as a formal investment recommendation.