As most investors are aware, BlackBerry (NASDAQ:BBRY) has formed a special committee to look at Strategic Alternatives, also known as, possibly selling the company. Current non-institutional shareholders are in a precarious situation since the timeframe for some shareholders was over two years. Now, shareholders must value BlackBerry for the short term and the long term.
By The Numbers
For the past year, I have been accumulating data from BlackBerry's financial statements dating back to 2007. The spreadsheet I have used for my previous articles is included for your valuation purposes.

Click to enlarge
In the valuation of a company, the price-to-book and price-to-sales ratios are important. From the data in the table below, BlackBerry appears to be undervalued. But as data from the spreadsheet indicates, BlackBerry is experiencing negative growth. This is reflected in the high PEG ratio. A complete valuation will require looking at the parts that make up BlackBerry.
| | |
| --- | --- |
| Market Cap | 5.30B |
| Enterprise Value | 2.59B |
| Trailing P/E (TTM) | N/A |
| Forward P/E | N/A |
| PEG Ratio (5 yr expected) | 4.67 |
| Price/Sales | 0.48 |
| Price/Book | 0.58 |
| Enterprise Value/Revenue | 0.23 |
| Enterprise Value/EBITDA | 1.97 |
Data provided by Yahoo
Handset business
Revenue 1st quarter $2.2 billion
The global smartphone market has become very competitive. Market leaders Samsung (OTC:SSNLF) and Apple (AAPL) have experienced difficulty increasing sales worldwide. Many analysts have commented on the saturation of the high-end smartphone market, and growth would likely occur in the mid-range. This fall Apple is expecting to release a lower cost iPhone. Within this market, gross margins are expected to be significantly smaller.
A close comparison for the handset business would be the acquisition of Motorola by Google (NASDAQ:GOOG). As Google was intending to utilize the Android operating system, Motorola's software would be of little value. There was a substantial amount of Motorola patents that had value. Google valued the patents at $5.5 billion. The handset business itself was valued closer to $1.3 billion. This illustrates that corporate value is mostly contained outside the handset business.
With hardware revenue for BlackBerry approximately $2 billion per quarter, there appears to be value. With decreasing gross margins and increasing competitiveness, this valuation metric should be weighted low. A valuation of $1 billion would be a fair valuation without the patents and other assets.
Enterprise business
In the long term, the Enterprise business is the area with the most growth potential. BES 10 is currently being heavily evaluated by many IT departments. Unfortunately, the current turmoil with BlackBerry will make many decision makers think twice before adopting the new platform.
The components of the enterprise business centering on security would be a growing asset in today's environment. Many companies will likely start looking at privacy and security from a different viewpoint. Traditionally the government was not viewed as a threat, but this may change over time. This is another reason that BlackBerry should not be broken up and only taken private as a whole.
The service revenue for the last quarter was $794 million while the software revenue was $60 million.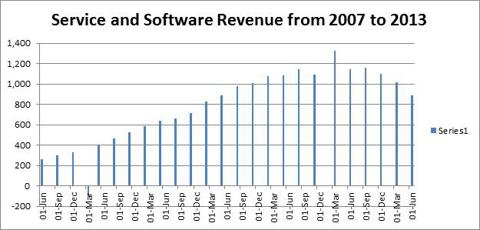 Click to enlarge
The service revenue appears to be decreasing at a rate of approximately $100 million per quarter. Due to customers upgrading to the BB10 platform, service revenues should continue to decrease. In the long term, service revenues should be negligible. The introduction of a new BB7 device labeled the 9720 may slow down the rate of service revenue decrease over the short term. It appears that this may have been the purpose of introducing this legacy device into emerging markets.
In a technical service industry with a reoccurring revenue stream, a valuation of two years gross revenue is a reasonable valuation. This estimate has been used in private corporate buyouts by Manitoba Telecom and AT&T (NYSE:T) that I have been involved with. The valuation would be dependent on a stable outlook for the company. Since BlackBerry's revenue is decreasing at a substantial rate, it would be reasonable to limit the valuation to the average decreasing revenue over two years. The minimum valuation would be half of the two-year average value, resulting in $2.1 billion.
Patents
$3.5 billion as of June 1st
The patents that are owned by Blackberry, including the 6,000 Nortel patents that were purchased by the technology consortium, are valued at $3.5 billion this quarter. A discounted price of $2 billion would likely attract a buyer of BlackBerry's patent interests.
QNX business
The Ottawa real time operating system software company was acquired in 2011 by BlackBerry. While there is significant value in the technology, the purchase price was $200 million. For valuation purposes, this amount is negligible.
Cash
$3.1 billion as of June 1st
While BlackBerry currently has a large cash position, for valuation purposes the cash position shall be considered $2 billion. This is attributable to a large account receivable and associated wind down costs that could be incurred with certain divisions.
Goodwill
I will most likely be heavily criticized for including goodwill, yet, it is an essential part of the valuation process. Some may even argue that currently there exists negative goodwill. BlackBerry has recently conducted a Goodwill Impairment Test, and has concluded there should be an impairment of $335 million. This is accounted for in BlackBerry's financial statements.
However, I feel that there is some value and goodwill associated with the BlackBerry brand that is not fully recognized on the balance sheet. Security certifications such as FIPS are valuable, especially in the context of recent privacy issues. The best analogy I can use to illustrate the value of goodwill is in the area of sales. In a hypothetical situation, two companies (an unknown start up and BlackBerry) knock on the door of a potential new customer. The customer needs a solution, but is too busy to see both sales people right away. Who do you think will get invited to sit down with the potential customer first? Getting over the door threshold has value.
To assign a value to this goodwill is extremely difficult, and is mostly dependent on how a potential buyer of the company intends to proceed. For valuation purposes, I will consider goodwill to be negligible. It is important to note that Google's acquisition of Motorola included $2.6 billion of goodwill.
Other Analysts' Valuation
Gus Papageorgiou, CFA from Scotia Capital, has recently valued BlackBerry. I feel this evaluation is fair given the current economic environment.
The value will be in the network and the potential service revenue: BB runs one of the largest, most secure and scalable private data networks in the world - a network it is actively trying to leverage in fields such as the connected automobile - an area attracting many players. This is what we believe the buyers will focus on. Cash plus patents worth an estimated $10.16/share: BB has $5.90 in net cash and we estimate the patents are worth $4.26. We do not believe anyone will pay up for the handset business but the service revenue and QNX have value. We conservatively value these assets at $4.00/share. Together with the patents and cash we believe a bid of roughly $14.20 is achievable. Moving to Sector Outperform: We believe BlackBerry maintains attractive assets and is motivated to get a deal in place. As a result we expect a transaction to occur within 6 months at around $14.20.
Steven Li from Raymond James estimates BlackBerry to be worth $8.70 per share.
Tim Long from BMO Capital markets estimates BlackBerry to be worth $10.50 a share.
Potential buyers
CEO Mark Wiseman of Canada Pension Plan Investment Board said that it would take "a hard look at" BlackBerry if it becomes private. Canada Pension currently owns 4.6 million BlackBerry shares as of March 31. The Canada Pension Plan Investment Board is the national public pension plan for Canada. Participation by working Canadians is mandatory, and the board has an interest in Canadian investments.
Other companies have expressed an interest, but only for certain aspects of BlackBerry's business.
IBM may be interested in BlackBerry as it approached BlackBerry informally in 2012. Two unnamed sources told Bloomberg IBM is only interested in parts of the BlackBerry business.
Cheat Sheet
| | | |
| --- | --- | --- |
| | Possible | Max |
| Hardware | $1 billion | $1 |
| Service / Software | $2.1 billion | $4.2 |
| Cash | $2 billion | $3.1 |
| Patents | $2 billion | $3.5 |
| Goodwill | - | $1.0 |
| QNX | - | - |
| | | |
| Total | $7.1 billion | $12.8 billion |
| Per share | $13.78 | $24.83 |
Note: The 63% premium paid by Google for Motorola, when applied to Blackberry, would bring the share price closer to $24. This is the maximum price I have independently calculated.
Conclusion
The issue that I have with the present situation is the time frame. If BlackBerry is sold in the near future, the selling price will likely be in the teens. From a long-term prospective, I feel BlackBerry would be significantly undervalued; but, the current metrics would indicate that this is a fair price for today.
Based on the above numbers, I would not sell for less than $16 a share. This is based on the current economic environment not adequately recognizing value in BlackBerry. If BlackBerry could maintain the status quo into the future, BlackBerry could command a higher asking price.
A term that has come into favor is "the sum of the parts is greater than the whole," meaning a company is worth more broken up into smaller units. I do not believe this statement to be true, as it pertains to BlackBerry. Due to the current low valuation, goodwill and other metrics are not being fully recognized. It is my opinion that goodwill would be significantly higher if BlackBerry was kept together.
Anything lower than $13 a share would raise questions of BlackBerry's leadership not acting in the best interest of shareholders. This is currently happening with Dell (NASDAQ:DELL), ironically around the same share price.
Disclosure: I am long BBRY. I wrote this article myself, and it expresses my own opinions. I am not receiving compensation for it (other than from Seeking Alpha). I have no business relationship with any company whose stock is mentioned in this article.