Natural Gas Prices -- After Bearish Attitude, hot late summer returns again!
In the face of cool late July and August weather, due to blocking over the Arctic Circle, the end of August into September, promises to be one of the hottest in recent memory. This will be mainly true over the Midwest. This is due to the easing block, dry soils in the Plains and also the MJO going into phase 8/1. This MJO pulse (see bottom of report) was responsible for the Bermuda High in early-mid July and it is coming back with a vengeance. After our recent (mostly) bearish attitude in natural gas since May, we advised clients 1-2 weeks ago, to take profits in short natural gas when it broke below $3.30 on the recent cool weather. Now, we have a chance to test the $3.75-$4.00 in coming weeks due to the hurricane season still upon us, but more importantly, the return of hot weather. Look for (NYSEARCA:UNG) to have little downside for at least the next couple weeks. This comes after a beautiful 25% break in prices, since late May.
Inactive Hurricane Season, Right on Track
With respect to hurricanes, we will be on Bloomberg Radio at 9:00 a.m. this Monday, talking about the hurricane season. Due to what we call a negative Indian Dipole (cool waters in the Indian Ocean) and recent dry weather in West Africa that is hurting cocoa, African dust in the Atlantic has quelled the hurricane season so far. Historically, when we see inactive August hurricane months (1957, 1959, 1961, 1982, 1988, 1997, 2001, 2002) the second half of the "main" hurricane season, sees under 4-5 total storms. There were a few exceptions, however. 1984, which saw late summer, Western Corn Belt dryness, ended up being an active season with 11 late season storms. There was even a Category 1 hurricane in early December (the latest ever!). Blame it on George Orwell and his book -- 1984?
Midwest Drought Back in Some Areas keeping Soybean Farmers, Nervous
In the meantime, the big weather news has been the return of the corn belt drought. Never before in my 30 years of forecasting, have I seen the Midwestern break- basket feature such Jekyll & Hyde climate characteristics. From the drought in 2012, to it easing in the spring, then too wet to plant in parts of Wisconsin, Minnesota, Iowa and South Dakota, to ideal weather, back to a 2 week July hot spell, then to perfect late July and August weather (cooler weather broke the natural gas market during that time, from $3.82 to $3.12). Then, back to drought in Iowa, N. Missouri and parts of Illinois. Though decent rains fell in some areas on Thursday, traders will be watching very closely rainfall and extreme, near record breaking heat for the Midwest next week. Hence, after our longer term bearish attitude in soybeans and the ETF (NYSEARCA:SOYB) for 9-10 months, the weather for now has turned bullish, as we discussed with clients, last week. This does not mean we are going into a longer term bull market, but there are plenty of trading opportunities for those who trade weather in the soybean market, these next few weeks. Right now, I think heat and dryness will really be an issue next week, so soybeans will not sell off much, for now.
Longer term corn prices (NYSEARCA:CORN), and our bearish attitude, pretty much reached our objective. While we are not saying we are bullish, the hot weather next week may at least keep prices from making new contract lows.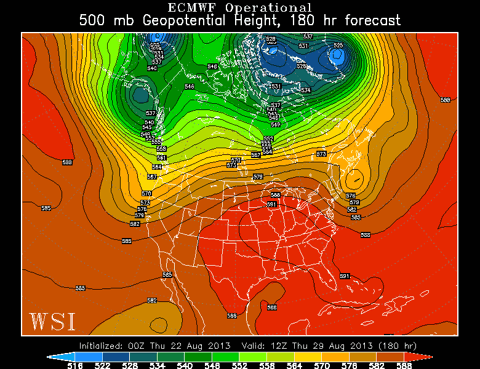 Click to enlarge
(Click to enlarge)
SOURCE: WSI -- red area is big Midwestern heat and dome
We began discussing the formation of yet another massive heat dome, last week for the Midwest grain belt. This came after a surprise, bullish USDA report for corn and soybeans, which showed that the wet Midwest spring took its toll on plantings and the early crop. We have been bearish corn for months. However, caution is advised being short at this time, even though the Midwest crop tour is showing generally good crop yields.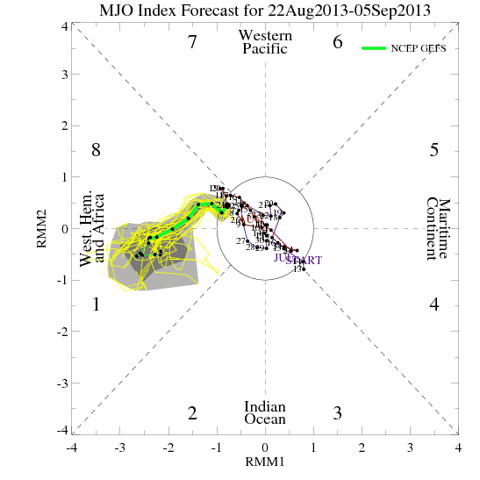 Click to enlarge
(Click to enlarge)
The MJO was a driving force in developing a July Bermuda High that sent natural gas prices to $3.90 with blistering eastern heat. Blocks in Canada the last few weeks, smashed this high and per our earlier forecasts a month ago. However, with the arctic block gone, the MJO in a strong phase 8/1 means plenty of heat into early September, especially for the Midwest grain belt. This is good news to help the corn crop speed up maturity, but will lower soybean yields. The MJO is acting more like a July phase, rather than a late August one, which normally would not bring Midwestern heat.
Soft Commodities Take It on the Chin
How about cocoa and cotton? Cotton prices and the ETF (NYSEARCA:BAL) was on a bull market tear, brought on by lower world crops and speculators entering the market. But, physical world demand is not there for cotton and the weather pattern has begun to change for the Chinese drought regions. This, combined with near perfect Indian Monsoon conditions this summer, is off-setting some world weather issues. Hence, a massive 8-10% sell off occurred this week. Cocoa and the ETF (NYSEARCA:NIB) will be extremely sensitive to what happens in West African the next 2 months. There are some signs of improving weather, due to weak La Nina type conditions, but this is not written in stone. However, if dry weather occurs in September, than another 5-10% up in prices would occur. After our longer term bearish attitude, which pretty much caught the 7-10% move up in prices. Now, the market is vulnerable to grind data and mixed signals for West African rains, as their second rainy season normally begins in September.
OJ prices had fallen from $1.40/lb to about $1.28/lb 2 weeks ago, on the realization that the drought has broken in Florida and there is little chance for a major hurricane. However, the USDA lowered both the Brazilian and Florida crop due to a variety of disease issues. Hence, we have mixed fundamental news here, coupled with poor demand. However, if Florida gets by without a major hurricane, look for prices to be soft heading into the late fall. Citrus greening issues, are perhaps the only thing, that would offset this more bearish market sentiment.
Disclosure: I have no positions in any stocks mentioned, and no plans to initiate any positions within the next 72 hours. I wrote this article myself, and it expresses my own opinions. I am not receiving compensation for it (other than from Seeking Alpha). I have no business relationship with any company whose stock is mentioned in this article.