Cable service providers rely on Arris Group (NASDAQ:ARRS) to engineer the equipment and software needed to deliver video, voice, and data over broadband networks. During the first half of 2009, 30.4% of ARRS's revenues came from Comcast (NASDAQ:CMCSA). Time Warner Cable (TWC) contributed 19.2% and international customers accounted for 26.5%.
The Broadband Communications Systems (BCS) segment produced 76.29% of first half revenues. It produces the company's cable modem termination system (CMTS), which converts Internet protocol (IP) data into a form compatible with hybrid fiber-coaxial (HFC) networks. BCS also supplies cable modems and embedded multimedia terminal adapters.
The Access, Transport & Supplies (ATS) segment accounted for 16.25% of first half revenues. It makes hub products, optical nodes, radio frequency products, transport products, cable, vaults, drop materials, tools, connectors, and test equipment. These are used on HFC, radio frequency over glass, and ethernet passive optical networks.
The Media & Communications Systems (MCS) segment accounted for 7.46% of first half revenues. It offers content and operations management solutions. These include systems for video on demand, advertisement insertion, digital advertising, service assurance, and workforce management.
Cable television and Internet services have become increasingly complex. Cable operators have evolved from providers of one-way analog video services to operators of multiple systems offering bundled services such as digital video, enhanced voice, and high-speed data. Television viewers want enhanced options such as high definition and video on demand. Traffic on the Internet has also grown tremendously. According to one source, the average American now watches more than 8.3 hours of video online every month, up from less than 4 hours a year ago.
At first, telecom companies such as Verizon (NYSE:VZ) and AT&T (NYSE:T) were the bandwidth leaders offering fiber optic networks capable of delivering speeds of up to 50 megabits per second. Cable operators matched this speed in 2008 when they adopted DOCSIS 3.0, a new wideband standard. Their need to continue upgrading their systems has been good news for ARRS. Thanks to fatter margins on newer products, ARRS has seen its profitability accelerate even while revenues remained flat. Q2 net revenues declined 0.9% year-over-year to $278.5 million. BCS segment sales grew 11.2% to $211.8 million. MCS sales jumped 69.6% to $23.3 million. However, due to weak residential construction activity and delays to infrastructure upgrades,ATC segment sales fell 43.5% to $43.5 million.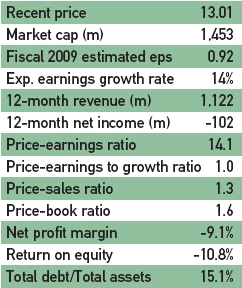 Yet a more favorable product mix caused the gross profit margin to jump 907 basis points to 42.11%. Pro forma net income soared 77.9% to $34.2 million or 27 cents per share. GAAP net income increased 192.6% to $22.9 million or 18 cents per share.
Risks include a reluctance to adopt new standards, delays in infrastructure upgrades, and reduced capital expenditures by cable operators.
Nonetheless, demand should remain strong for high margin wideband products. Comcast plans to expand wideband offerings from the current 50% of its network to 80% by yearend. Time Warner Cable began offering wideband service in New York City and plans to use equipment from ARRS to serve half of its footprint.