Like many investors, every quarter I look forward to reading the regulatory filings of my favorite hedge fund managers and investing legends to see what new positions they have taken.
I figure that the best place to start looking for investment ideas is in the portfolios of the greatest investors in the world. If these folks are buying something, chances are it is a good investment opportunity.
By following their lead I greatly reduce my error rate and also save time looking for ideas.
This quarter the most interesting new purchase that I came across was Warren Buffett's purchase of oil sands producer Suncor (NYSE:SU) for his company Berkshire Hathaway (NYSE:BRK.A).
Buffett added a pretty good amount ($500 million) worth of Suncor shares.
And I have to say it isn't hard to see why.
Suncor - The One Foot Bar
Buffett has always had tremendous success by running a very concentrated portfolio. Even with over $100 billion of equities under management Buffett keeps most of the money in shockingly few positions.
At the end of December 2012 for example the Berkshire equity portfolio was worth $87 billion. The top positions in that portfolio were:
Wells Fargo (NYSE:WFC) - $15.6 billion
Coca-Cola (NYSE:KO) - $14.5 billion
IBM (NYSE:IBM) - $13.0 billion
American Express (NYSE:AXP) - $8.7 billion
Those four companies made up $51.8 billion of Berkshire's $87 billion portfolio as of December 31, 2012. That is a whopping 59% of the portfolio in four positions.
Buffett is able to confidently focus his huge portfolio on a small number of stocks because he is very, very selective. He makes sure that his mistakes do not under any circumstance result in a permanent loss of capital.
Buffett describes his investment selection criteria as:
"I don't look to jump over 7-foot bars: I look around for 1-foot bars that I can step over."
And I think that is Suncor. It is a 1-foot bar.
Suncor is an easy long term investment decision.
I'll make two simple points that I think show Suncor to be a long term no-brainer:
1) Suncor trades at a very reasonable 5 times cash flow
2) Suncor has a 100 year reserve life
Think about that for a second. On current cash flow Suncor is pretty attractively valued. On top of that Suncor's existing reserves provide the ability to produce for the next 100 years!
Suncor is reasonably priced, with huge growth ahead of it for decades. That sounds like a one foot bar to me.
The fact that Suncor is going to be providing significantly more cash flow ten years from now is an absolute no brainer. The fact that Suncor is reasonably valued on current cash flow means that the market is not pricing in any of that growth.
Suncor - The Free Cash Flow Machine
I'm sure one thing not lost on Buffett is the potential for future dividend growth from Suncor's ultra-reliable cash flow machine.
Suncor just announced a 54% increase in its dividend for Q2 2013.
That big increase makes the dividend $0.80 per share which at the current share price of $33 is a decent 2.4%.
The key thing though is that this dividend increase is certain to not be the last of its kind.
Additionally of course Suncor is going to repurchase $2 billion of its common shares which for a company with a market capitalization of $47 billion amounts to another 4.2% being returned to shareholders.
If you add the two together the (dividend plus share repurchase) the total return of capital to shareholders at the current share price is 6.6%.
That is pretty attractive, especially for a company that is growing.
What is really interesting is how quickly that return of capital has grown on an annual basis over the last five years.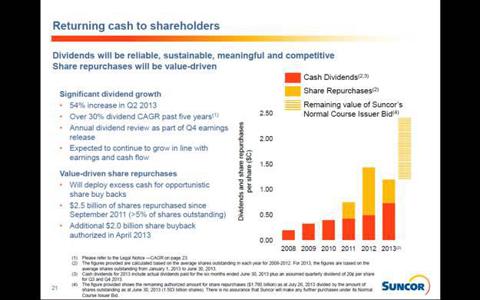 Since 2008 the amount of capital (dividend plus repurchase) being returned to shareholders by Suncor has increased tenfold from $0.20 per share to $2.00 per share.
That increase in return of capital must be a beautiful thing for longtime shareholders.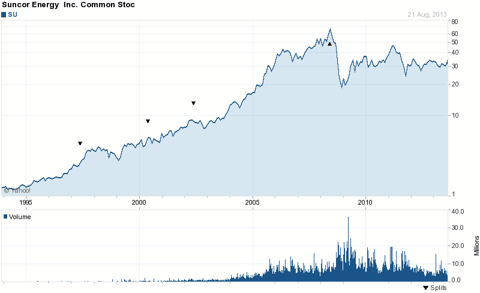 Wouldn't it be great to be a Suncor shareholder who bought shares in 2000 for $5 per share? If you had invested $10,000 in the year 2000 the following would now be true:
With the share price increase from $5 to $33 that original $10,000 would be worth $66,000 (and that excludes all dividends collected)
You would today be receiving dividends of $1,600 per year which is a 16% annual yield on your original investment.
I'm sure that is how Buffett is viewing Suncor ten years from today. Today Buffett is getting a 2.4% dividend yield plus another 4% plus from share repurchase. Those returns of capital are likely to grow over the future years as Buffett sits and lets Suncor go about growing its business and returning excess capital to shareholders.
Today Buffett is locking in $0.80 per share in dividends. Ten years from now that dividend could be double the current amount (or more).
Suncor - Long Term Significant Growth
Buffett likes easy decisions, and one easy thing to see about Suncor is that there is a lot of growth still ahead of it.
That is the beauty of being an oil sands producer. There is no exploration risk, you know where the oil is and once you have spent the capital to build your facilities you can produce if for decades to come.
From roughly 550,000 barrels per day of production today, Suncor looks to add another 350,000 barrels per day by 2020. And while the company is doing that it is going to be paying its dividend and repurchasing shares.
That is a lot of growth for a company that is already returning significant capital to shareholders.
It is growth on all fronts. Production, cash flow, dividends and share repurchases. Over time that is a potent combination for driving a share price higher.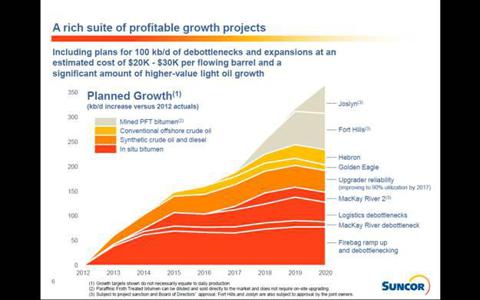 There is also a free option that comes along with owning Suncor as there is a pretty likely chance that there will be technological improvements in oil sands development that increase the amount of oil that can be produced and expedite how quickly it can be done.
That could mean that Suncor's long lived reserves will be extended even further than currently expected.
Conclusion - Not Hard To Understand Buffett's Interest
I think of the Suncor valuation like this:
· You buy 550,000 barrels a day of production at a very reasonable multiple of EBITA
· Growth in that production is virtually assured
· Technological improvements are likely to increase the amount of oil Suncor can develop and make it more economical
· The price of oil is likely to increase the value of production and reserves over the long run
· 7 billion barrels of 2P reserves against a 47 billion enterprise value is around $6.70 per barrel
· 20 billion barrels of contingent reserves that could move into the 2P category over time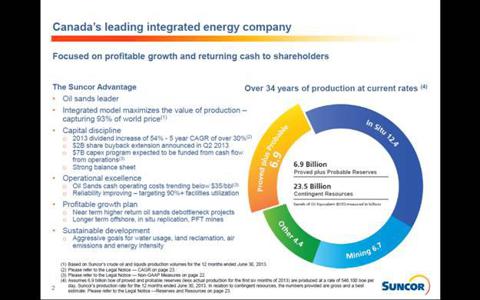 Now the one big variable when investing Suncor or any commodity producer is that you have to have believe in a sufficient commodity price level so that production is profitable.
Buffett buying Suncor is a pretty clear signal that he isn't too concerned about a big long term drop in oil prices.
Buffett's partner Charlie Munger is definitely bullish on oil prices over the long term having said this recently:
"Oil is absolutely certain to become incredibly short in supply and very high priced."
Buffett and Munger are usually on the same page, so it is quite likely that Buffett's thinking on oil is very similar to Mungers.
It will be interesting to see in the coming quarters if Buffett keeps adding to his Suncor position. At $500 million it currently isn't a major position for Berkshire, and Suncor is a big enough company for Buffett to invest a few billion if he wants to.
Buy good companies, with good growth prospects, reasonable valuations and good balance sheets. It seems so easy I don't know why we all don't do it.
Disclosure: I have no positions in any stocks mentioned, and no plans to initiate any positions within the next 72 hours. I wrote this article myself, and it expresses my own opinions. I am not receiving compensation for it (other than from Seeking Alpha). I have no business relationship with any company whose stock is mentioned in this article.