I've recently been looking at building a portfolio of stocks from companies managed in ways that provide direct benefit to shareholders. This has led me to look at two resources for identifying stocks that provide shareholder value (here and here). The first is the S&P 500 Buyback Index. This index, which began publishing last fall, measures the performance of the 100 stocks with the highest buyback ratios in the S&P 500. The second is the current holdings of the Cambria Shareholder Yield ETF (NYSEARCA:SYLD). This actively managed fund uses a proprietary quantitative algorithm to "select U.S. listed companies that show strong characteristics in returning free cash flow to their shareholders." The algorithm ranks stocks based on paying dividends, effecting net buybacks and paying down debt. Neither of these sources has much of a history, although the Buyback Index has been extensively back tested by the publishers and has shown impressive performance relative to the full S&P 500.
I also set a goal of having the portfolio provide reasonable income. To this end, I selected from each list those stocks that are current components of Davis Fish's CCC list, which as many SA readers are aware, lists stocks characterized by having raised dividends annually for at least 5 years. The current list includes 469 stocks.
In both cases, I was able to identify a portfolio of 23 (Buyback Index stocks) and 30 (SYLD holdings) companies that have shown consistent dividend growth. The portfolios demonstrate impressive performance measured against the S&P 500 benchmark without an unacceptable increase in volatility. However, as I pointed out and as readers were quick to emphasize, income from the portfolios was modest, too modest for an income-seeking investor, yielding 2.5% for the SYDL-CCC group and 2.1% for the Buyback Index-CCC group.
This exercise had led me to look more closely at ETFs that invest with a goal of enhancing shareholder value. I've identified three such funds: the Cambria ETF described above, PowerShares Buyback Achievers (NASDAQ:PKW), and AdvisorShares TrimTabs Float Shrink ETF (NYSEARCA:TTFS). PKW and TTFS invest in assets that comprise the NASDAQ Buyback Achievers Index which tracks US securities that have repurchased 5% or more of their common stock in the trailing 12 months.
Why Buybacks?
As several readers note, buybacks do not necessarily provide shareholder value. This casts a bit of a shadow on either of the two buyback indexes since, as I understand it, neither distinguishes the quality of the buybacks. SYLD, on the other hand, considers buybacks that do directly enhance value by focusing on net share repurchases. The indexes, and the ETFs that follow them, do have a track record of more than 3 years. SYLD is less than 6 months old.
US companies are buying back shares at a record pace. Many companies have exceptionally high cash balances and record low debt. So, they are turning to buybacks, and in some cases special dividends, as a means of increasing value to shareholders. Ford Equity Research, creator of the NASDAQ buyback index methodology, has research showing that companies that reduce their float by at least 5% outperformed the S&P 500 in 24 of the 28 years between 1975 and 2003. Between 2006 and 2011 companies that reduced their float by 5% outperformed by 2.2% and those decreasing shares by 1-5% outperformed by 2.9%.
The chart below, from the Ford Equity Research report, shows the enhanced value accruing from net share reduction through company buybacks.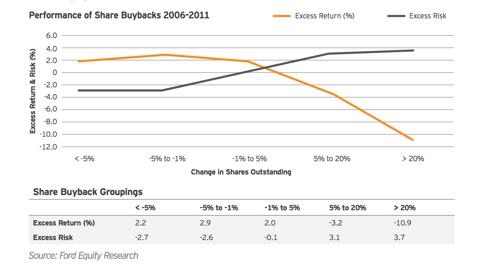 Many shareholders will prefer special dividends, which, after all, does put cash in our pockets, but the increases in EPS that result from a reduced float can have sustained value that a one-time dividend does not.
Fund Characteristics
PKW is nearing its 7 year mark, so it has a track record. TTFS is the next oldest, but is just short of 2 years old. SYLD has only just crossed the 3 month mark.
PKW has added $739 million in assets this year bringing its AUM to the $1 billion level. SYLD is growing rapidly having attained the $120M level in its single quarter of operations. TTFS, with $46M in AUM, is the smallest of the three.
| | | | |
| --- | --- | --- | --- |
| | PKW | SYLD | TTFS |
| Inception | 12/20/06 | 5/13/13 | 10/4/11 |
| AUM ($M) | 1000 | 120 | 45.8 |
| Volume (90 day average) | 414,636 | 146,307 | 18,649 |
| Net Expenses | 0.71 | 0.59 | 0.99 |
Expenses look to be on the high side for PKW, which is a passively managed index fund. The actively managed SYLD has a quite reasonable expense ratio of 0.59 at present.
Performance
Dividend ETFs are much more popular, but these three funds have far exceeded the returns for the major dividend ETFs for 2013. The chart below compares total return for each with two of the most popular dividend ETFs, iShares Select Dividend ETF (NYSEARCA:DVY) and SPDR S&P Dividend ETF (NYSEARCA:SDY). For the trailing 12 months PKW has beaten DVY by nearly 1200bps and beats SDY by nearly 800bps. TTFS had done nearly as well beating DVY by 1000bps and SDY by 600bps. SYLD is too new to provide a comparison, but its performance since inception has also beaten the dividend ETFs soundly, although it has lagged a bit compared to the two strictly buyback funds.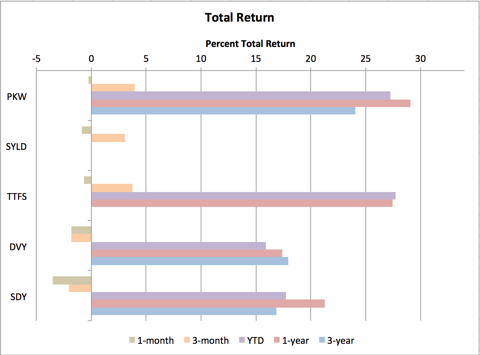 These impressive returns appear more impressive still when one looks at them in conjunction with measures of volatility and risk.
| | | | | |
| --- | --- | --- | --- | --- |
| | PKW | TTFS | DVY | SDY |
| Beta (1 Yr) | 1.12 | 1.21 | 1.12 | 0.98 |
| Standard Deviation (1 Yr) | 8.89 | 9.81 | 8.19 | 8.24 |
| Sharpe Ratio (1 Yr) | 3.45 | 3.00 | 2.48 | 3.04 |
| Alpha (1-yr) | 5.26 | 1.84 | 1.84 | 2.86 |
(SYLD lacks sufficient data to be included here.)
SUMMARY
It's clear that these funds are enjoying a market climate quite favorable to their models. Buybacks are very much in vogue and companies are paying down debt. These three funds offer an opportunity to capture the gains being realized from these trends.
Dividend investors who prefer companies that make direct payouts to shareholders will find distributions here disappointing. As described above, I made an effort to find the sweet spots that select portfolios with the strongest dividend payers in this space, but some readers seeking immediate income expressed disappointment with the yields of less than 3%. Distributions for the ETFs are substantially below that level, so this is probably not a strong option for investors seeking current income. Others, with a longer time frame, would, in my view, do well to consider the historical growth we've seen in these ETFs that focus on enhanced shareholder value beyond simply paying dividends.
Can they sustain the growth? That remains to be seen. They have enjoyed the benefits of the current equity bull market. Only PKW was around during the last recession, and it did weather that storm about as well as any equity ETF having kept pace within the S&P 500 index through the decline and the early stages of recovery. By mid-2009 it began to open a gap relative to the S&P 500 index and has extended that gap ever since.
I have been long PKW and added SYLD to my portfolio today. SYLD is, right now, my preference in this shareholder-value space. I like the low expense ratio, but more importantly, I like the quantitative model. I think its broader mandate, covering as it does a wider range of value-enhancing strategies, will serve its investors well moving forward.
Disclosure: I am long PKW, SYLD. I wrote this article myself, and it expresses my own opinions. I am not receiving compensation for it (other than from Seeking Alpha). I have no business relationship with any company whose stock is mentioned in this article.