In my opinion, OFG Bancorp (NYSE:OFG) is hands down the best Puerto Rican bank and might just be one of the best small-cap bank investments one can find right now. Whether or not shares are being held back because of the lackluster results of the bank's island peers is neither here nor there, but I'm quite content with its lagging position. That's because I like picking up cheap shares of a company I see growing at a very fast pace for a very long time.
Because of the complexity or vast number of moving parts that come together to form the operations of a bank, there are quite frankly a lot of different opportunities to report improvements on. And, most recently, I believe that the market has been giving a little equal treatment to the improvement of each performance measure. This makes it more important than ever to come up with a system to help give weight to each component's movement and help you come up with an idea of how one of these banks should be valued.
Fortunately, in the case of OFG, all cylinders are firing in the right direction, which makes an assessment very easy to complete with a high degree of confidence. That said, below I have highlighted the bank's recent performance and financial position to help demonstrate why it is a perfect long-term investment (all graphs are in thousands of U.S. dollars).
Second-Quarter Highlights
Deposits continued to grow and now account for 75.09% of all the bank's liabilities ensuring cheaper funding going forward.
NPL balance at all time low, now only 1.74% of gross loans.
NPL balance is now fully covered, from 73% to 113.7%.
NIMs up 19.56% from the first quarter to 5.56%.
Efficiency ratio down to 53.24%.
Upped full year GAAP EPS guidance to $1.55 from $1.40.
Financial Position
Click to enlarge images.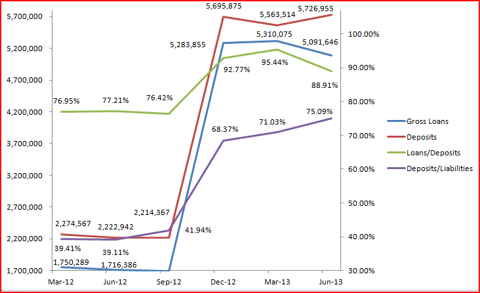 Click to enlarge
For those of you unable to access my previous article, the very large increase of OFG's loans and deposits that occurred between September and December 2012 was the result of the bank's purchase of Banco Bilbao Vizcaya Argentaria Puerto Rico (aren't you glad we can just call it OFG now?). The purchase moved OFG into the spot of the third-largest bank in Puerto Rico (from fifth largest) in addition to placing the fundamentals of the bank into a much more profitable position. As you can see from above, prior to the acquisition, the bank's loan/deposit ratio was only at 76.95% and the bank's deposit/liability ratio was even lower at just 41.94%. With the deposit and loan boost, the bank has more earning assets and is funded by a much larger percentage of deposits, the cheapest type of funding a bank can find.
In the most recent quarter, deposits continued to grow organically while the gross loan balance declined because of an accelerated payment of commercial loans. As it stands now, the bank is very liquid with a tier 1 capital ratio of 13.79% and is perfectly positioned to take advantage of rising interest rates. The bank has a positive gap (more variable rate assets than liabilities) and currently estimates that net interest income will rise between 1.33% and 2.08% should interest rates rise between 100 and 200 bps, respectively.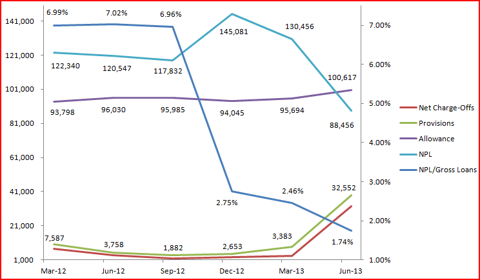 Click to enlarge
In addition to a more leveraged balance sheet, nonperforming loans continued to decline and now are completely covered by the bank's allowances. At just 1.74% of gross loans, the bank's NPL balance is more in line with state-side regional banks and much lower than the normal +5% found at the other Puerto Rican banks. Provisions were higher in the most recent quarter, but mostly in line with net charge-offs. The NPL balance is getting to the point where I think these charges will be much smaller going forward, a big plus for the bottom line.
Financial Performance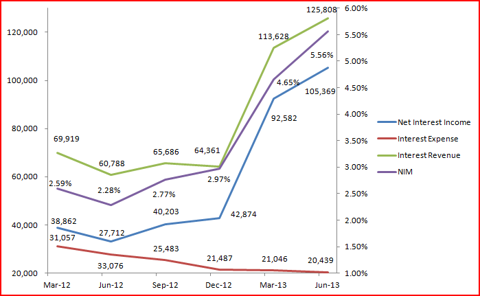 Click to enlarge
With the much larger loan balance, smaller percentage of nonperforming assets and more non-interest bearing deposits (now at $934.7 million), the bank's NIM improved 19.56% in just one quarter. But, more importantly, the bank's net interest income was up 10.7% to $125.8 million. Going forward, as interest rates rise and the bank continues to gather low-cost deposits, this very large NIM puts OFG in a great position for higher future returns. Knowing that most of the other Puerto Rican banks are starting to off-load bad loans for losses, should OFG choose to make a purchase the discount would most likely also produce a higher yield.
As you can see below, the bank has consistently managed non-interest expenses to the point where the efficiency ratio has improved to 53.24%. Didn't take too long for management to whip the 36 new branches into shape, did it? At sub-60%, the bank's efficiency ratio is much lower than the majority of regional banks that shoot for 60% and even lower when compared to any of the PR banks that have been turning in over 100% in recent quarters due to very large losses taken on nonperforming assets.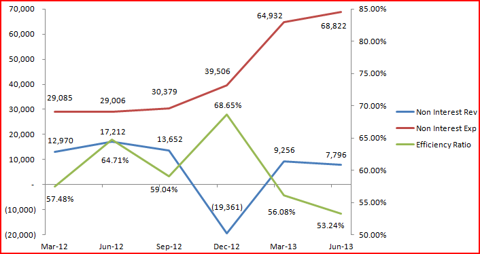 Click to enlarge
Valuation
Based on the financial position and consistent performance that OFG has turned in, I think it's fairly easy for one to assume that the future looks bright and that the bank will continue to build on its most recent earnings. Turning to value, in my previous article I timidly stated that the bank was worth at least a 10%-30% improvement for the premium paid on its tangible book value. Since then, the valuation has improved by 7% and shares trade at 35% premium on TBV.
At only 1.35x tangible book value, this bank is setting up for a very large pop. And here's why:
The bank had a 1.66% ROTA (annualized) last quarter and the bank's financial position appears to be in line to improve if not at least maintain this rate of return.
The bank's tangible equity is leveraged 13.66x, which turned in a 22.76% (annualized) ROTCE. Again, that's very sustainable, and the leverage looks safe with room to increase considering the above average Tier 1 ratio.
The bank's equity took a $31.285 million hit last quarter because of a fair value adjustment to the bank's available for sale securities. To be honest, I have been wrestling with how to approach a bank's fair value adjustment for some time, but have come to what I believe is a very solid conclusion.
When interest rates rise and a bank adjusts down its AFS securities one of two things can happen. It will sell the impaired securities in the near future and take the loss or it will let the securities mature and the fair value adjustment will only be a temporary impairment on the reported equity balance. With that said, and considering the very large adjustment, the larger adjustment a bank records the larger the incentive the bank has to not sell these securities before their maturity date. And, since these securities are not just one transaction, the AFS balance may have securities that can still be sold as needed for a gain with the liquidity of the bank being the largest item of concern when considering the bank's ability to hold the impaired AFS securities to their maturity dates.
Following this thought process, OFG's management has a very good track record of timing the sale of securities from the bank's AFS account. For instance, for the six months ended June 30, 2012, the company actually recorded a gain on the sale of AFS securities in the amount of $19.3 million -- a real gain. During the same time equity was hit for $30 million-plus for fair value adjustments -- an accounting adjustment.
The bank's deposit base is growing very fast, the L/D ratio suggests that OFG is very liquid, and the bank last reported cash and cash equivalents in the amount of $748 million (approximately 8.8% of all assets). Management has stated that these adjustments are temporary and they have no intention to sell any of the AFS securities for a loss, something I believe they won't have to do. And, if you're on board with this assumption, you wouldn't mind me adjusting the bank's TBV to reflect that these impairments won't be realized, which would increase it to ~$13.93 from the reported $13.49 per share. Making the share price even cheaper at just 1.3x tangible book value.
Here's a look at the price and returns of a couple of other banks you may be familiar with. Notice the higher valuation and lower returns.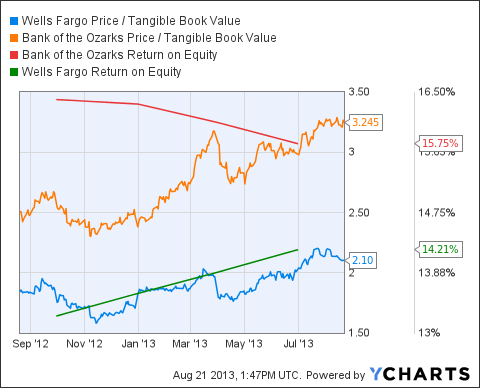 Turning to its PR peers, there really is no comparison here as OFG continues to run circles around the competition. And, considering that virtually every other publicly traded bank in PR is selling assets and taking losses, the opportunity for OFG to continue to pickup very cheap assets -- a la carte -- allows the bank to be ultra selective. This is a huge advantage and one that will continue for the much foreseeable time frame as OFG continues to grow its market share and take advantage of its superior position.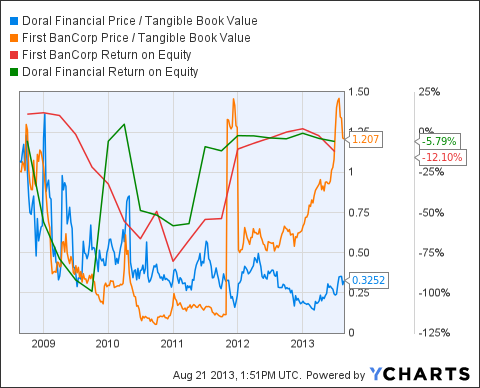 Full-year guidance of $1.55 per share is now close to double the income turned in last year. Based on this guidance, the forward P/E is extremely low at 11.74.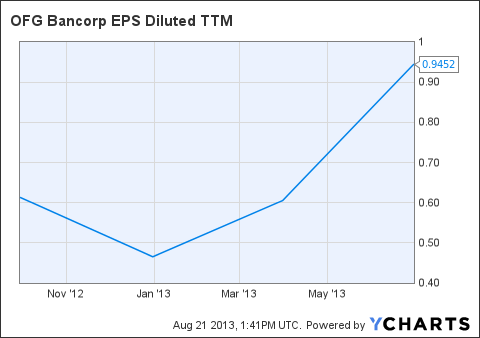 Bottom Line
OFG is extremely undervalued as the bank's performance merits a valuation closer to 2x tangible book value. I know that's aggressive, but even at 1.75x TBV (call it the Puerto Rican discount), shares stand to gain ~30% from a change in Mr. Market's sentiment. That would only put them in the company of state-side regionals earning 12%-15% a year at best. OFG is leveraged to grow at 20% for the much foreseeable future.
Taxes in Puerto Rico have been raised and the environment looks very tough considering the performance of OFG's native peers, but this bank walks to a much different beat and is only more attractive because of its association with the struggling banks that it competes with. Margins are set to improve, the NPL balance is declining, and there is some hidden value in the form of temporary fair value adjustments. What more could you ask for?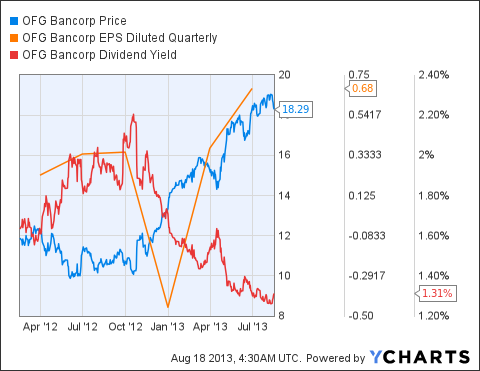 Disclosure: I am long OFG. I wrote this article myself, and it expresses my own opinions. I am not receiving compensation for it (other than from Seeking Alpha). I have no business relationship with any company whose stock is mentioned in this article.