Highly controversial oil producer Linn Energy (LINE) announced mediocre second quarter results. Distributable cash flow (DCF) per unit declined 7% year-over-year to $0.65, even though net income rose 24% year-over-year to $1.47 per unit.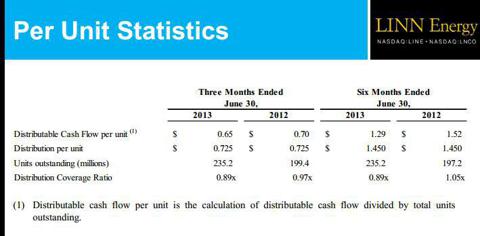 Image Source: LINE 2Q 2013 Slides
Among the most important metrics to watch at Linn Energy is its distribution coverage ratio. Not only is the shareholder base of Linn Energy highly interested in distributions, but the health of the firm is dependent on being able to generate cash flows to pay out distributions. If a firm's cash flow is deteriorating, not only can the distribution be at risk, but the business itself could come under pressure.
For its second quarter, Linn posted a distribution coverage ratio of 0.89x, meaning only 89% of the distribution could be paid via internally generated cash flow. The ratio year-to-date is also 0.89x, down from 1.05x at the same time last year. In the short-term, coverage under 1 won't put the distribution at risk, but if weakness persists, the firm will have to again tap capital markets to sustain its payout.
After reviewing the second quarter conference call, we do not feel management necessarily feels confident about the sustainability of its distribution payments. CEO Mark Ellis completely skirted the issue, noting on the conference call:
"…I know you are asking us to give a forward look in terms of prediction, in terms of distribution. Obviously, a lot of moving parts that you look out the rest of this year, capital performance, you talked about transaction liquid's prices, you've touched on all of those. We are in the process right now going through a long range plan. We don't do our budget planning for 2014 until later this year and we really don't give guidance on distribution management beyond the current quarter and obviously we have to review that on a regular basis with the Board. So we wouldn't have any projections on that until later this year. We customarily provide guidance for 2014 late in the year 2013 and we will do that at the right time."
Although we wouldn't expect Ellis to proclaim that the distribution is 100% safe, we certainly do not feel very confident about it after his response.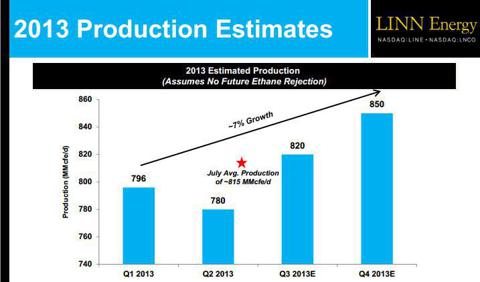 Image Source: LINE 2Q 2013 Slides
On the positive side, production seems ready to increase throughout the back half of 2013. As shown above, production declined slightly sequentially in the second quarter, but was up 24% year-over-year to 780 MMcfe/d. Management noted that ethane rejection (ethane is not extracted for usage) contributed to the disappointing production during the second quarter. Management anticipates this trend to continue as the ethane market remains heavily oversupplied, saying:
"Our decisions on whether to reject ethane are made monthly based on economics at processing location in an effort to maximize value.

In some areas, we have the right to either reject or separate the ethane, while in other regions the decision belongs to the gas processor. Any future decisions to reject ethane will have a negative impact on production volumes, but no impact on revenue."
Although it appears Linn captured some upside when ethane prices were higher, it seems that depressed ethane prices won't hurt the company much going forward.
Looking ahead, management anticipates DCF of $0.63 per unit which equates to a coverage ratio of 0.87x. Fourth quarter DCF is predicted to be $0.69 per share, equal to a coverage ratio of 0.95x. The near-term doesn't look great for Linn Energy, and we're not readily forgetting that second quarter DCF was below the firm's guidance.
As for the merger with Berry Petroleum (BRY), management provided little commentary other than saying that it was still pursuing the deal. We might see Linn forced to throw in additional shares of LinnCo (LNCO) to compensate for the stock's price decline.
Valuentum's Take
All things considered, Linn's yield of 11.5% may look tempting, but weak natural gas prices have left the firm unable to generate enough cash flow to cover distribution payments. With Linn among the most controversial firms in our coverage universe, it could be hard for the company to raise capital to keep paying distributions (as it has done so successfully in the past). We're staying far away from this company in our Dividend Growth Newsletter portfolio.
Disclosure: I have no positions in any stocks mentioned, and no plans to initiate any positions within the next 72 hours. I wrote this article myself, and it expresses my own opinions. I am not receiving compensation for it (other than from Seeking Alpha). I have no business relationship with any company whose stock is mentioned in this article.