There's a raging debate about whether the U.S. Justice Department's decision to oppose the proposed merger between bankruptcy-emergent American Airlines (AAMRQ.PK) and US Airways (LCC) is the right thing to do with respect to the companies, the industry, and the public's interest.
It's not easy to sort through all the bilious blogosphere rhetoric, but the case against the merger was made over the last few days in the New York Times by economics commentator, Eduardo Porter and columnists Joe Nocera and James Stewart. The case in favor was made by Robert Crandall, former CEO of American in the Wall Street Journal.
Merger opponents argue that there will be reduced competition on more than 1,000 routes, and outright monopolies accompanied by sharply higher fares. Proponents argue that US Air/American will develop a more comprehensive route network that can provide smoother connections and flight availabilities, greater employee stability and benefits, and less volatility and risk for shareholders. As the Wall Street Journal noted, "out of the more than 900 domestic routes that American and US Air fly, there are merely 12 nonstop overlaps, nearly all of them between their hubs."
Every traveler will always look for the lowest fares and be opposed to being ripped off because there's a monopolist in a particular origin-destination market. But in addition to fares, there are many other things to consider as well. Is it in the public interest to fly more modern equipment with significantly greater fuel-efficiency, less greenhouse gas pollution, cleaner and more comfortable seats and better airport amenities? And isn't it better to have air carriers where you don't have to worry about the safety and maintenance issues that increasingly arise as equipment ages? Of course it is.
The current cattle-car conditions on many domestic carriers make air travel much more burdensome than it ought to be, especially as compared to travel on many international routes.
The only way to improve flying conditions (and also perhaps reverse the trend toward nickel-and-dime extra charges for bags and even snacks that add up to $6 billion a year industry-wide) is to pay higher inclusive fares that allow carriers to become more consistently profitable and able to more readily finance new capital equipment investments. The following chart of Air Transport Association (now Airlines for America) data illustrates the volatility of net profits over the longer term. I doubt that it is in anyone's interest -- be it the shareholders, the companies and their employees, or the flying public -- to continue to experience such volatility.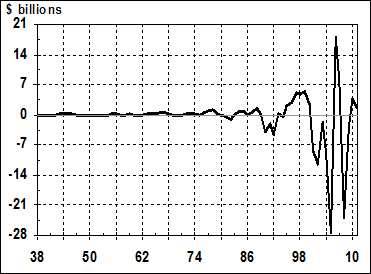 Air Carrier Net Profit/Loss (in $billions), 1938-2011
Source: Air Transport Association
Many industries consolidate into three strong participants and it's reasonable to think that this industry will operate for the overall public good (and in support of GDP growth) at least as well with a strong American-US Air combo as with a relatively weaker standalone American and US Air structure. That's because a combo will have the market power to challenge United and Delta on pricing, large corporate travel package discounts, and entry into new markets in a way that two weaker stand-alones probably cannot. My sense is that in economic terms Crandall and the aforementioned Wall Street Journal editorial "Arbitrary Antitrust" has the better argument, and this is aside from the associated issue of ongoing politicization of antitrust policy-making in which JD action appears to be based more on political than economic considerations.
It might take awhile, but monopoly pricing and profits in any pair city can and will attract new entrants as any monopolies in this industry are much more fragile and less sustainable than are monopolies in other large infrastructure industry groups such as cable television, Internet services, and electricity and water supply.
Why? Because airplanes are mobile assets not permanently tethered to one location. Try to raise the fare too much in any market and it is likely that some other carrier will eventually be able to buy or lease landing slots and gates and begin flying into town. It is in this particular way that Justice Department thinking and policies are stuck in a 19th century frame of mind and are not at all taking account of the crucial asset-mobility factor. The JD's case rests on assumption that origin-destination market control and the industry structure is entirely and forever static whereas economic history has many times proven that -- especially when it comes to industries with such highly movable assets -- the structure and pricing is relatively fluid and dynamic. A much better outcome would be for the JD to allow the merger conditional on remedial divestitures in a few relatively concentrated markets.
An economic uptrend (however weak) and a bull market riding on the Fed's quantitative easing have, with few exceptions, propelled the major air carrier stocks toward relatively positive performance against the S&P 500. The fall from the $145 per barrel oil price peak in 2008 (and from $3.06 a gallon for jet fuel in 2012) has also contributed importantly to better airline share returns (as jet fuel can account for 30% of operating costs).
The two charts below are representative and compare US Air (LCC) and Delta (NYSE:DAL) and United-Continental (NYSE:UAL) and Alaska Airlines (NYSE:ALK) with the S&P500, which is the lower line in both charts. A similar story (not shown) would be seen in charting JetBlue (NASDAQ:JBLU) and Southwest (NYSE:LUV) against the broad market index.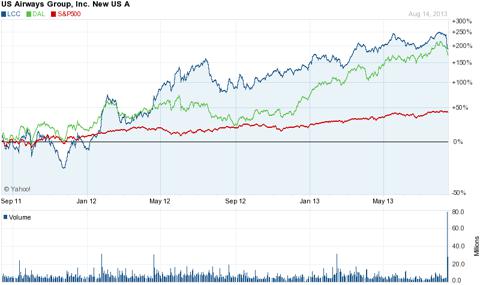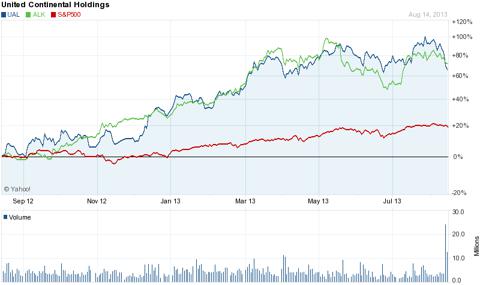 Source: Yahoo Finance charts
The larger longer run concern for airline investors is that there is always a tremendous sensitivity of profits to fuel prices and to capital costs. Given my pessimistic economic overview about growth rate impairments in Asia (particularly China), lingering problems in Europe, and continued prospects for a lackluster recovery in the U.S., it appears unlikely that rising fuel prices will be a major drag on profits for at least the next year or two. But a rising cost of capital might turn out to be a different story as capital would likely be less expensive for a merged entity than for two smaller stand-alones. Despite the Fed's wishes and intentions, the 10-year benchmark treasury bond yield soared to a mid-August high of around 2.8% as compared to at least 100 basis points lower only three months prior.
Given that global carriers have recently made significant commitments to acquisitions of new equipment via aircraft leasing and direct purchase agreements, such a rapid rise in rates, if continued, may turn problematical by capping prospective traffic growth as well as by raising the cost and risk involved in servicing the new equipment financing obligations that have already been incurred.
The total for the top 10 aircraft leasing companies as shown in a June 18, 2013 Wall Street Journal article by D. Cameron is for 4,686 planes worth $107.2 billion. In this total, American Airlines, for instance, ordered thirty-five Boeing 737s and five Airbus A330s. In all, American has ordered 460 new planes worth $38 billion over the next decade according to an August 15 New York Times report (by J. Mouawad and C. Drew). It can be argued that only a merged American-US Air company will be able to maximize overall long-run benefits for passengers, employees and shareholders and also financially support such major acquisitions.
I thus like the airline business better with potentially three strong carriers than with two strong (DAL and UAL) and two weak (AAMRQ.PK and LCC) players. For the time being, the three other important companies, Southwest (LUV), JetBlue (JBLU), and Alaska (ALK), respectively, will likely remain unconsolidated and might provide better investment performance than DAL and UAL.
But given the generally good recent performance of airline shares and my continuing skepticism about 2014 prospects for the economy and the stock market, I'd suggest reducing investment exposure to this industry and/or writing calls against positions.
Disclosure: I have no positions in any stocks mentioned, and no plans to initiate any positions within the next 72 hours. I wrote this article myself, and it expresses my own opinions. I am not receiving compensation for it (other than from Seeking Alpha). I have no business relationship with any company whose stock is mentioned in this article.