With gold consolidating so close to all-time highs, the deck was stacked for a breakout. While the pundits pointed out plenty of good reasons why the metal should sink, perhaps even sharply, the gold chart showed that the path of least resistance was higher.
And that's exactly where it went. Overnight, nearby gold futures broke through previous all-time (not inflation-adjusted) highs of $1033.90, and as I write the Dec contract is approximately $1032. Some will attribute the cause to concerns that Middle Eastern countries will switch away from the dollar. That may have been the straw that broke the camel's back, but traders know there is more to the story. Gold had been consolidating for months. That it finally made a strong directional move should surprise no one.
Click to enlarge: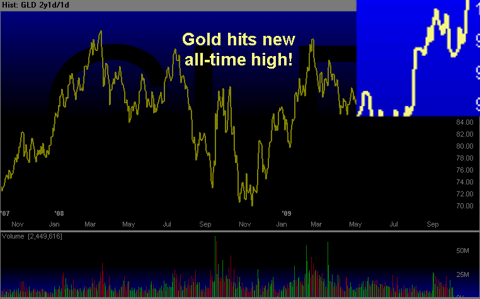 I'm playing the trend by trading short-term moves in gold and silver futures, and building positions in junior and mid-tier miners. Here are a handful that I am currently long (all positions put on in past few days).
Claude Resources (Amex: CGR)
New Gold (Amex: NGD)
U.S. Gold (Amex: UXG)
MineFinders (Amex: MFN)
NovaGold (NYSE: NG)
Yamana Gold (NYSE: AUY)
Disclosure: Long all of these stocks. In and out of gold / silver futures.