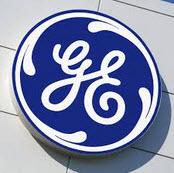 Executive Summary
My friend and colleague Regarded Solutions penned an article stating General Electric (NYSE:GE) will double in 12 to 18 months from its current share price 9 months ago. He stated,
"I am reaffirming my opinion that shares of General Electric can surge from the current share price of $20-$21/share to over $45/share within 12-18 months."
Well, let me tell you, this one article spawned one of the highest profile discussions on Seeking Alpha. Over six articles by four different authors were involved. You can read them all here (I,II,III,IV,V,VI). Needless to say it was quite the brouhaha!
Since, Regarded Solutions reconfigured his initial position and I agreed he made quite a few good points, all is well between us. But, the what has happened to the stock over the last nine months you say? It has risen by approximately 10% by my calculations. See chart below provided by Finviz.com.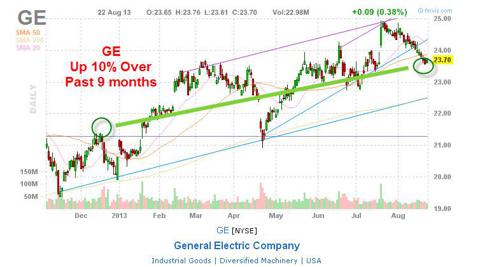 Now, let's forget about who said what when and cut to the chase. The real question is, where is GE going over the next 12 months? This is the question we will address in this article. Quite frankly, I think we may see some further downside in the near term prior to a push higher to $28 by this time next year. Please review the following sections regarding my analysis of GE's current state.
Recent Earnings Results Quick Recap
On 7/19/2013, GE reported second quarter 2013 earnings of $0.36 per share. This result was in-line with the consensus of the 13 analysts following the company and missed last year's second quarter results by 5.26%. Even though the results did not beat expectations, there were some bright spots regarding growth. Furthermore, a few of the negatives were described as one-time items and transitory.
Fundamental Peer Comparison
Please review the following analysis of key fundamentals regarding GE vs. its peers and industry averages. The tables were provided by Scottrade.
Profitability

Across the board, GE is outperforming the industry and its peers with regard to profitability. With gross margins twice that of its peers and slightly better than industry average GE is performing well and beginning to gain traction. Nevertheless, when it comes to net profit margins GE is pretty much in line with its peers yet still better than the industry average. This tells me GE still has some serious overhead cost cutting to do. This is good news.
Valuation

GE looks good when it comes to valuation. The P/E comparisons have GE trading substantially lower than its peers and the industry average. GE's P/E ratio being below the industry average signals that investors are not willing to pay a premium for this stock. So if you're looking for value, GE has it in spades.
GE looks bad from a price to tangible book basis, yet exceeds all others by a mile regarding price to cash flow. This is telling of the behemoth the company has become. It's a massive cash cow. The cash flow more than makes up for the price to tangible book value.
Sales Growth

Sales and dividend growth are currently lacking. Nevertheless, EPS growth is up 12% and much better than its peers at negative 8.69% and the industry average of 3.31%. EPS leads the way. This is a good sign the company could begin to accelerate growth of dividends and revenues. Moreover, during the past year, earnings growth has outpaced its historical five-year growth rate.
Financial Strength

As you can see, GE is highly leveraged vs. the industry and its peers by nearly a 3 to1 basis. This is part of the problem regarding the spread between gross and net profits, although GE does self-finance certain operations so it's not all bad. As long as it keeps a close eye on interest expense it should do fine. A 50% payout ratio is on the high side vs. peers and the industry average, but the cash flow ratios reduce risk.
Management Effectiveness

Management's effective use of company profits and assets is probably the most important data to analyze when deciding to invest in a company. GE's management is starting to turn the corner regarding ROA, ROE and ROI. The ROE is telling. GE has almost caught up to its peers and the industry regarding ROE. This is a good sign. It shows although it is a huge company it is becoming as nimble as smaller competitors.
Insider Activity
According to Scottrade, insider activity has been minimal over the past 5 years. William Beattie did buy ten thousand shares on 4/24/2013. I like to check the insider activity to see if there is any unusual activity going on with insiders. Vast amounts of sells or buying. GE's insider report seems benign to me, neither bad nor good.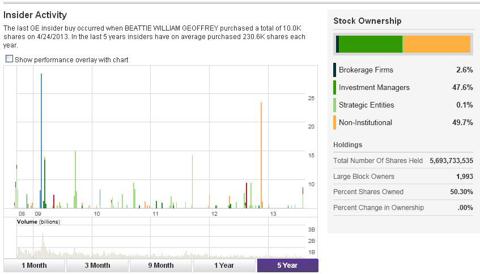 Positive Catalysts
Financial Strength
GE has an enormous amount of firepower. It can move in to a new industry and start making profits in short order by acquisition and expansion. GE's strong financial position allows the company to do a high level of R&D which leads to increased profits.
Focus On Emerging Markets
GE has a big job to do bringing the emerging markets of the world into the modern age. This may be a double-edged sword though. Emerging markets are definitely where growth lies, but with an equal or greater amount of risk comes along with it.
Room for Improvement
GE is focused on improving EPS. It is working on both ends of the equation to get there. There is room for improved efficiencies throughout the company. As time passes, I posit we will see significant improvements to fixed and overhead costs. These savings will directly improve the bottom line.
Downside Risk
Emerging Market Credit Crunch
The emerging markets implode. There are rumblings about all the liquidity flooding the markets has created a credit bubble in emerging markets which could lead to a 2008 style credit crunch for emerging economies. If this occurs, it may just dash the hopes for many of GE's plans. Not good.
Execution Risk
The fact that GE is so formidable in regarding to size and strength is both good and bad. With a company of this size the entrenched bureaucracies can be hard to transform. GE will need to stay on track regarding the streamlining of operations to be successful.
Conclusion
I remain guarded on the prospects for GE in the short-term given the recent softness in global markets. I see the stock moving sideways to slightly lower in the near-term. Nevertheless, I see the stock hitting $28 within the next twelve months. This implies a 30% upside for GE's stock. What I like most about GE is its shifting focus to the emerging markets. This is where opportunities for growth reside. While second quarter sales were light, significant expansion in the Power & Water business was noted. This is a good sign GE's industrial operating margin expansion target for 2013 will be met. GE continues to effectively execute a strategy of reducing assets and redeploying funds into its Industrial businesses. I have faith in GE will continue to improve EPS from here by increasing revenues and streamlining costs. I plan to layer into a position over time to reduce risk. I think the macro market sell off isn't over just yet and GE's stock will not be immune to a macro market sell off.
Disclosure: I have no positions in any stocks mentioned, and no plans to initiate any positions within the next 72 hours. I wrote this article myself, and it expresses my own opinions. I am not receiving compensation for it (other than from Seeking Alpha). I have no business relationship with any company whose stock is mentioned in this article.
Additional disclosure: This is not an endorsement to buy or sell securities. Investing in securities carries with it very high risks. The information contained within this article is for informational purposes only and is subject to change at any time. Do your own due diligence and consult with a licensed professional before making any investment.