Statoil (NYSE:STO) is one of the most underappreciated oil and gas companies in the industry, with only five Wall Street analysts following the stock. The company falls short of being considered an oil and gas Supermajor (which are the world's largest oil/gas companies), but pays one of the best dividends in the industry -- Statoil has a near $70 billion market cap and a 5.3% dividend yield.
The oil and gas company is also the world's largest offshore oil and gas operator, with a portfolio of major hydrocarbon producing assets in various regions of the world. This portfolio includes a focus on the exclusive Norwegian Continental Shelf, as well as the Gulf of Mexico, Canada, Barents Sea, Tanzania and Mozambique.
Statoil's operating locations: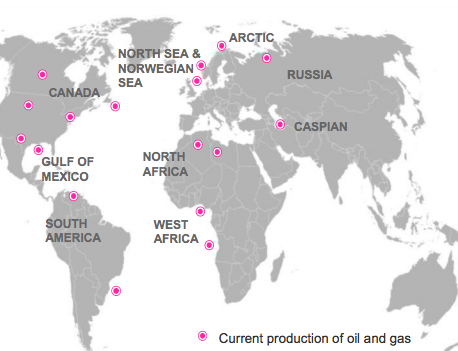 Competitive advantage
So what is Statoil's competitive advantage? The company is quickly becoming a leader in technology when it comes to extracting oil and gas. This includes its ability to yield higher recovery rates than competitors.
Statoil managed an average recovery rate in Norwegian fields of 50% in 2012, while the worldwide average for recovery was around 30% to 35%. Statoil believes it can get its recovery rate to 65% for platform fields and 55% for subsea fields over the long term.
The oil and gas company is utilizing a variety of methods for improving the ability to recover resources. These methods include infill drilling, deep/extended reach wells and water alteration gases. Specifically, Statoil's improved oil recovery methods include horizontal wells (33% of activity), water & gas injection (25%), chemical injection (10%), with the remainder involving various subsea compression methods.
Filling up the portfolio
The oil and gas giant is not only tops when it comes to squeezing the most out of its assets, but it's also strong on the exploration front, having discovered over 20 new wells this year. The amount of its 2012 volumes discovered came in as one of the best in the industry.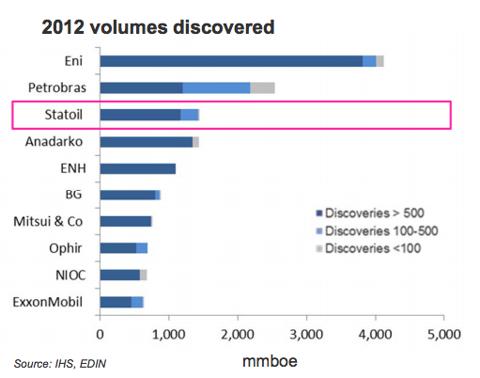 Click to enlarge
Statoil also has an agreement with Russia's state-owned oil company, OAO Rosneft. Statoil, jointly with Rosneft, will explore for and develop offshore deposits in the Barents Sea and Sea of Okhotsk. Worth noting is that Rosneft is world's largest hydrocarbon-producing company.
Bottom line
All in all, the dividend yield on Statoil is impressive, at 5.3%, which is in line with a couple of the European supermajors, but still head and shoulders above the U.S. supermajors. From a valuation standpoint, Statoil trades at only 8.2 times forward earnings, but its technology appears to be the real story. Statoil has managed a reserve replacement ratio of over 100% for the last three years, coming in at 110% for 2012.
Disclosure: I have no positions in any stocks mentioned, and no plans to initiate any positions within the next 72 hours. I wrote this article myself, and it expresses my own opinions. I am not receiving compensation for it (other than from Seeking Alpha). I have no business relationship with any company whose stock is mentioned in this article.