Sales of U.S. Mint American Eagle silver coins have maintained the scorching pace while sales of gold coins so far in August are down sharply as compared to earlier months this year and also on a year-on-year basis. The record demand for gold coins seen in April after the price collapse has consistently fallen, month on month, while that for silver coins has seen a steady and a massive demand. The U.S. mint sold 5,000 ounces of gold American Eagles so far this month, but has sold 2,446,000 ounces of silver American Eagles till now. The U.S. Mint was cleared out of its gold coin inventory in April after the astonishing 15% two day price plunge. While demand for both American Eagle coins remained strong in the first four months of the year, investors are now overwhelmingly purchasing more Silver Eagles and banking on much higher gains in silver than gold. It also seems like the American bullion investing public has secured its allocation to gold bullion in April itself and does not seem to want any more. But at the same time, the hunger for silver bullion coins seems insatiable. Why? Any idea?
Chris Carkner, managing director of sales for bullion, refinery and exchange-traded products at the Royal Canadian Mint, recently told Kitco: "Year-to-date, after the second quarter, we've had record volume for silver Maple Leafs, the greatest we've had in the over 25 years that we've produced them."
Gold Buyers book gains while Silver Buyers add to Inventory:
Sales of American Eagle silver coins are on track for a record. Sales are at 31.896 million ounces in less than eight months into this year, compared with 33.7 million in all of 2012. Silver bullion investors purchased 4,046,500 Silver Eagles in July, almost surpassing April's total of 4,087,000 -- its second best month this year -- whereas gold buyers seemed least interested in buying gold in July with sales falling to just 50,000 ounces - its worst sales figure for the complete month till now in 2013. While demand for gold has declined, there have also been some large liquidations in the secondary market with some high net worth coin buyers choosing to reduce allocations and take profits in recent months. The silver to gold sales ratio on the year stands around 46.59;1, but this same number for the month of August is a nerve wracking 489.2:1. Just imagine that! The sales of gold coins will surely rise in the rest of the month but I feel confident that this would be an outstanding final ratio favoring silver by the month end. Silver seems overwhelmingly favored by the physical investors globally. Furthermore, sales of American Eagle silver coins seem well poised to hit a new all-time record this year, beating the past record for 2011 of nearly 40 million oz. At the average of current pace of sales, silver bullion may reach a minimum of around 46 million ounces. But if we also take into consideration the addition of investments flowing into silver after rising interest rates and bond yields have been seen, and also with US stock markets poised for sharp corrections, the number could very well cross the 50 million ounce mark for 2013.
The US Mint's sales Silver to Gold ratio:
| | | | |
| --- | --- | --- | --- |
| Month | Gold Ounces | Silver Ounces | Ratio of Silver Oz bought per Gold Oz |
| JAN | 150,000 | 7,498,000 | 49.98:1 |
| FEB | 80,500 | 3,368,500 | 41.84:1 |
| MAR | 62,000 | 3,356,500 | 54.13:1 |
| APR | 209,500 | 4,087,000 | 19.50:1 |
| MAY | 70,000 | 3,458,500 | 49.40:1 |
| JUN | 57,000 | 3,275,000 | 57.45:1 |
| JUL | 50,500 | 4,406,500 | 87.25:1 |
| AUG | 5,000 | 2,446,000 | 489.20:1 |
| TOTAL | 684,500 | 31,896,000 | 46.59:1 |
Data source: U.S. Mint
While silver zooms ahead, gold is not out of the race yet
Even with silver stealing the "limelight," all does not seem lost for gold, which will, till eternity - remain a store of value. Just, that it's time for silver -- the almighty gold's poor cousin -- to rise and shine brightly.
As Goldcore pointed out:
Gold premiums on the Shanghai gold exchange rose from $21 Tuesday to $22.40 over London spot showing robust physical demand in China. Demand from the over 2 billion people, rich and poor, in China and India alone this year alone is set to be 1,000 metric tonnes, which is worth over $87 billion or roughly what the Federal Reserve is printing every single month. Gold is off almost 20% year to date, but has risen 16% from a 34-month low of $1,180.71/oz on June 28 as lower prices led to physical bullion demand throughout the world.
Dr. Constantin Gurdgiev is one of the few economists in the world to have looked at and researched the gold bullion coin market and continues to do so. On his excellent economics research website, True Economics, he has conducted another analysis of U.S. Mint gold coin sales looking at U.S. Mint Gold Sales: H1 2013.
The key insights from his research piece are the following:
In H1 2013, US Mint sold 629,000 oz of coinage gold, marking the 5th highest ranked H1 in sales terms since H1 1987. Year on year, H1 2013 sales were up 86.1% and relative to crisis period average, sales were up 22.0%, while relative to the pre-crisis period (2001-2007) H1 2013 coinage gold sales were up 261.5%. For comparison, historical H1 average sales are currently at 336,520 oz.

In H1 2013, US Mint sold 1,088,500 coins, marking the third busiest H1 sales period since 1987. For comparison, historical average sales for H1 are at 592,615 coins.

In terms of average gold volume per coin sold, H1 2013 came it at 0.578 oz/coin, which is relatively moderate, given the historical average of 0.577 oz/coin.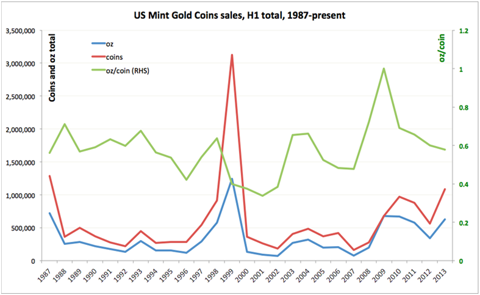 Chart above shows that both coins sales and oz sales of coinage gold remained in H1 2013 on the upward trend established since 2007 and the overall 2009-2013 activity for H1 period remains at post-1999 highs. There is little indication of any serious long-term slowdown in demand for US Mint coins in the data and H1 2013 strengthened the trend away from such moderation. The correction sustained over 2011-2012 has now been more than reversed and H1 2013 numbers in terms of coins sold is sitting comfortably above previous post-1999 maximum attained in 2010.

At the same time, demand for coinage gold (oz sold), while partially correcting upward in H1 2013 remains below the local maxima set in 2009-2010.

The above is consistent with restricted buying-on-the-dip behavior, with some upward momentum being sustained by considerations other than price movements. This is further supported by changes in correlations between sales and the spot price of gold (average of closing monthly prices in USD):

For price vs oz correlation, correlation between H1 1987 - H1 2012 stood at +0.22 and this rose to +0.29 for the period H1 1987 - H1 2013, implying (recall that price fell for H1 2013 to USD1,484.50/oz compared to H1 2012 at USD1,664.00) some limited buying-on-the-dip behavior.
For coins sold vs price, correlation H1 1987 - H1 2012 stood at +0.04 and this rose to +0.11 for the period H1 1987 - H1 2013, also implying limited buying-on-the-dip behavior.

It is worth noting that H1 2013 figures were driven largely by January) month 1 of Q1) and April (month 1 of Q2) sales. This dynamic did not replicate in July (month 1 of Q3), so we should tread cautiously in expecting robust continuation of the H1 sales in H2.
Endless positives for Silver Prices:
According to Commerzbank, investors around the world have pushed holdings in silver exchange-traded funds (ETFs) to nearly 20,000 metric tons in 2013. Holdings in the world's largest silver ETF -- the $7.8 billion iShares Silver Trust (NYSEArca: SLV) -- now stand at over 10,525 metric tons. SLV took in more than $400 million so far in 2013. The impressive item here is that more than half of that amount flowed into the fund during the past month. The inflow compares very favorably to the outflow of $20.5 billion from the biggest gold ETF, the SPDR Gold Trust (NYSEArca: GLD).
Rising record demand, heavy (manipulated) price declines and rising production costs are causing a shortage in supply of silver bullion. This will lead to a further price surge eventually.
Silver prices have rebounded about 28% since the lows of late June, and are currently trading at around $23 an ounce. Silver price rises have actually outpaced gold in the past few weeks. Since August 6, the most active September silver futures contract rose about 18%. In contrast, the December gold contract climbed by roughly 6%. Many speculative hedge funds had gone short on silver, expecting more downside to the sharp sell-off that occurred in the precious metals space. The hedge fund community had the lowest amount of net-long positions in silver in about 10 years. Some of those bets have now been covered, with the funds buying back silver futures contracts. But there may be more short covering to go. As silver moves higher, shorts will rush to cover, and give prices an even bigger boost.
The Indian government and its central bank (RBI) have placed all the blame for a flagging economy, high current account deficit and a plunging currency squarely on the country's investors' passion for gold. This made the government restrict gold imports into India by way of imposing massive curbs and hiking import duties. The restrictions on buying gold have driven the world's largest consumers of gold towards silver. Just imagine the result when the world's largest buyer of gold is compelled to focus on silver -- the only available substitute for gold. Read more: What Happens When You Tell Indians to Stop Buying Gold.
One rapidly growing source of silver demand is in photovoltaic solar panels. Since 2000, silver consumption from this sector has risen by 50% annually. In 2002, silver usage for solar panels stood at one million ounces, but grew to 60 million ounces by 2011. But now a number of nations are make a strong push for solar-generated electricity. It's now projected that demand from Japan and China alone will soak up nearly 11% of world mine supply. Read more: A Photovoltaic Silver Bull in China and What It Means for Investors.
Silver is particularly useful in electronics because of its ability to conduct electricity, while its anti-bacterial properties make it a popular component in modern medicine.
All the above and many more uses of silver make it more apt as an investment, as compared to gold, which is simply an investment instrument -- a store of value like silver, but nothing more. Read more: Silver will be the New Gold amid the New Financial Market Collapse.
Disclosure: I wrote this article myself, and it expresses my own opinions. I am not receiving compensation for it. I have no business relationship with any company whose stock is mentioned in this article.
Additional disclosure: I am long in Silver (NYSEARCA:SLV) and also hold some Gold (NYSEARCA:GLD). I will add more to Silver if price dips are seen.