On August 20, 2013 the education behemoth Corinthian Colleges (NASDAQ:COCO) qualified for a reprieve, following a "financial-composite-score" review by the Department of Education. As per details available from the announcement, COCO will now not be required to provide a Letter of Credit to the Department of Education. This outcome is positive news for the third-largest education company in the U.S. as it prepares to announce the 4Q13 results on August 29. Here is an outlook of COCO's 4Q, the stock's potential and expectations on this "for profit" organization.
A peek at COCO services and market segment
COCO caters to a humongous student community seeking post-secondary and higher secondary education. Its student population was 87,776 as of March 31, 2013. It operates over 113 campuses in the U.S. and Canada under the aegis of Everest, Heald and WyoTech groups. COCO has since won a first-mover lead in the eLearning segment by quickly moving from its traditional classroom education systems to meet emerging demands for online education. In FY12, 35% of its student population opted for COCO online courses.
Why was COCO's composite score reviewed by the ED?
Schools in the U.S. have to meet the composite-score graded benchmarks (defined as a weighted measure of equity, net income and reserves) of 1.0 and 1.5 set by the Department of Education (ED) to avail federal student financial aid programs. Such a score also qualifies schools to remain out of ED range on issues of administration.
The Department of Education determined that COCO's composite score stood at 0.9 and 1.5 for FY11 and FY12, respectively. In comparison, COCO had reported scores of 2.1 and 1.5 for the same period. Since the ED determined composite score was less than the lower threshold of 1.0 in FY11, COCO had been advised to make arrangements for providing a Letter of Credit. This indication of financial duress led to COCO's poor performance in financial markets. COCO shares lost over 20% of their value during this phase but were quick to rebound in the next couple of months.
COCO appealed to the ED to reconsider its FY11 composite scores, considering the massive $204 million set aside towards goodwill impairment. Fortunately for COCO, the request has been considered contextually and approved. The ED, in its letter dated August 16, directed COCO not to furnish a letter of credit. However, the composite scores would stand unchanged.
ED announcement puts COCO shares in the green again
SEC filings have revived COCO's share performance. Company shares rallied to gain by 11.63% in a day to close at $2.4 per share, and in immediate response, achieved market capitalization of $206 million.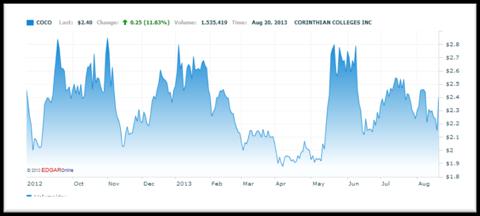 Click to enlarge
COCO performance analysis: Oscillating between good and bad news
In the last 52 weeks, COCO shares have traded between a low of $1.8 and a high of $2.85.
COCO's run-ins with regulatory bodies
The company has been on the receiving end of government department investigations time and again, and these have influenced investor perceptions. In 2010, COCO was dragged in front of the Senate Health, Education, Labour and Pensions (HELP) committee to answer questions about its supposedly low student pass out rates, allegedly high student withdrawal rates, and effectiveness of its online courses. The company also had to ward off charges on high tuition fees and unsavory practices of its marketing teams to register new students. Recently, the institution's course delivery and student attendance tracking mechanism have also come under close scrutiny by the government.
While COCO has strongly refuted these allegations and has fought back by releasing its own audited figures to debunk the insinuations, these public run-ins with government regulators has eaten into its brand and put stress on its share price.
Regulatory changes
COCO has had to adjust to various regulatory changes, which have impacted student enrolment and its future revenue generation. These regulatory changes have compelled COCO to screen its potential students more stringently. This has lead to a reduction in new student intake in comparison to previous years. The ED has tweaked the rules to make schools accountable. Schools whose student default rates and outcomes exceed 25% will lose eligibility to draw from the federal loan program.
Per this rule, which came into effect in July 2012, students lacking a high school diploma would become ineligible to seek student aid for directly pursuing secondary education programs. This would prevail even if students proved their "ability to benefit" from higher studies by passing previously recognised entrance tests. Students who can afford to take up these diploma and post secondary courses through their own funding is relatively lesser. In FY12, COCO had 6176 ATB students. In FY13, that has dropped 61% to 1978 ATB students. The college predicts these numbers will go down further in FY14.
Growth Strategies
COCO is aiming to overcome these challenges by increasing its new student count and also becoming fully compliant with the regulatory requirements. With 94% of its student population opting for short-term diploma and associate degree programs, COCO is targeting to start 100 new programs in FY14 to attract new students. COCO has reduced its fees to attract more full time students.
It has plans to start 20 new campuses in states where community colleges are turning down new students due to paucity of funds, as illustrated in the below example of California state.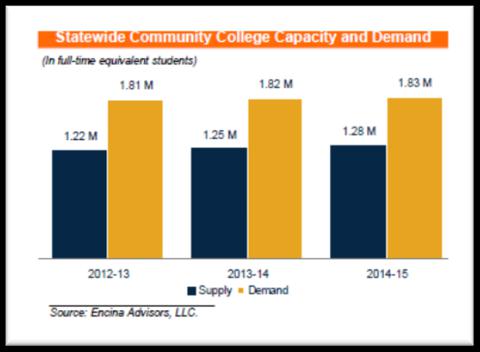 Click to enlarge
Operational Streamlining
It has implemented a new student information system across all its schools. This has resulted in better reporting, thus providing management the capability to track and monitor performance trends in real time. More importantly, COCO has worked on ensuring financial-aid processing becomes an in-house activity. This will allow COCO more control of its reporting and administration. It has also reduced its student loan default rate to 6.6% in comparison to 21.5% in 2009. It has also implemented manpower rationalization by eliminating 1350 positions, thus saving $150 million annually.
Outlook
COCO expects its 4Q13 revenue to dip marginally to range between $378-$388 million, and its projected diluted EPS range to lower to between 3-5 cents. The company expects the non-ATB student populations to grow by 7%-9%. With US unemployment rates at the lowest since 2009 at 7.4%, "for-profit colleges" are well placed to accommodate new students signing up for short-term courses. COCO has cash reserves of close to $44 million and debt of $30.7 million as of April 30. Its student retention levels and non-ATB student numbers are slated to go up progressively over the next quarters. A renewed revival for COCO is most likely. I strongly recommend a "buy" on COCO.
Disclosure: I have no positions in any stocks mentioned, and no plans to initiate any positions within the next 72 hours.
Business relationship disclosure: The article has been written by an Analyst at ResearchCows, ResearchCows is not receiving compensation for it (other than from Seeking Alpha). ResearchCows has no business relationship with any company whose stock is mentioned in this article. Any analysis presented herein is illustrative in nature, limited in scope, based on an incomplete set of information, and has limitations to its accuracy. The author recommends that potential and existing investors conduct thorough investment research of their own, including detailed review of the company's SEC filings, and consult a qualified investment advisor. The information upon which this material is based was obtained from sources believed to be reliable, but has not been independently verified. Therefore, the author cannot guarantee its accuracy. Any opinions or estimates constitute the author's best judgment as of the date of publication, and are subject to change without notice.