I think it will surprise almost all market participants as to how high it will really head into 2014.
I see no shortage of excellent articles here on Seeking Alpha that are bullish on the re-blossoming of the solar sector. Some tout the merits of specific companies while others talk about increasing demand and future government initiatives.
Like computer processors and memory that saw exponential changes to their speed and capacity while at the same time experiencing reductions in cost, so to PV (photovoltaic) technology continues to see increases in panel efficiencies and reduced costs. There are many rising stars in the market place, and while some may have their doubts about the continued success of some of the previous market leaders, they still continue to be the heavy-weights in the sector.
With so many reasons to be bullish, why the almost uniform pullback since July? Is that pullback over, and if it's over what can we expect in the months or years to come?
Firstly, I do feel that the pullback for the entire sector is either over or very close to it. I also think that the solar sector is on the precipice of a massive rally.
I know the entire Guggenheim Solar ETF (NYSEARCA:TAN) is up over 100% in the last year, but I think that was only the start. My subscribers know that I have been very bullish on solar since Nov of last year, and after following down the previous large consolidation into April got very bullish again.
On my site we primarily follow First Solar (NASDAQ:FSLR), but I also post regularly on a few other favorite charts (SunPower (NASDAQ:SPWR), Jinko Solar (NYSE:JKS), Trina Solar (NYSE:TSL), LDK Solar (NYSE:LDK), Yingli Green Energy (NYSE:YGE)...). While there are certainly fundamental reasons for the specific share prices of each individual company, something else must be at play to explain the almost lock step peaks and troughs.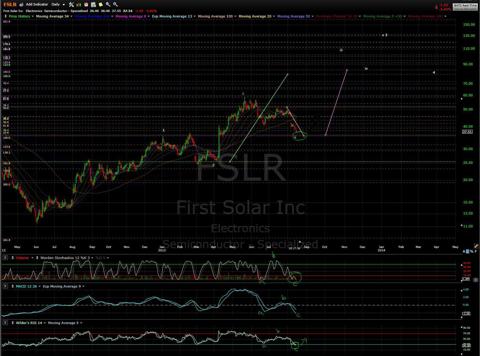 Click to enlarge
My explanation is sentiment. When sentiment is positive investors will take any new or data and explain it in a way that fits their "happy" attitude toward the desired investment. However, that positive sentiment can not be sustained constantly; everyone needs some "down-time" now and then, and that is when prices pullback. For the most part these pullbacks have been with far less conviction than the strong price advances.
Eventually that sentiment does get to an extreme and does turn negative, like the sector experienced in 2008. But I believe we have quite a ways to go before investor attitudes sour like that again. At this point I do not see many of the players in the sector exceeding highs from 2008. However, I do think there is a high probability that we see additional gains for the sector as a whole over 100% from current levels, with several companies likely to see 200-400%.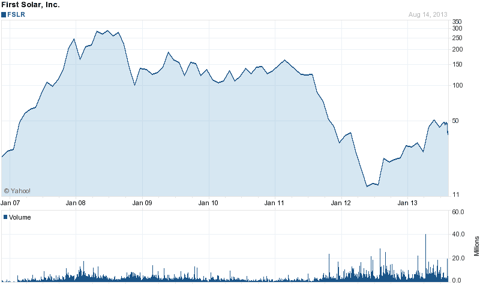 Click to enlarge
Despite the rise in the last year many of these companies are trading at ridiculously un-exciting levels for such hot commodities. FSLR at its 2008 peak was trading at over a 900 P/E ratio, it is now just over 10. SPWR, the "baby brother" if you will, peaked over 800 P/E and is now at a more normally "overvalued" 58.80 but hardly "extreme." LDK P/E is 6, YGE is 7.2, JKS is 2, and its P/S is a minuscule 0.35! Many of the other P/S ratios are barely over 1, which may not qualify them as "value" plays by some, it is relatively low for a momentum technology stock on the verge of another surge.
I agree with many points made by William Pentland his recent article on Forbes.com, but some of the margin issues related to Chinese "dumping" may fail to register with investors until prices get back to extreme levels based on sentiment, not the fundamental numbers. Further, while projections made by government agencies may be inaccurately based on flawed linear extrapolation, many investors look at figures put out by the U.S. Department of Energy. They will point to a predicted drop in the cost of solar energy as a major catalyst in the increase in demand. For some of the companies that are already filling orders faster than they can manufacture the panels, their margins should be fine for a while. And similar to the housing bubble, even companies that just have "Sun" in their names could see a boost from the coming euphoria, regardless of the margins.
There are a few catalysts we could point to for the tremendous rise in 2006-2008 in the sector, and certainly the housing boom was one of them. Another was the huge government initiatives in Europe. The rise and fall during that period tracks very well with the solar charts, and if economists are to be believed that Europe is not out of recession, we are likely to see a resumption of this spending, with FSLR being a very likely beneficiary. But this is not the only possible catalyst.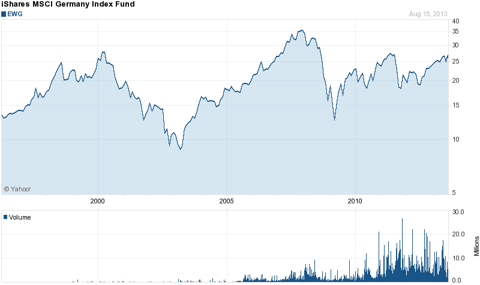 Click to enlarge
Want more photons to convert to energy? (The PV version of "Food for thought") The previous coronal mass ejection in the solar sector hit super nova levels within a few weeks of the July 2008 peak in the price of oil! It is easy to say that naturally solar becomes a very attractive alternative in the face of $100 oil, but it is not just that. Many commodities were booming and peaked at the same time, followed by a major collapse. What could be the connection between solar and other commodities? (Besides of course being historically some of the most extreme displays of investor sentiment based on fear and greed, as my colleague Avi Gilburt has written about frequently here on Seeking Alpha.)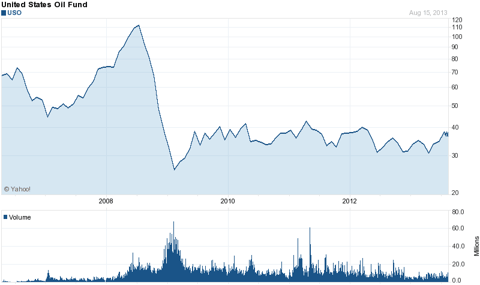 Click to enlarge
The answer is energy. Most of the commodities are actually forms of solar energy. Whether it is food fuel or textiles, they all start at some level with photosynthesis. The more removed/refined from naturally growing grass the more energy and other resources such as fresh water are needed. But solar power production unlike agriculture and other commodities, at least does not have any moisture or soil quality needs and once installed has very little relative need for ongoing involvement. The United States Oil Fund (NYSEARCA:USO) and PowerShares DB Commodity Index (NYSEARCA:DBC) are both setting up for more upside, which should bode well for a solar sector rally as well.
Disclosure: I am long FSLR, SPWR, JKS, YGE, TSL, LDK, DBC, SUNE. I wrote this article myself, and it expresses my own opinions. I am not receiving compensation for it (other than from Seeking Alpha). I have no business relationship with any company whose stock is mentioned in this article.
Additional disclosure: I primarily base my trading decisions on chart patterns and technical analysis. Patterns can change quickly, and I am constantly looking for new support levels to lock in gains and minimize potential losses.