Introduction
Sunshine Heart (NASDAQ:SSH) is developing a medical device that could revolutionize how Class III/IV Congestive Heart Failure (CHF) patients are treated. The medical device is called C-Pulse, and was invented by the co-founder of the company, Dr. William Peters, already a pioneer in the cardiac technology field. In 2001, Johnson & Johnson (NYSE:JNJ) acquired Heartport Inc., which, with the help of Dr. William Peters, had commercialized an endovascular cardiopulmonary bypass system. The rest of the management is equally impressive, with extensive connections to global medical device companies such as Medtronic (NYSE:MDT), Baxter Healthcare (NYSE:BAX), Johnson & Johnson , Boston Scientific (NYSE:BSX), and Edwards Lifesciences (NYSE:EW). All of these large companies may be interested in adding C-Pulse to their medical device portfolios.
Congestive Heart Failure is the basis for a $35B market. In the US alone, there are 5.7M Americans suffering from CHF, with >400k new cases each year and growing. The condition weakens heart muscles, which makes it harder for the heart to keep blood flowing through the body. As a result, sufferers experience daily hardships, such as physical fatigue, swelling of the legs, and shortness of breath. Over time, the heart stiffens and enlarges, accelerating the decline in cardiac function, significantly increasing the risk of death (>55k deaths per year).
The following table will briefly summarize the difference between the classes of heart failure. Note that ambulatory Class IV patients are those considered "healthy" enough to be treated as if they were Class III.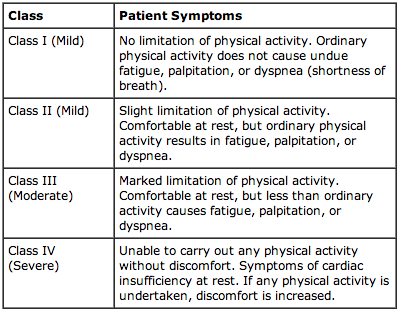 The C-Pulse Heart assist system
The heart assist system is designed to do 3 things to improve heart function in both Class III and ambulatory Class IV CHF patients:
Increase coronary blood flow, or increase the flow of oxygen to the heart muscle.
Decrease afterload, or reduce the work required of the heart to pump blood.
Increase cardiac output, or increase bloodflow from the heart.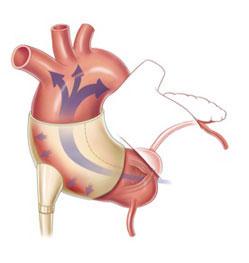 C-Pulse also has the benefit of being external to the cardiac system, unlike current medical device therapies. Sunshine Heart also recently announced that C-Pulse will be charged using Minnetronix's transcutaneous energy transfer ("TET") system, which will eliminate the need for a direct physical connection to a power source, reducing the risk of infection.
When C-Pulse successfully improves heart function, patients should experience an improvement in their quality of life, recovery, and physical strength, a lacking need for blood thinners, and a reduction in re-hospitalizations and mortality risks. In Sunshine Heart's feasibility study that concluded in late 2011, we can see that C-Pulse achieved many of these goals.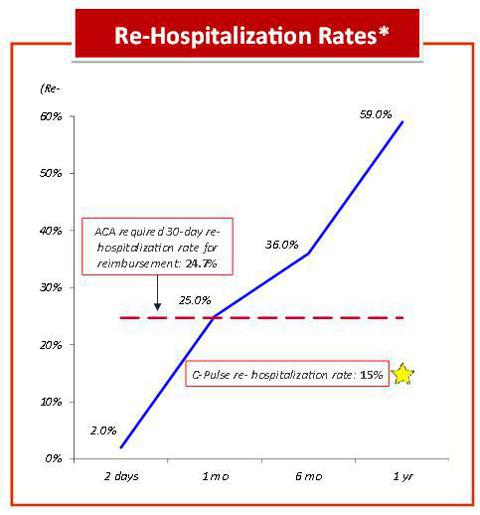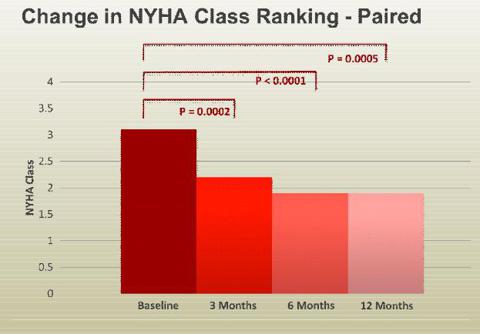 A reduction of 1 NYHA class means that there was a dramatic improvement in the quality of life of the patient. Refer to the earlier table regarding Patient Symptoms to see the meaning of such an improvement. Further, re-hospitalization is an enormous drain on health care resources, and Sunshine Heart is poised to capture reimbursement rewards handedly.
Weaning patients off C-Pulse
A protocol for weaning patients off C-Pulse is in the works. Patients who have been on C-Pulse for at least 6 months, show improvements in their quality of life, and demonstrate ejection fraction improvement, will qualify for this program. So far, 2 patients from the feasibility trial have been successfully weaned off, with 2 more expected in the near future.
Competitor Landscape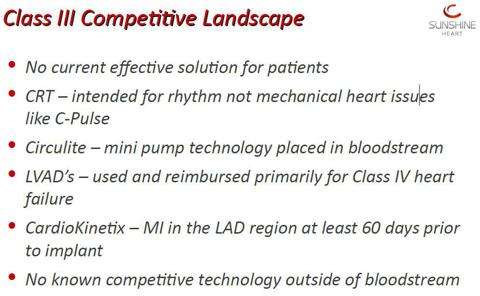 Patients with Class III CHF are predominately treated with medications and cardiac re-synchronization therapy (NYSE:CRT). Unfortunately, up to a third of the patients are not compliant with their treatment regimen, which can lead to increased risks of mortality and re-hospitalization. Ambulatory Class IV patients may also get left ventricular assist devices (LVADs) that can accomplish what C-Pulse aims to do, but with the added risk of being internally placed within the cardiac system. LVADs are not often given to patients with Class III or lower, which significantly hinders the size of their potential market since there are at least 5 times as many Class III patients than Class IV.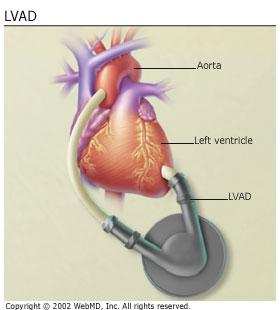 Two major LVAD producers are $2B Thoratec Corporation (NASDAQ:THOR), which has ~$500M/yr rev., and $1.3B Heartware International (NASDAQ:HTWR), which had ~$49M rev. in its first full quarter post-US approval. Interestingly, Thoratec attempted to acquire Heartware back in early 2009 for $282M (60% premium), but was prevented by the FTC due to concerns over a resulting LVAD monopoly from such a merger. Note that this took place before updated results from Heartware's international clinical trial (50 patients), and nearly 2 years before any results were released from the US trial.
Currently, LVADs cost $150k, and only ~$130k is covered by major insurance providers. On the other hand, C-Pulse is priced at $59k, which will provide tremendous flexibility with respect to increasing narrow profit margins, which are less than 25% for the industry.
As mentioned earlier, LVADs are given only to Class IV patients, and this is partly due to the significant risks associated with the installing and using of the devices, and the potential problems surrounding the use of blood thinners. The installation of LVADs require the seperation of the sternum, greatly increasing the risk of infection and other complications. C-Pulse can be installed non-invasively. In addition, recall that a third of CHF patients do not follow protocols when taking their drugs, proper use of blood thinning medication is essential for preventing blood clots from the use of LVADs.
C-Pulse is poised to meet a significant unmet need, which involves not only preventing CHF patients from becoming Class IV but improving their classification. 25% of Class III patients continue to deteriorate with currently available options for therapy. Becoming Class IV is extremely detrimental to the patient's quality of life and survival odds.
Sunshine Heart's recent history
February 2012 - IPO opened at $12.
July 2012 - CE Mark, allowing for European (and some countries abroad) commercialization. Stock soared from $3 to $17.
August 2012 - Stock offering at $7 for $20.1M. Interestingly, Canaccord Genuity (NYSE:CF) was the primary agent and they issued an $11 price target a month after the offering. S1 filings confirm that a strategic investor likely joined the board during this period.
Oppenheimer (NYSE:OPY) initiates coverage at $18 ($13.3 dilution-adj.)
Canaccord Genuity initiates coverage at $11 ($8.1 dilution-adj.)
October 2012 - IDE approval due to successful feasibility trial results.
Lazard Capital initiates coverage at $10 ($7.4 dilution-adj.)
SummerStreet initiates coverage at $26 ($19.2 dilution-adj.)
January 2013 - Stock purchase agreement with Aspire Capital for $24M over 2 years.
Piper Jaffray (NYSE:PJC) initiates coverage at $10 ($7.4 dilution-adj.)
Northland Capital Markets initiates coverage at $12 ($8.9 dilution-adj.)
April 2013 - Another stock offering at $5.25 for $14M.
May 2013 - First patient enrolled into the EU post-marketing OPTIONS HF open-label trial. Goal is to enroll 50 patients and collect data similar to what's being collected in the US trial. Open-label allows company to disclose data continuously. Recall that Sarepta Therepeutic's (NASDAQ:SRPT) initial clinical results were highly anticipated, partly due to tremendous patient testimonials. Expectation of positive US trial results will escalate quickly with the continuous release of positive EU data.
Canaccord upgrades price target from $8.1 (dilution-adj.) to $12.5.
August 2013 - Minnetronix's "TET" system partnership is announced.
On-going developments
European Front
There are currently 4 active EU sites, and 4 more will be added by YE2013. So far, 4 patients have been implanted with the C-Pulse device.
Patient 1: Has become physically active and has lost 20lbs since the procedure 3 months prior.
Patient 2: Experienced initial good hemodynamic results (1.1L/min/m2 to 2.5L/min/m2). Normal levels range between 2.5-4L/min/m2. On day 4, patient experienced non-device related rapid atrial fabrillation (fast heart rate and bad heart rhythm) necessitating an ablation procedure. Procedure failed to fix problem, and presiding doctor independently decided to replace C-Pulse with an LVAD.
Patient 3: Is satisfied and extremely active 30 days post-implant.
Patient 4: 79 years old and is in observational period but tolerated the procedure well.
All the patients are men with Class III CHF. There was one event of exit site infection that was quickly treated with oral antibiotics.
The EU OPTIONS HF trial will have enrolled at least 20 patients by the end of the year, ending with 8 active sites, meaning enrollment could be completed before the end 1Q14. The completion of the trial follows in 12 months, but we will be receiving updates on all the patients throughout the duration of the trial.
There will be a significant clinical updates at the German Heart Failure Society meeting on September 26th, at the TCT conference at the end of October, and at the European Mechanical Circulatory Support Summit in early December.
Reimbursement decisions will be occurring throughout 2013/14.
American Front
Currently no patients have yet enrolled into the US Pivotal Trial, but the first 22 sites are expected to be activated by year's end. If enrollment pace per site is similar to the EU trial, the company's projection for enrollment to take 2.5 years is probably overestimated by 6 months.
Reimbursement progress has quickly followed the activation of new sites. So far, 3 sites with qualifying LVAD programs have received regional CMS reimbursement approval.
Future Dates
2H13 - First enrollment into the 388-patient US Pivotal Trial which will pit C-Pulse against the standard of care. Primary endpoints are reduction in hospitalization, LVAD implantation, cardiac transplantation, and death due to worsening heart failure.
3Q13 - First release of EU hospitalization rates and clinical data
2014 - EU reimbursement decisions
3Q15 - US trial fully-enrolled
3Q16 - US trial data results
2017 - Estimated date for the FDA's regulatory decision
Market Valuation
Assumptions
Due to near-term revenue coming from the European market, and with the expected reimbursement approvals in both markets, Sunshine Heart will need to incrementally raise no more than $75M over the next 3 years. Currently, they will have enough cash to last through 2014.
We expect there to be no more than 21.5M outstanding shares by 2018. That estimate relies on the current pricing of shares, so we will be using this worst-case scenario for our price projections. If we were to estimate that the average new share is issued at $20, than the number of outstanding shares by 2018 will be closer to 16M.
Industry gross profit margins for medical device companies are below 25% (we will use 20%), with a P/E multiplier in the teens (we will use 12).
We will discount peaks sales by 20% per year for 10 years (15 years if solo). The discount rate aligns with what we've seen from Heartware's initial sales, and is an industry standard. Generally, 6 years is a realistic estimate before peak sales are attained by biotech companies, but this is a medical device company in a heavily competitive industry.
50% odds of successful US P3 results (completely arbitrary, but for the purpose of finding a fair near-term value), 70% odds for successful EU results, and 90% odds for FDA approval.
Expected EU partnership with royalties ranging from 20-30%. 50% chance that they get a domestic partner for 30% royalties.
50% odds for buyout post-EU results
5% market capture (a fifth of the 25% of Class III patients who do not respond to current therapies) of approximately 5.2M patients. The market capture estimate would likely increase substantially with global partnerships.
$59k pricing for $15B peak global sales, aligning with SummerStreet and Canaccord estimates for $5B in domestic sales.
In the SummerStreet report, they observed that heart failure companies have traditionally traded between $200-300M after positive feasibility data ($15-25). We expect Sunshine Heart to be trading at around $20 before the end of the year.
Special thanks goes to VFC's Stock House, Propthink, and Robert Honeywell for their continuing coverage of the stock.
Disclosure: I am long SSH. I wrote this article myself, and it expresses my own opinions. I am not receiving compensation for it. I have no business relationship with any company whose stock is mentioned in this article.