On Thursday August 22, it was announced that oil production in Texas' Eagle Ford rose 60% on a year-over-year basis in June, as the nine fields that make up the majority of the shale formation yielded 617,884 bbl/day of crude. The growing production from Eagle Ford is helping fuel a near-renaissance when it comes to Texas-based crude, especially since the state produced a total of 2.53M bbl/day in May, the highest monthly level it's seen in just over 30 years.
In the wake of today's impressive announcement, I wanted to take a closer look at the second of the Eagle Ford's largest leaseholders, Chesapeake Energy (NYSE:CHK), and highlight a number of recent developments that company has undergone with regard to the Eagle Ford Play as well as examine a number of its Natural Gas Shale Plays.
Company Profile
Headquartered in Oklahoma City, Oklahoma, Chesapeake Energy's operations are focused on discovering and developing unconventional natural gas and oil fields onshore in the U.S. Chesapeake owns leading positions in the Eagle Ford, Utica, Granite Wash, Cleveland, Tonkawa, Mississippi Lime and Niobrara unconventional liquids plays and in the Marcellus, Haynesville/Bossier and Barnett unconventional natural gas shale plays. As of August 22, 2013 Chesapeake was the second-largest leaseholder in the Eagle Ford with a total of roughly 485,000 net acres of land.
Performance and Trend Status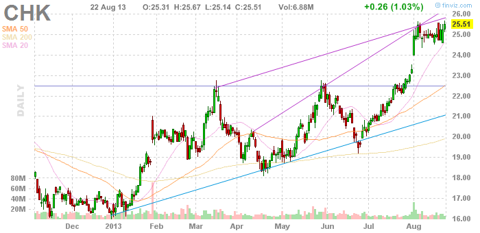 On Wednesday shares of CHK, which currently possess a market cap of $16.66 billion, a forward P/E ratio of 12.15 and a beta of 1.51 settled at a price of $25.51/share. Based on their closing price of $25.51/share, shares of CHK are trading 4.09% above their 20-day simple moving average, 13.67% above their 50-day simple moving average, and 28.31% above their 200-day simple moving average. These numbers indicate a short-term, mid-term, and a sustainable long-term uptrend for the stock, which generally translates into an aggressive buying mode for most traders. From a cash and debt perspective, Chesapeake has a total of $677 million in cash and $13.29 billion in debt on its books as of June 30, 2013.
Eagle Ford - Brief Overview
According to the folks at EagleFordShale.com, "The Eagle Ford is a geological formation directly beneath the Austin Chalk. It is considered to be the "source rock", or the original source of hydrocarbons that are contained in the Austin Chalk above it. The formation was penetrated many times as operators targeted the Edwards Limestone formation along the Edwards Reef Trend". Located in the heart of Texas, the core counties include an area that stretches from north of Gonzales down to Webb County at the Texas-Mexican border. Although it should be noted that EFS wells have been tested in Mexico, results have not been widely reported (as I strongly believe performance is lacking) and regional counterpart PEMEX is taking a very slow approach to the continuation of any exploration-based efforts.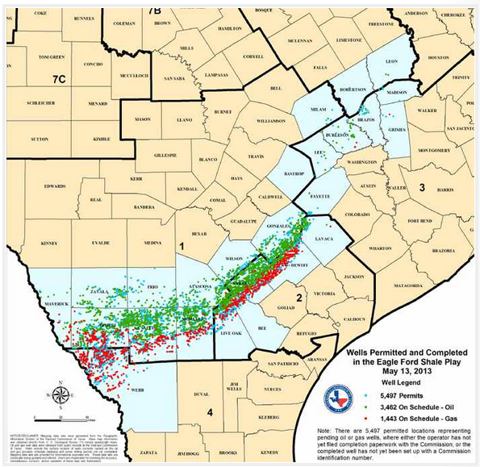 Eagle Ford - Operations Overview
In December 2009, Chesapeake initiated its drilling operations in the Eagle Ford and nearly four years later, its team has become smarter, by improving its drilling-based operations that can now boast an impressive daily production rate of nearly 145,000 barrels of oil per day, and improving cycle times. For example, the company has also reduced its cycle times in the region by just over 58% and expects to increase that performance even further. My personal expectations are for cycle times to be reduced by at least 70% during the first half of 2015.
When discussing the most commonly used methods of production, the most common practice is known as "held by production" or HBP. This method must be followed in order to permit future drilling on the company's current leases. It should be noted that Chesapeake is in the final stages of its HBP drilling program and will be soon transitioning into what is called development drilling, a strategy that allows the company to focus on drilling the best wells in areas where it has located a key number of proven reserves.
According to Joe Ketzner, one of Chesapeake's District Managers based in South Texas, "Transitioning from HBP to development drilling is exciting, and in 2012, in HBP mode, we averaged 29 drilling rigs in the play and 21-day spud-to-spud cycle times. We now have 14 rigs drilling and are averaging 16-day cycles. When the company is fully transitioned into development drilling in late 2013, we plan to operate 13 rigs in the play and average less than 14-day cycle times". I strongly believe that if Chesapeake is able to operate 13 or more rigs and subsequently average 14-day or less cycle times, Eagle Ford could have a very significant impact on the company's overall production-based growth.
Natural Gas Shale Plays
As one of the first companies to identify the enormous potential of shale-based resources that could be unlocked by advances in various types of horizontal drilling techniques, Chesapeake "has grown to become the second-largest producer of natural gas, 11th largest producer of oil and natural gas liquids, and the most active driller of onshore wells in the country". With that said I wanted to briefly highlight the company's operations at four different sites throughout the United States.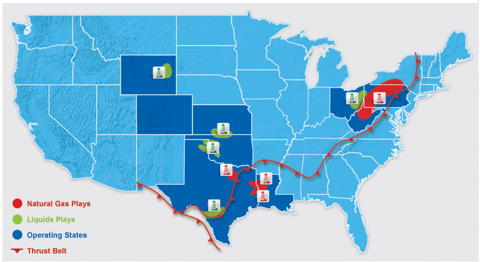 Barnett Shale Play: Covering approximately 5,000 square miles and spanning 20 counties, the Barnett Shale has already produced more than 4.8 trillion cubic feet of natural gas and is expected to produce another 9-10 times that number.​ When it comes to the Barnett Shale Play I'm actually quite intrigued by what it has done for the State of Texas from an economic standpoint over the past few years. For example, the play itself has created 99,726 Texas-based jobs as well as increased economic activity by $10.1 billion, not to mention the fact that it is responsible for a total of $715.5 million in both direct and indirect tax revenue.
Bossier Shale Play: Located in Bossier Parish, Louisiana and overlaying approximately one-third of the Haynesville Shale, this natural gas play is making the region even more attractive to producers since it operations are being simultaneously run with those that are taking place at the Haynesville play.
Haynesville Shale Play: Discovered by Chesapeake in 2008, the 9,000-square-mile formation has the potential to become one of the two largest U.S. natural gas fields, with recoverable resources estimated at 251 trillion cubic feet, which is nearly five time the estimated 40 trillion cubic feet that lie within the company's Barnett Shale Play. In my opinion, there is a duality that exists among the Haynesville Shale Play since both Texas and Louisiana are able to simultaneously benefit from Chesapeake's natural gas operations at Haynesville. For example, Chesapeake's 921 Louisiana wells produced just over 610 billion cubic feet of natural gas, paid more than $272.5 million in royalties to Louisiana royalty owners, and topped it all off by paying $130.1 million in states taxes throughout 2011.
Marcellus Shale Play: Located in the country's highest gas-consuming region (the four-state conglomerate of New York, Ohio, Pennsylvania and West Virginia), the Marcellus Shale has the potential to become one of the two largest natural gas fields in the U.S., and quite possibly the second-largest in the world with an estimated 141 trillion cubic feet of natural gas. In my opinion, there are a number of positive economic catalysts in the Marcellus Shale. In West Virginia, for example, Chesapeake paid more than $21.9 million in royalties to West Virginians and approximately $45.9 million in state taxes by the end of 2011. If we move on to briefly examine recent developments in Pennsylvania we'll notice that Chesapeake, through is partner WESTON Solutions, Inc. has determined that drinking water has not in any way been affected by the company's recent fracturing activity. Lastly, and with regard to operations in the state of New York, it was recently noted that the reason for the company's lack of exploration activity has been due to the implementation of a lengthy regulatory process, which has limited the ability to permit and drill certain types of wells within the state and until a compromise is reached Chesapeake must refrain from any drilling-based activity.
Recent Developments in the Eagle Ford and Haynesville Shale Plays
On Wednesday, July 3rd, Chesapeake Energy Corporation announced the execution of agreements to sell assets in the Northern Eagle Ford Shale and Haynesville Shale to EXCO Operating Company, LP a subsidiary of EXCO Resources, Inc. (EXO) for aggregate proceeds of approximately $1.0 billion, of which approximately 90% will be received upon closing. In my opinion, and considering the fact that EXCO is only acquiring a portion of each individual shale play, Chesapeake still retains enough of a stake in each to reap the continued benefits. According to the press release associated with the transaction the breakdown of the each individual play is as follows:
In the Northern Eagle Ford Shale, EXCO has agreed to acquire approximately 55,000 net acres in Zavala, Dimmit, La Salle and Frio counties, Texas, including approximately 120 producing wells with average net daily production of approximately 6,100 barrels of oil equivalent during the month of May.
In the Haynesville Shale, EXCO has agreed to acquire Chesapeake's operated and non-operated interests in approximately 9,600 net acres in Desoto and Caddo parishes, Louisiana. Included in the transaction are 11 units operated by Chesapeake and 42 units operated by EXCO. Average net daily production from the Haynesville properties to be sold was approximately 114 million cubic feet of natural gas equivalent during the month of May.
Conclusion
When it comes to those who may be looking to establish a position in Chesapeake Energy, I'd continue to keep a watchful eye on how well not only the company's position in Eagle Ford performs but how well its four Natural Gas Shale Plays perform over the next 18-36 months, especially if a favorable position emerges from the bureaucratic red tape currently circulating in New York and the resumption of its Pennsylvania-based operations now that local drinking water is once again safe to consume in fracturing areas.
Disclosure: I am long CHK. I wrote this article myself, and it expresses my own opinions. I am not receiving compensation for it (other than from Seeking Alpha). I have no business relationship with any company whose stock is mentioned in this article.