BlackBerry (NASDAQ:BBRY) is credited with introducing the first modern smartphone a decade ago. It quickly captured the enterprise market and maintained its hold there for a time even after the introduction of the iPhone in January of 2007.
The success of the iPhone is now the stuff of tech legends and BlackBerry has fallen on hard times, now ranking fourth in overall smartphone market share, behind iPhones, Android phones, and Windows 8 phones. Not even BlackBerry's once massive market share edge with business users survived the carnage.
By November of 2011, numerous surveys showed BlackBerry losing enterprise market share to Apple's iPhone. An IDC report in November of 2012 indicated iPhone and Android enterprise users would exceed BlackBerry users for the first time as more and more corporations switched to a "bring your own phone" policy. By the end of 2012, BlackBerry shipments to enterprise users accounted for only 12% of the market while Apple iPhones stood at over 50%.
The following graphs from wikinvest vividly illustrate how far BlackBerry has fallen. In 2008, the company was still king of the hill: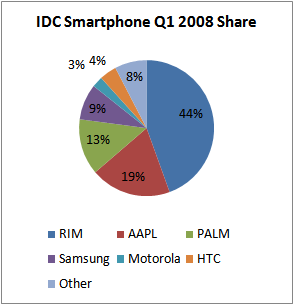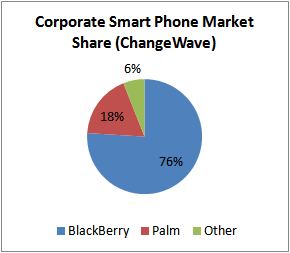 Recent Updates
On February 4, 2013, the former Research in Motion (RIMM) officially change its name to match its popular device, the BlackBerry smartphone, and began trading under the symbol BBRY. The timing coincided with the release of a new operating system, BE 10. Hopes were high with a new CEO and upcoming releases of two new smartphones the Z10 and the Q10 to go along with the new operating system.
All those hopes went up in smoke on June 28, 2013, when the company reported an $84 million loss for Q1 of 2014. Analysts were not happy with the reported 2.7 million unit sales of phones with the new operating system and neither were investors as the stock price dropped from a closing price of $14.78 on June 27 to close at $10.46 after the release.
Analysts cautioned that sales of the June released Q10 could take another quarter or two to measure the viability of the new BlackBerry as a bona fide competitor to Google's Android and Apple's iOS phones. In addition, the company would be releasing a new entry in the mid-price range, the Q5.
On July 12, 2013, the price of the Z10 was cut amidst weaker-than-expected sales. The stock plummeted. Here is a six-month chart from Yahoo Finance for BBRY: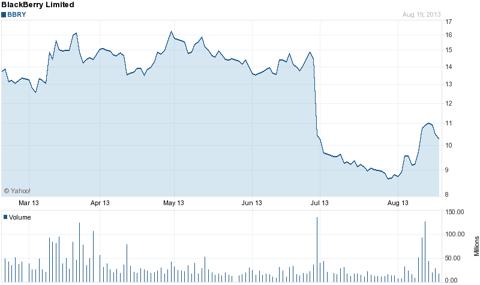 On August 12, the BlackBerry board issued a press release announcing the establishment of a special committee to explore strategic alternatives for the company, which could include possible joint ventures, strategic partnerships or alliances, or a sale of the Company or other possible transactions.
On August 14, a report from Gartner Inc. showed BlackBerry dropping to #4 in the smartphone wars, with a market share of 2.9% trailing Microsoft's 3.3%.
BlackBerry vs. the Key Competition
For comparison purposes, we chose the two companies with competitive operating systems. Nokia Corporation (NYSE:NOK) is trying to climb back into the game with its Windows 8 based Lumia line of smartphones. And the Apple Corporation (NASDAQ:AAPL) is the current 800 pound gorilla in the space as a single company. Android-based smartphones are spread across multiple manufacturers.
The following table compares some key performance metrics for the three companies:
Indicators

Trailing Twelve Month P/E

--

--

12.5

P/B Ratio

0.6

1.5

3.7

P/S Ratio

0.5

0.4

2.8

Forward P/E

--

31.5

11.5

Dividend Yield

--

--

2.27%

Net Income Growth (3 Year Avg)

--

--

71.8%

Debt/Equity

--

0.5

0.1

Return on Equity

(TTM)

-2.2%

-15.4%

32.1%

Current Price

$10.25

$4.03

$502.36
Data from Morningstar on August 21, 2013
The fundamentals are heavily skewed towards Apple but in yet another instance of the sometimes irrational market behavior, Yahoo Finance shows Apple shares are down 24.19% year-over-year while BlackBerry shares are up 44.98% and Nokia shares are up 25.94%!
What Does the Future Hold?
Although the company's days as a major player in the mobile device world appear over, BlackBerry has value. They have patents and they have an operating system and a secure network platform. They have no debt and a reported $2.8 billion in cash. In addition, the company has made some acquisitions in the past few years that could be attractive to potential suitors. BlackBerry's wholly-owned subsidiary, QNX Software Systems, made the business news on August 13th when the company announced a partnership with Panasonic Automotive Systems that has the potential to expand QNX's already dominant 60% market share in car information and entertainment operating systems.
The US Department of Defense recently granted the Z10 and the Q10 phones the "Authority to Operate" (ATO) on DOD networks. The fact no other manufacturer has that approval speaks volumes about the data security afforded by BlackBerry devices. But note that the superior data security comes from the network platform, not the phones. It would appear that right now the Achilles' heel making a buyout difficult at best is the smartphone hardware.
Looking at BlackBerry from the point of view of a prospective buyer, the biggest problem may be not so much the loss in market share, but the decline in "mindshare." Mindshare is a marketing concept defined as the perceptions consumers have about a brand or a product in comparison with rival brands or products. BlackBerry launched its BB 10 phones with plenty of hype. Analysts and experts alike weighed in with their views on the chances these offerings could get BlackBerry back in the game against iPhones and Android phones. The results so far show the new offerings are failing to compete even with the lowly Windows 8 phones.
So going forward, why would a consumer want to buy a phone losing market share? And more important, why would developers be willing to create apps for a "loser?" BlackBerry management acknowledged the need to increase applications for the BlackBerry. The last time the company had anything to report on this key need, they told the world there were now 120,000 BlackBerry apps.
On August 20th, tech forums across the net picked up the story that 43,000 of those apps come from a single developer. What's more, the vast majority of those apps are of questionable quality at best.
Certainly BlackBerry has value. But the real value question is for whom and at what price?
Make or Break for Investors
Value, like beauty, is in the eye of the beholder or buyer. BlackBerry is a source of national pride in Canada, fueling speculation of a buyout led by Prem Watsa, the CEO of Fairfax Financial, who resigned from BlackBerry's board, since his firm is a major shareholder. There is also reported interest from Canada Pension Fund, with an analyst estimate of a buyout price around $14 per share.
Other analyst estimates range from $8 per share in an asset sale to $18 per share. The high-end price appears to reflect BlackBerry's current book value per share of $18.14.
In the end, BlackBerry is worth whatever a buyer is willing to pay. Watch for any news of serious buyer interest rather than speculation or reported interest from two or three years ago.
Final Verdict
Investing in BlackBerry right now is not quite as risky as buying a lottery ticket, but it's close. The upside potential from a buyout is difficult to determine with any certainty. Since the real value in BlackBerry no longer resides in its phones, many analysts and experts are predicting the company will be broken up and sold in pieces.
However, things could get interesting if another tech giant interested in getting into the mobile device space is looking for an operating system and a few quality phones to go with it. Companies that come to mind include Lenovo (OTCPK:LNVGY), Sony (NYSE:SNE), and possibly even Intel (NASDAQ:INTC), or Amazon (NASDAQ:AMZN).
Disclosure: I have no positions in any stocks mentioned, and no plans to initiate any positions within the next 72 hours. I wrote this article myself, and it expresses my own opinions. I am not receiving compensation for it (other than from Seeking Alpha). I have no business relationship with any company whose stock is mentioned in this article.