Intro
Outerwall (NASDAQ:OUTR) presents an interesting situation where a company with an attractive business model and strong growth prospects is actually reviled by many market participants. Though one of the company's key lines of business is under pressure, a deep pipeline of new opportunities, coupled with its shareholder-friendly capital allocation policies, makes OUTR an attractive investment opportunity. With much of the negativity priced in, I believe the risk-reward is favorable at this point.
Company Background
Outerwall was founded in the Seattle area in 1989 as Coinstar, Inc, reflecting its initial focus on its coin-counting machines (more on them below). This was its main line of business until 2005, when it bought a little less than half of Redbox. After its early success, OUTR bought the remainder of the company (which had been owned by McDonald's (NYSE:MCD)) in 2009. On July 2nd of this year, the company officially changed its name to Outerwall, perhaps hoping to avoid being pigeonholed as it branches out into new types of automated retailing.
Today, OUTR operates in three divisions: Redbox, Coin, and New Ventures. Redbox, currently by far the largest segment by both revenues and profits, is the company's kiosk business. Here, consumers can rent or purchase movies or video games from an automated machine (usually smaller than 10 square feet) using a credit or debit card. These machines are usually located in leading grocery stores, retailers, drug and convenience stores, and restaurants, thus ensuring a constant flow of nearby traffic. This format is a win-win scenario - OUTR gets its kiosks in busy locations, while the retailer gets a percentage of the revenue from each transaction, thus generating sales from an area of the store that would otherwise go unoccupied. Customers can return their movies at any kiosk, even if it's not the one they rented from. This creates a competitive advantage through the network effect, where the many kiosk locations create greater convenience for customers and lead them to use Redbox over traditional video retailers.
The second division, Coin, is a stable (and literal) cash cow. Here, OUTR provides a service with coin-counting machines, allowing customers to feed loose change into the machine in exchange for vouchers or stored-value products worth the value of the coins deposited minus a transaction fee. These kiosks are usually located in large retailers, and in a similar way to Redbox both parties benefit from the convenience of the service and lack of space required. This segment has not grown much over the years as consumers increasingly turn to electronic transactions. However, because OUTR is the only multi-national and fully automated network of these self-service coin-counting machines (and is by far the US market leader), this business too has sustainable competitive advantages, and will be profitable for as long as physical money is around.
The final OUTR segment is its New Ventures. This is a broad catch-all for the many new self-service concepts that the company is testing or beginning to implement. Currently, this segment contributes less than 0.1% of revenue, most of which is from coffee and healthy snacks. However, management expects it to grow substantially in the years ahead as they continue to penetrate their automated retail "sweet spot," which they estimate is worth over $16 billion. The recent purchase of EcoATM, a cell phone-for-cash recycling system, will provide an instant boost here as well.
Over the years, OUTR has managed to make consistent gains in revenue in profits, largely thanks to its attractive business model. Its kiosks have very few expenses once installed (since no human labor is required to operate them), and the company only has to pay the real estate owner a percentage of its transaction revenue instead of a flat fee. Thus, the gradual roll out of additional machines has coincided with the relatively steady gains in OUTR's results. Similarly, the company's stock has recorded solid, but not spectacular, gains over the last five years, rising at an average rate of 14% per year. Recently, this has been due in at least some part to the large number of market participants betting against the company, believing that the secular decline in physical money usage and, especially, the rise of digital distribution over physical discs will lead to the company's demise.
Management is well aware of the evolving landscape and challenges it presents, and is proactively taking steps to make sure OUTR continues to add value to consumers. It's broadened the focus of its Redbox line, adding tickets to live events, and have embarked on a strategy to bring the kiosk format to use in a wider variety of applications. An overview of their requirements is as follows: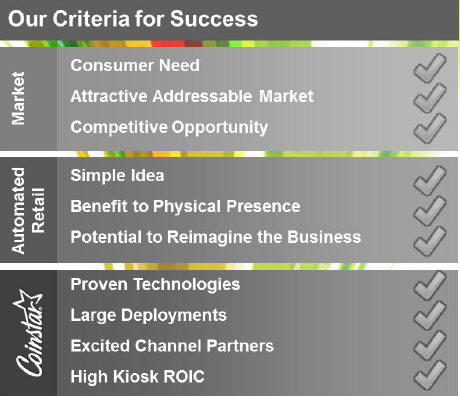 Finally, the company has also attacked the streaming problem head-on through its recent joint venture with Verizon (NYSE:VZ). Under their deal, subscribers can get four DVDs per month from Redbox as well as unlimited streaming hits from Verizon, all for about the same price as a Netflix (NASDAQ:NFLX) or Amazon (NASDAQ:AMZN) video subscription. This proposition is attractive because it allows for movie nights with family and friends without additional TV streaming equipment, but still gives customers unlimited access for when they're watching on their tablets or computers by themselves. As such, it creates a 'best of both worlds' situation whose value proposition of flexibility for no additional cost should resonate with consumers.
Valuation
OUTR is cheap from a multiples perspective, especially after its sell-off following its earnings release at the end of July. This is indicated by the table below:
| | | | |
| --- | --- | --- | --- |
| | OUTR | 5-Yr Average | vs. Industry |
| P/E | 14.5 | 32.6 | 0.9 |
| Forward P/E | 10.5 | 17.2 | 0.6 |
| P/S | 0.8 | 0.9 | 0.4 |
| P/CF | 5.2 | 5.6 | 0.5 |
| EV/EBITDA | 4.5 | 6.1 | 0.5 |
Because the company has a fairly unique business model, there are only a few peer companies with which to compare them with. The two closest are probably Heartland Payment Systems (NYSE:HPY) and Total Systems Services (NYSE:TSS), both of which also offer various alternative payment solutions. They trade at an average of 11x EBITDA, 2x sales, and 15x FCF, well above OUTR. Two other comps are worthy of note: one could make an argument that OUTR, especially after its Verizon joint venture, can be compared to Netflix. Considering NFLX trades at 4x sales and over 100x EBITDA, OUTR looks great by comparison. Some may also want to compare to GameStop (NYSE:GME), which is facing similar pressures from the advent of digitization. It trades at similar multiples, though I'd argue GME has significantly fewer strategic options to offset this trend, and certainly won't be doubling revenue in the next four years.
Modeling OUTR is fairly straightforward (see below), as management has given detailed growth projections on both a one-year and three-year horizon. Two projections in particular stand out: their plan to double revenue by 2017 and their plan of having new ventures comprise 10-15% of sales within three years (currently less than 0.1%). If the company can continue to achieve solid gains in its Redbox and Coin segments, this implies the expectation of exponential growth for the new ventures segment in the next few years. If the company hits the midpoint of its Redbox and Coin growth goals and only reaches the low end (10%) of its new venture sales contribution projection, shares could be worth around $130 in three years. Assuming the company continues to use its copious free cash flow to continue buying back shares (it's retired 12% of shares in the past seven months and plans to spend at least $100M a year in the future buying back more), this rises to $160 per share, implying 153% upside.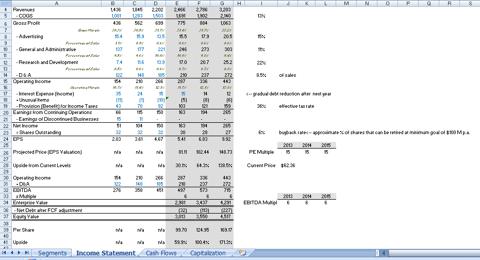 One potentially interesting way to play OUTR is through options, as the company has a liquid LEAPS market. For example, the ask on the January 2015 calls at the 80 strike is currently just under $5. Using management's projections and conservative multiple estimations, the stock should be worth between $99 and $125 at year-end 2014, right before the option's expiration. If the stock were to be at the low end of this ($100), the return would be over 300%, compared to about 58% from owning the stock, while still leaving a significant margin of safety from the break-even price. Thus, it could be a chance to leverage upside if one is willing to bear a bit more risk.
Risks
The secular decline of physical media (like DVDs) could hurt revenue going forward, as the company currently derives a large majority of its sales in this manner. However, these concerns may be slightly overblown in the near term - many people still do not have access to the internet connection speeds needed to stream content effectively, or otherwise don't watch movies often enough to purchase unlimited packages like Netflix, preferring a 'pay as you go' format. The data presented in the graph below is taken from Google Trends, which allows you to track changes in a topic's search interest over time. It shows the nine-year trend for searches for "Redbox" on the site, indicating that demand for its DVDs, commonly believed to have cratered, has actually risen almost every year! This risk is also somewhat mitigated by its partnership with Verizon on the aforementioned joint-streaming venture.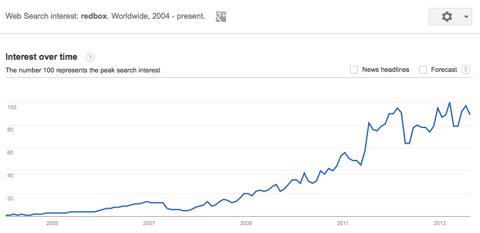 Another risk is that the demand for some of the company's new kiosk concepts isn't as strong as expected. The company is banking on huge gains from this division over the next few years, but if the concepts disappoint, OUTR earnings and sales likely will as well.
There hasn't much insider buying lately, with most of the action coming via option exercises. There was some cluster selling in March and May at prices of around $55-58. Also, insiders only own about 1.5% of the company, a relatively low percentage. However, the company follows a 'pay for performance' philosophy and has historically kept executive compensation growth in line with shareholder return, indicating an alignment of incentives. The fact that each executive gets a large part of his pay in equity-based awards, and that bonuses are determined on the basis of shareholder-friendly metrics like ROIC, provides a measure of comfort as well.
Finally, in the near term there could be some pressure on the stock price from short-sellers. Many people are bearish on the company based solely on their connection to DVDs and the fates other video retailers have suffered in recent years. Currently, 41% of OUTR stock is sold short - one of the highest percentages of any S&P 500 company. Though eventual short covering could rocket the company upward after the fact (similar to Tesla (NASDAQ:TSLA) recently), in the short term it could be a headwind.
Conclusion
I think OUTR is a very interesting contrarian play. At the surface, the company's business seems to be under a lot of pressure as DVDs move out of favor, which is the central tenet of the bear thesis. However, a closer look indicates that the company has many other growth drivers that could offset this in the years ahead. This creates an asymmetric situation where a lot of negativity is already priced into the stock, meaning that negative surprises might not have much of an impact, but any positive surprises could leave shorts scrambling to cover. Considering management's optimistic forecasts and the fact that the company has beat earnings estimates in 11 of the last 12 quarters, I believe such a surprise could occur fairly soon. In the meantime, the company will continue buying back large quantities of its stock at discounted prices and creating value for shareholders.
Disclosure: I have no positions in any stocks mentioned, but may initiate a long position in OUTR over the next 72 hours. I wrote this article myself, and it expresses my own opinions. I am not receiving compensation for it (other than from Seeking Alpha). I have no business relationship with any company whose stock is mentioned in this article.