SodaStream International Ltd. (NASDAQ:SODA) is sounds like a Warren Buffett choice stock in many ways. SodaStream manufactures home beverage carbonation systems. These use the carbonation system, a wide variety of syrups, and tap water (or other water) to make carbonated drinks. The systems allow users to vary the amount of carbonation to their personal preference. SodaStream helps to preserve the environment by eliminating huge numbers of wasted containers. SodaStream saves customers money over the long term. Plus SODA is partnering with many other companies such as Samsung (OTC:SSNLF) to erect barriers to entry by putting its carbonation system in Samsung's and Whirlpool's (NYSE:WHR) high end refrigerators (KitchenAid). It is partnering with a wide variety of syrup makers to provide the desired taste preference of almost everyone. Even Coca-Cola (NYSE:KO) and PepsiCo (NYSE:PEP) can't say they do this. There are other carbonation system makers, but SodaStream compares to these as Amazon.com (NASDAQ:AMZN) compares to other online retailers.
The one exception to the above comparison is that SODA makes a profit where Amazon.com has lost money lately on GAAP. SODA not only grows revenues in order to better control the market; it also grows EPS by even more. Further SODA is at the beginning of its growth cycle. It has only about 1% of the existing U.S. market; and a small percentages of many European markets. Its growth potential is enormous; and its growth will likely go on unchecked for at least 5 years. In fact, the average analyst's five year EPS growth estimate per annum for SODA is 27.13%. With a PE of 27.59 and an FPE of 19.22, it is a relative bargain given this average growth projection, which so far this year has been understated.
Best of all, SODA is not just an analysts' EPS projections story. In Q2 2013, it grew revenue by 28.5% to $134.4 million from Q2 2012. This included 25% growth in soda maker sales and consumables growth of 28% (mostly in the U.S. and Western Europe). U.S. sales increased 42%; and excluding Wal-Mart sales, they increased 90%. Soda maker unit sales were up 60%. Flavor units were up 45%; and gas refills were up 71%. SODA added new syrups to its line. It added new distribution channels including QVC and 400 Kroger locations. In Q3 it has already launched at P.C. Richard, BJ's, and 425 Office Depot locations. It now has over 13,000 gas exchange locations (where customers can exchange spent CO2 cylinders for filled ones) in the U.S., which are very important to the "stickiness" of the product. SODA also acquired an Italian distributor in Q2. SODA seems to be making all the right moves to become an unassailable leader in its industry.
In more detail, SODA grew net income by 36.1% to $12.9 million. It grew diluted EPS by 33.3% to $0.60 per common share. It grew adjusted diluted EPS by 42.3% to $0.74. It grew EBITDA by 47.6% to $18.0 million and adjusted EBITDA by 53.9% to $21.0 million. Gross margins were a robust 54.3%, which was comparable to the gross margins of 54.4% in Q2 2012.
SODA beat in Q2 2013; and based on the much better than expected first half results, it guided higher for approximately 30% revenue growth in FY2013 compared to FY2012. This is a significant raise from the +27% FY2013 growth previously forecast by the company. SODA also guided higher for most other metrics by approximately the same amount.
Some might say analysts' estimates are just so much pie in the sky. However, in SODA's case this does not appear to be the case. SODA only has about 1% penetration into U.S. households so far. It estimates it can get as much as 25% penetration or more. Virtually anyone can see the great growth path. Expectations for growth in Western Europe are similar, although penetration in many European countries is significantly beyond that in the U.S. so far. SODA -- an Israeli company -- did start in Europe earlier than in the US. Don't forget the rest of the world, including the population titans India and China.
The charts below show SODA's performance in the recent past.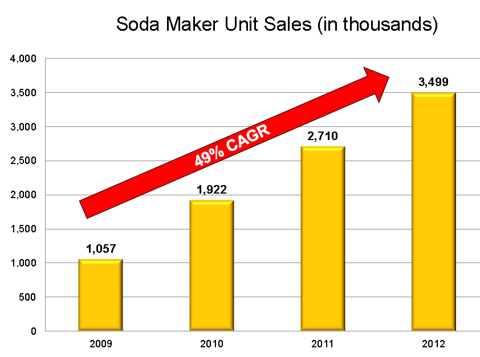 Click to enlarge
(Click to enlarge)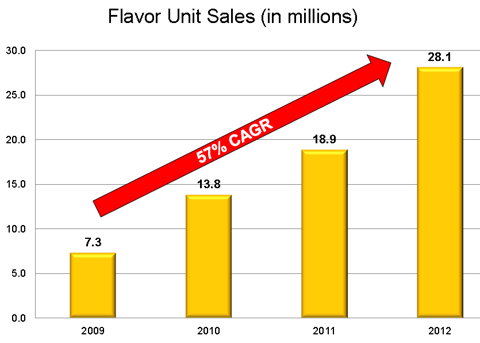 Click to enlarge
(Click to enlarge)
The above soda maker and flavors (syrups) sales growth charts show great growth; and this great growth is forecast to continue for many years. There doesn't appear to be a good argument for why it might not. That makes SODA one of the best growth stories in the market. Its price relative to its growth rate makes it one of the best bargains in the market. It is a buy.
The two year chart of SODA provides some technical direction for a trade.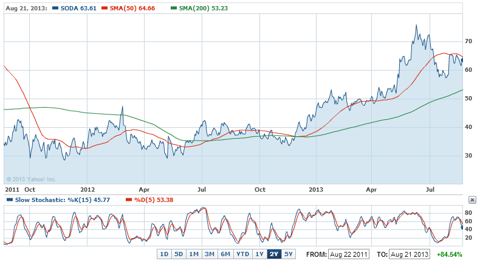 Click to enlarge
(Click to enlarge)
The slow stochastic sub chart shows that SODA is neither oversold nor overbought. The main chart shows that SODA is in a long term uptrend. The recent beat and guide higher on Q2 2013 earnings should help this trend to continue. The PE and FPE relative to the five year EPS per annum growth estimate tells you that SODA is a bargain.
SODA is below its 50-day SMA. This means it can go higher from here easily. If the overall market continues its recent down move, SODA may move down with it. This would make SODA an even bigger bargain. SODA has an average analysts' recommendation of 2.3 (a buy). It is worthy of a hard look by any serious investor. You could buy now. If you fear an overall market pullback, you could wait. Alternatively you could average in.
NOTE: Some of the above fundamental financial data is from Yahoo Finance.
Disclosure: I have no positions in any stocks mentioned, but may initiate a long position in SODA over the next 72 hours. I wrote this article myself, and it expresses my own opinions. I am not receiving compensation for it (other than from Seeking Alpha). I have no business relationship with any company whose stock is mentioned in this article.