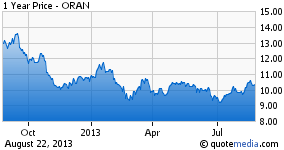 The European telecommunications sector offers very attractive dividend yields, which may present an opportunity for income investors. Previously, within the European telecom sector I've researched Portugal Telecom (NYSE:PT), which at the time was yielding 11% but I thought it was a dividend trap. Indeed, a few days later the company cut its dividend by 70%, from $0.43 per share to $0.13. Another high-yield telecom in Europe is Orange (NYSE:ORAN), which currently offers a dividend yield of 10.3%. This may be a very interesting opportunity for income investors, or like Portugal Telecom, a dividend trap. Orange has a market capitalization of $27 billion and is listed on the New York Stock Exchange as American Depositary Receipts.
Company Background
Orange, formerly known as France Telecom (OTCPK:FNCTF), is the French incumbent telecom operator. It provides mobile and other telecommunications services in 33 countries across Europe, Africa, and the Middle East. The company was founded in 1990 and its main shareholder is the French state, with an equity stake of 27%. The company had more than 230 million customers as of 31 December, 2012.
Orange is still heavily dependent in its domestic market given that during 2012, France was responsible for almost 50% of the company's revenue and around 56% of its EBITDA. Spain is the company's second largest individual market, accounting for 9.2% of its revenue and 7% of EBITDA. Orange's growth markets are located mainly in Africa and the Middle East. However, Egypt is the company's biggest single market in Africa, which is facing serious social and political instability and may hamper the company's growth. Moreover, these markets are still relatively small within the group, accounting for only 10% of Orange's revenues. The company also operates in the U.K. through Everything Everywhere, a joint-venture (50/50) with Deutsche Telekom (OTCQX:DTEGY). However, Orange wants to sell its stake in this partnership, to raise cash and reduce debt.
In 2012, Orange's revenues declined 2.7% to $57.8 billion, impacted by strong competition in France and a weak operating environment in Spain and Poland. The company's profitability dropped considerably, given that its EBITDA dropped 15% to $16.6 billion, representing an EBITDA margin of only 28.7%. This is much lower than in the previous year, when EBITDA margin was 32.5%. This weak results are mainly due to a especially competitive operating environment in France. Although Orange is the market leader, it is facing fierce competition from Bouygues, SFR, and Iliad. During the last few months, to protect its market-share Orange has lowered its prices, but this was naturally at the expense of lower average revenue per user [ARPU] and profitability. Its subscriber base was relatively stable during 2012, however revenues declined by 5% due to a decline in ARPU. Orange's net income dropped 72% to $1.1 billion, from $3.9 billion in 2011. Its earnings were penalized by lower EBITDA, goodwill impairment costs in Poland and Egypt, and restructuring costs to reduce payroll.
In the first six months of 2013, Orange's revenues continued to drop achieving $27.4 billion, or 4.5% lower than in the first six months of 2012. France and Poland remained very weak, with a 7.5% year-on-year [yoy] revenue drop in France and -9.9% yoy in Poland. Spain and emerging markets were the only segments that achieved revenue growth. The company's EBITDA declined by 7.6% to $8.5 billion, with only Spain achieving higher profitability than in the previous year. Its cash flow declined by more than 12%, but is nevertheless consistent with the full year's guidance. The major positive factor was the reduction in net debt of almost $1.3 billion during the first six months of the year. This weak operating environment makes Orange's outlook very gloomy. France still has a very big weight in its revenues and profitability, and an operating rebound is nowhere in sight. Its issues derive mainly from fierce competition, which should not abate over the next few quarters.
Dividends
Orange's dividend history is not much impressive. It paid a stable dividend from 2008 to 2011 at €1.40 ($1.86) per share, but in 2012 the dividend was cut almost in half to €0.78 ($1.04) per share. Moreover, the company's guidance is for a payout of between 40% to 50% of operating cash flow (before capital expenditures), which means its dividends will be more volatile over the coming years. For 2013, the company's operating cash flow target is above €7 billion ($9.3 billion), implying a dividend per share of €0.80 ($1.06). The company pays dividends twice per year, with a €0.30 ($0.40) interim dividend to be paid next December, and the remaining balance should be paid in June 2014.
In 2012, Orange's capital expenditures amounted to $7.7 billion, a small increase from the previous year. Its cash flow from operations was about $10.6 billion, enough to finance both the company's growth and distribute cash to shareholders. However, without asset disposals the company's indebtedness would have increased, which can make the dividend vulnerable if Orange's operating environment doesn't improve over the next few quarters. Additionally, Orange's cash flow this year will be negatively impacted by a non-recurring tax payment of $2.8 billion, increasing its need to sell more assets. Its management recently stated that Dominican Republic business is for sale, and the IPO of Everything Everywhere should take place in 2014. Therefore, the dividend appears to be relatively safe unless Orange is not able to raise cash from these asset disposals.
Furthermore, Orange wants to preserve a strong financial structure and is targeting a net-debt-to-EBITDA ratio of around 2.0x by the year-end 2014. A the end of the second quarter of 2013, Orange's net debt was $39.3 billion, implying a leverage ratio of 2.21x. Thus, assuming the company's EBITDA is stable over the next two years, the leverage ratio goal implies about $6 billion of debt reduction during this period, which is ambitious. Therefore, assets sales are critical for both the company's dividends commitments and deleveraging goals.
Conclusion
For income investors Orange's high-dividend yield looks tempting. However, its business continues to deteriorate and the dividend may not be sustainable if operating trends don't stabilize over the next few quarters. In the short-term, Orange's dividend should not be cut because cash raised from asset disposals should help to increase its cash flow coverage. However, the company cannot finance dividends through asset sales over the long-term. Therefore, Orange seems best suited for traders than long-term investors, being a play on Europe's rebound and also collecting a big dividend check over the next few months. For more risk-averse investors I think the risk of a dividend cut, if earnings don't rebound or the company fails to sell assets, is too high and Orange should be avoided.
Disclosure: I have no positions in any stocks mentioned, and no plans to initiate any positions within the next 72 hours. I wrote this article myself, and it expresses my own opinions. I am not receiving compensation for it (other than from Seeking Alpha). I have no business relationship with any company whose stock is mentioned in this article.