In anticipation of the eventual Fed withdrawal from mortgage-backed securities purchases, MBS-related exchange traded funds have tracked lower and are now testing their summer lows.
The iShares MBS Bond ETF (NYSEARCA:MBB) fell 3.4% over the past three months. The minutes of the Fed's July meeting released Wednesday showed the central bank will likely taper its bond and mortgage purchases before the end of 2013.
"In our view, from the stock perspective, September tapering of MBS purchases seems to be an eminently viable option for the Fed," Bank of America Merrill Lynch analysts said in a HousingWire report.
Under the current bond purchasing program, the Federal Reserve is purchasing around 50% of monthly gross issuances of mortgage debt, according to Morningstar analyst Timothy Strauts.
"Some quick back-of-the-envelope calculations suggest that up until May when mortgage rates and bond yields began to rise rapidly on the back of fears that asset purchases would be tapered prematurely, each $100 billion of MBS purchases reduced 30-year mortgage rates by 0.06 percentage points," Capital Economics property economist Paul Diggle said in a separate HousingWire article.
The yields on 30-year fixed mortgage are currently hovering around 4.56%.
The iShares MBB ETF tries to reflect the performance of the Barclay U.S. MBS Index, which tracks agency, or government, issued securities by government-sponsored entities, such as Fannie Mae, Freddie Mac and Ginnie Mae. MBB has a 0.27% expense ratio, a 2.99% 30-day SEC yield and a 4.8 year effective duration. A longer duration translates to a greater decline if interest rates were to rise.
The Vanguard Mortgage-Backed Securities Index ETF (NASDAQ:VMBS) also tracks agency issued mortgage-backed securities. VMBS fell 2.8% over the past three months. The Vanguard fund has a 0.12% expense ratio, a 0.86% 30-day SEC yield and a 5.1 year duration.
Additionally, the SPDR Barclays Capital Mortgage Backed Bond (NYSEARCA:MBG) follows the SPDR Barclays Mortgage Backed Bond ETF. MBG has a 0.32% expense ratio, a 0.44% 30-day SEC yield and a 5.59 year duration. The fund has gained 2.8% over the past three months.
iShares MBS Bond ETF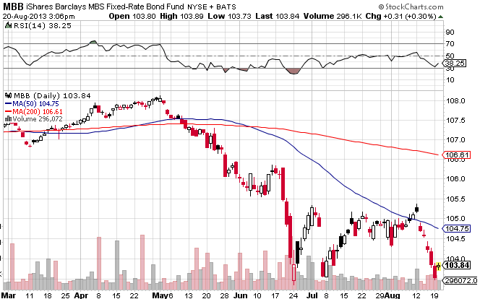 Click to enlarge
Max Chen contributed to this article.
Disclosure: I have no positions in any stocks mentioned, and no plans to initiate any positions within the next 72 hours. I wrote this article myself, and it expresses my own opinions. I am not receiving compensation for it. I have no business relationship with any company whose stock is mentioned in this article.