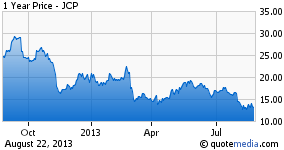 J.C. Penney (NYSE:JCP) is losing money. It is losing money on a GAAP basis. Even more importantly it is losing money on a cash basis.
The company has a quarterly "Nut" of roughly $1.1 billion. This amount does not include amounts for cap-ex. JCP has guided cap-ex as $300 million for the balance of 2013 and another $300 million for next fiscal year. This cap-ex is being financed with debt because the company currently generates negative contribution margin.
From Q1 to Q2 there were a number of material changes to the balance sheet:
Inventory on Hand increased from $2,798 to $3,155.
S-T Debt declined from $876 million to $850 million
L-T Debt increased from $2,950 million to $4,850 million
P,P & E increased from $5,690 to $5,820
Ostensibly, JCP ended the quarter with $2,320 in Book Value or $10.54 per share. JCP's equity is trading at $13.20 as of yesterday's close. This represents 1.2 - 1.3x BV. Assuming JCP could earn $1 per share in EPS in recovery. JCP trades at roughly 13x this amount.
The company has told us a number of things on the recent conference call. Specifically, the investments in fixed assets and working capital for the Home business have been a disaster. The NPV of this initiative has been a huge negative. The company tells us that stores that did not receive the "benefit" of a home renovation have performed better than those that did. This information has material implications as it applies to JCP's Book Value.
Inventory on Hand needs to be adjusted. JCP is going to have to liquidate stock that simply doesn't fit with its target customer. I have assumed a reasonable amount for Inventory impairment of $1 per share or $220 million.
100% of the investment in fixtures over the past year should be adjusted down. I have adjusted the P,P & E account by $660 million or $3 per share to account for the fact that the Home renovation project was a total dud. This capital effectively was deposited into a black hole. The idea that this capital moved from the company's cash account to the P,P & E account as retained value is preposterous. This "investment" combined with the reduction in promotional activity has lead to a decline of 25% of revenues. Writing down the failed cap-ex is entirely reasonable. The cash is gone and the fixtures aren't worth what the company paid for them. They are worth less than the fixtures that were written off and thrown away.
$150 million worth of cap-ex will be paid for in Q3. Another $150 million will be paid for in Q4. These funds will come directly from the balance sheet. This amounts to an adjustment of $300 million or $1.36 per share. I am subtracting $1 per share from Book Value to account for the fact that most of this cap-ex put into leaseholds has been and remains a total waste of money.
In the past two quarters JCP has sold through $1,823 and $1,876 worth of inventory. The inventory balance at the end of Q2 was $3.1 billion. As the company reloads its warehouses with new merchandise it will continue to be weighed down by the burden of excess dead stock due to merchandising mistakes for the balance of the year. As this dead inventory is liquidated the company will experience a further drag on realized gross margin %. Whether you haircut the Inventory balance directly on the balance sheet or adjust Book Value for the inevitable operating losses that will occur as this stock is flushed out makes no difference. The net result is the same. To be kind, I will keep the inventory impairment at a total of $1 per share over the balance of 2013 even though it seems reasonable to conclude that additional operating losses over the balance of the year could be another $1 per share or $2 total.
What's the result of these adjustments?
Opening Book Value is $10.54
Less $1 per share for dead stock/gross margin pressure
Less $3 per share for worthless cap-ex/ fixtures
Less $1 per share for pending cap-ex that is a waste
Adjusted Book Value is $5.54 per share.
This implies that JCP now trades at well over 2x adjusted Book Value.
There was a major shift in the profile of JCP's balance sheet from Q1 to Q2. The company turned to the debt markets to raise close to $2 billion in capital collateralized by the company's real estate portfolio.
The company points out that it expects to have $1.5 billion of liquidity by the end of this fiscal year. In the short-run, investors have celebrated this liquidity.
However, if the company is unable to crack its "nut" with higher gross sales and realized gross margins after S,G & A the added liquidity will not matter.
Today, this company's assets belong to its senior creditors. At best a liquidation of the company's assets would take 3 months or close to $1 billion in operating expenses. Recoveries from the working capital and fixed asset accounts are likely to be less than their carried values. In a liquidation, JCP's reported book value of $10.54 per share would, in all likelihood, be wiped out to compensate its creditors.
In the interim, it is important to look through the reported balances on JCP's balance sheet in order to adjust for reality.
JCP's working capital and fixtures aren't worth what the company says they are worth. In the case of the Home store fixtures they don't seem to be worth as much as the fixtures that were tossed out and thrown away prior to the renovations. Marking-up these fixtures on the balance sheet seems silly.
Adjusting the inventory balance downward due to its bloated balance and merchandising missteps seems equally common sense.
Adjusted Book Value of $5.54 per share amounts to $1.2 billion in equity value. This amount is likely a reasonable proxy for what it would cost the company to execute a liquidation if negative earnings persist.
If you assign a 50% probability that the business' turnaround is successful and the company's equity is worth 13x $2 per share you get $26 in equity value. If you assign a 50% chance to the idea that the company's equity gets wiped out you get $0 in equity value. Right now the stock trades $13.
Handicapping the outcome of the turnaround plan is difficult. Who knows what will happen? However, it seems reasonable to conclude that at $13 per share speculators in this Cigar Butt are not getting a margin of safety for their $13 outlay.
Adjusted Book Value of $5-$6 a share seems like a more reasonable, risk-adjusted valuation for JCP's equity. If Q4 ends-up a disaster the odds that this amount goes to $0 escalates materially.
Caveat Emptor
Disclosure: I am short JCP. I wrote this article myself, and it expresses my own opinions. I am not receiving compensation for it (other than from Seeking Alpha). I have no business relationship with any company whose stock is mentioned in this article.