The news everyone was talking about yesterday will be the same news everyone is talking about today, and that is the Nasdaq OMX's (NASDAQ:NDAQ) midday shutdown during yesterday's trading session. It is embarrassing and a blow to the firm's reputation, but reports this morning seem to indicate that the NYSE Euronext (NYSE:NYX) may be partly to blame for yesterday's fiasco. Thus far the blame has rested squarely upon the Nasdaq's shoulders, but if the NYSE is found to have contributed to the market shutdown, then regulators will have their hands full with how to improve the integrity of the market. Look for the Treasury and the SEC to enact new rules to force the implementation of backup systems and possibly even remotely located backup trading floors, which could have trading activity switched to them with the flick of a switch.
Chart of the Day
This chart is very interesting and shows a correlation between the rising rates here in the U.S. (falling bond prices) and strong dollar (falling foreign currencies). Brazil has stepped up to the plate in an attempt to reverse the real's recent weakness, and India is doing everything they can as the rupee is at all-time lows. If this correlation holds, and we are correct in our thinking that tapering is not a 2013 story but rather a 2014 event, then we might be in for a rise in treasuries and emerging market currencies.
Click to enlarge images.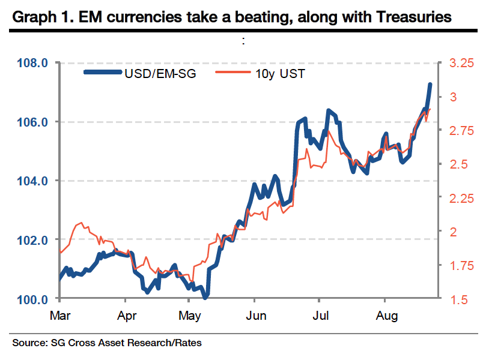 Source: SG Cross Asset Research/Rates via Business Insider.
We have economic news today and it is as follows:
New Home Sales: 394K (485K expected)
Asian markets finished lower today:
All Ordinaries -- down 0.46%
Shanghai Composite -- down 0.28%
Nikkei 225 -- down 0.44%
NZSE 50 -- down 0.48%
Seoul Composite -- down 0.98%
In Europe, markets are higher this morning:
CAC 40 -- up 0.94%
DAX -- up 1.08%
FTSE 100 -- up 0.88%
OSE -- up 0.54%
Manufacturing
Whirlpool (NYSE:WHR) shares traded $5.16 (3.92%) higher yesterday to close at $136.86/share on volume of just over 1 million shares. It appears as if our call to be bullish all things housing-related was well-timed as it pertained to the company, and we can only hope that the outperformance continues. One thing we would watch now is how the stock performs relative to other names and whether the recent outperformance continues or whether the shares hit a wall and underperform for a period. We are long-term bulls here, but have watched this stock closely over the recent bull market to know that it does feel as if it is getting "tired."
We wanted to be bullish this name as we thought the home improvement names would report strongly, but if we do not take out $140/share soon, we might have to prepare for a pullback before we head higher.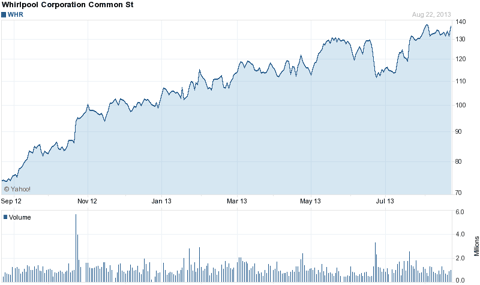 Source: Yahoo Finance.
Going into the weekend, we want readers who still hold Tesla (NASDAQ:TSLA) to close out half of their position and essentially let the profits run at this time. The stock did jump back when we last stated that readers needed to watch it because it might be a sell, and because of the move higher no sales should have been triggered. This has been a nice ride but based off of valuation and the risk/reward available elsewhere we think that taking money off of the table at $157.10/share is a prudent move. No need to be greedy here. Remember, no one ever lost money locking in profits.
Retail
Why do we want to take profits in Gap (NYSE:GPS) shares? Well, we have traded down in anticipation of weaker earnings and when we did not get poor results last night, the shares still did not rally. Trading at this support level and not bouncing off of it on that news worries us, so we shall seek diversification with most of our gains in order to protect capital and minimize the impact of a larger pullback.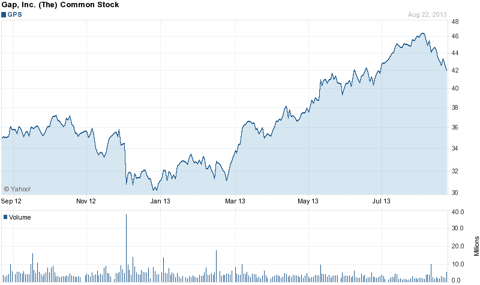 Source: Yahoo Finance.
We have discussed how hard it is to find that next group of winners in retail and how our last group of picks are running out of room to run. Gap proved last night that they are not done outperforming as they once again reported a strong quarter in the face of weak industry results and even raised full-year guidance. To top it off -- and this is where they surprised nearly everyone -- the company announced another big dividend increase. The increase of $0.20/share moves the dividend from $0.60/share to $0.80/share per year and was a 33.33% increase.
Even with the strong results, just like Tesla, we want to take some profits here and in this case reinvest the capital into the retail sector ETF we have discussed recently. It provides diversification and should give investors exposure to the retail recovery we see taking place over 2014, without having to take on the risk of picking the individual stocks that will be the big winners. Here, too, we would take half of the position off the table as readers have already more than doubled their money from our initial recommendation.
Disclosure: I have no positions in any stocks mentioned, and no plans to initiate any positions within the next 72 hours. I wrote this article myself, and it expresses my own opinions. I am not receiving compensation for it (other than from Seeking Alpha). I have no business relationship with any company whose stock is mentioned in this article.