Yahoo! Inc. (NASDAQ:YHOO) is often overlooked by individual investors who tend to focus on hotter trending tech names such as Google (NASDAQ:GOOG) or Facebook (NASDAQ:FB). However, this shouldn't be the case as the 3 month average volume for Yahoo (largely from institutional investors) has been 17 million shares, with a market cap of $27.6 billion, and a share price that is up 80.76% in its last 12 months (as of the end of Thursday, 22nd August 2013). With an increase like that, is it possible that the share price is still undervalued? I believe so. A good indicator is the recent news from ComScore, which indicates that Yahoo topped Google in the U.S. for Web Traffic in July, 2013 (the first time since May, 2011). The past eighteen years for Yahoo! Inc., haven't exactly been smooth sailing, and the recent efforts from Yahoo certainly deserve applause as they've been steadily marching forward with their turnaround.
Competition:
Competition to attract users is fierce from AOL and Google. Quarterly revenue growth for Yahoo is negative (a comparison to AOL and Google is below). Having said that, Yahoo looks attractive with Low P/E (TTM) ratio and greater 5-year PEG.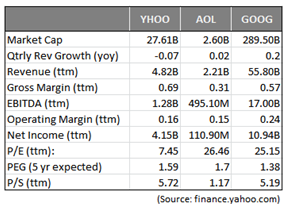 In 2013, Yahoo's future looks more promising under the leadership of President and CEO Marissa Mayer, a former Google executive who was their 20th hire back in 1999. Looks like their competitive market analysis is beginning to pay off as their newly executed growth strategy is making headlines as they participate in an acquisition spree of various startups to beat the competition.
Company activities:
New Products for users: A key area of criticism for Yahoo. The company has accelerated its pace of innovation in the second quarter, launching nearly a dozen new products - including re-imagined desktop, mobile and tablet versions of Mail, Weather, Flickr, Search, Sports, News, and Yahoo! for iPhone and Android.
New Format for Advertisers: The company announced two new advertising formats, Yahoo! Stream Ads and Yahoo.com Billboard ad.
Partnerships with Brands: Yahoo! is offering additional content as part of its partnerships with leading news and entertainment brands such as ABC News, CNBC, Condé Nast Entertainment, and Broadway Video Entertainment.
Aggressive Acquisitions: During the second quarter, Yahoo! made nine acquisitions to strengthen its products, content offerings, core technology and talent - including Summly, Astrid, Milewise, Loki Studios, Go Poll Go, PlayerScale, Rondee, Ghostbird Software and Tumblr.
Expectations from Acquisitions:
Summly, a mobile phone news app, was purchased for $30 million on March 25, 2013; it takes long news stories and squishes them into 400-character summaries for cell phone screens, because nobody allegedly wants to read long text on cell phones. Going ahead, Yahoo can turn Summly into your "Research Assistant". This is much needed to beat competitors Google and Microsoft.
Tumblr is one of the fastest-growing media networks in the world. Yahoo! hopes to monetize Tumblr by enticing marketers to pay for native ads on the site's dashboard. The bulk of Yahoo!'s revenue comes from online display advertising, which has been declining. The combination of Tumblr and Yahoo! is expected to grow Yahoo!'s audience to more than one billion monthly visitors.
Enough has been mentioned in other articles about the potential of Alibaba; however, it can't be understated how valuable an asset this is to Yahoo.
When will these actions and acquisitions find monetary benefits on Yahoo! earnings?
Analysts (as collected by, you guessed it, Yahoo Finance) are expecting negative earnings for the current quarter Q3 to be announced on 21, Oct 2013. However, the expectation for Q4 2013 is much higher (up to a 14% increase).

Analyst Call:
Currently there are 10 analysts that rate Yahoo a buy, 1 analyst rates it a sell, and 12 rate it a hold.
Conclusion:
Yahoo's current product portfolio is largely web based; with the decline in Personal Computer (PC) users, Yahoo! may continue to struggle in the near future. However, as demonstrated above, Yahoo has been steadily improving their mobile presence to position for future growth. Marissa Mayer is seen as a godsend for the company. Over 20 acquisitions, personally led by her, signals to investors that management is serious about reversing Yahoo's continued decline in revenue. Yahoo still has plenty of cash to spend on acquisitions - $4.8 billion as of the end of June 2013. While the turnaround is far from complete, this most recent data shows that it's well on its way. I believe, if you don't already have a position, now would be the time - in two years Yahoo won't be this cheap.
Disclosure: I am long YHOO. I wrote this article myself, and it expresses my own opinions. I am not receiving compensation for it (other than from Seeking Alpha). I have no business relationship with any company whose stock is mentioned in this article.