The first article of the series has introduced the Carbonate Triangle of the renowned Canadian oil sands. The region is the world's third largest oil reserve with its rich carbonate-hosted bitumen deposit located in the northern Alberta's deep underground. Precisely, the Carbonate Triangle is situated between three major bitumen areas, Athabasca, Cold Lake and Peace River.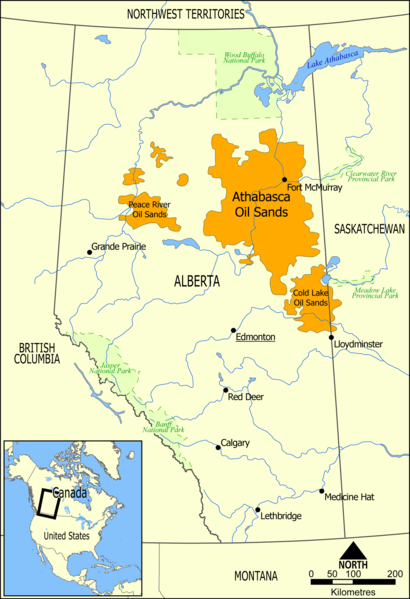 In today's investment guide on the Carbonate Triangle, I will present the main characteristics of the Athabasca area to have a better assessment of its potential. Then, I will discuss one small oil producer involved in Athabasca. So far, I looked into several producers involved in Peace River and Cold Lake regions of the Carbonate Triangle:
Peace River's most notable producers:
Cold Lake's most notable producers:
Athabasca's most notable producers:
An analysis of the current operations of the company will be examined with the objective to provide the most complete information available to potential investors before deciding to seize the opportunity that the 54,132 square miles of the Carbonate Triangle has to offer. Let's start by introducing Athabasca, a famous and most prolific region in the Canadian oil sands as well as one of the largest reserve in the world.
Athabasca Region
The Athabasca oil sands are named after the Athabasca River which cuts through the heart of the deposit, and traces of the heavy oil are readily observed on the river banks. Commercial production of oil from the Athabasca oil sands began in 1967, when Great Canadian Oil Sands Limited, now incorporated into an independent company known as Suncor Energy, opened its first mine, producing 30,000Bls/d of synthetic crude oil.
The Athabasca region can be defined with two major oil sands deposits: the Grosmont Formation and the Wabiskaw-McMurray Formation. The Grosmont Formation is a late-Devonian shallow marine to peritidal platform carbonate consisting of four recognizable units within the deposit. All of the hydrocarbons are located in an updip position, structurally trapped along the erosional edge and contained by the overlying Clearwater Formation.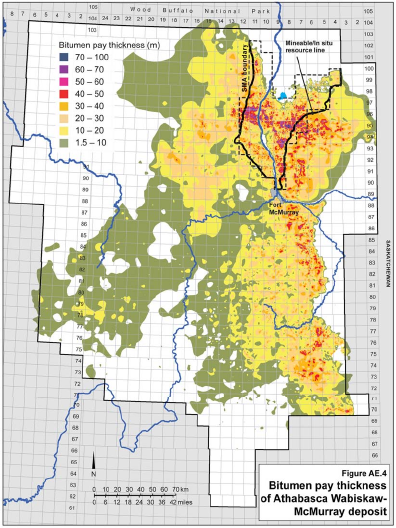 Source: ERCB
The McMurray Formation was deposited on an exposed karstic landscape of ridges and valleys and varies in thickness from being absent over Devonian highs to over 426 feet thick in the Bitumont Basin. Bitumen-rich reservoirs formed within estuarine valleys stacked above the Lower McMurray channel sands and are assigned to the Upper McMurray Formation.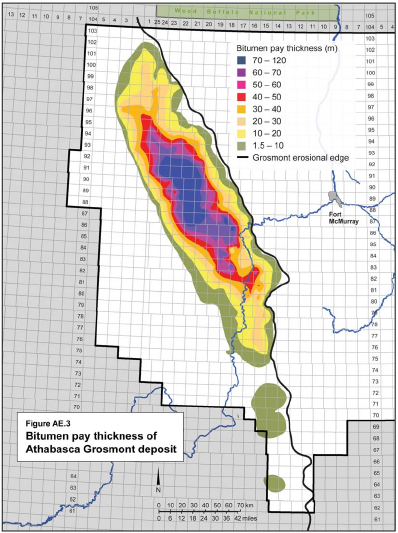 Source: ERCB
The Athabasca region is estimated to hold total reserves of 1.34 trillion barrels of oil. Approximately 8-10% would be recoverable with current technology, which would represent a total reserve of 134 billion barrels. Compared to the estimated 7 billion barrels contained in Peace River and approximately 16 billion barrels in Cold Lake, the Athabasca region is the most prolific and the most promising of the three, located in the Carbonate Triangle.
Ivanhoe Energy (NASDAQ:IVAN)
Ivanhoe is an international heavy-oil development and production company focused on pursuing long-term growth in its reserves and production using advanced technologies, including its proprietary, patented HTL, a heavy-oil upgrading process. Core operations are in Canada, the United States, Ecuador and Mongolia, with business development opportunities worldwide.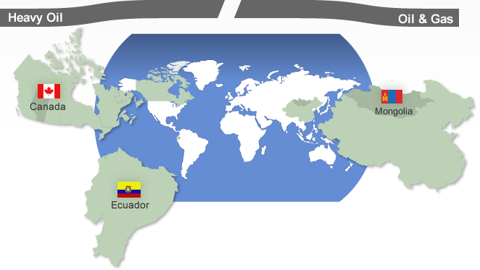 Source: Ivanhoe Corporate Presentation, July 2013
A Promising Process Marketable Worldwide
Ivanhoe uses technologically innovative methods to significantly improve the development of heavy oil and other oil and gas assets. Primary among these is Ivanhoe's proprietary, patented heavy oil upgrading process called HTL for "Heavy-to-Light". The company has 57 patents issued and an additional 56 patents pending. HTL is protected until 2028 and the patents currently under review will extend the protection until 2031.
HTL is an upgrading process that can be located in the heavy oil field, completely integrated with upstream field operations. The HTL process converts heavy oil to lighter, more valuable product that can be transported by pipeline without the need for light blend oils. In addition, coke and gas by-products from the upgrading process is converted in-situ to steam or power, and this energy is available to the operator to develop the field. HTL facilities can be economically applied in scales as low as 10,000 to 20,000 barrels per day.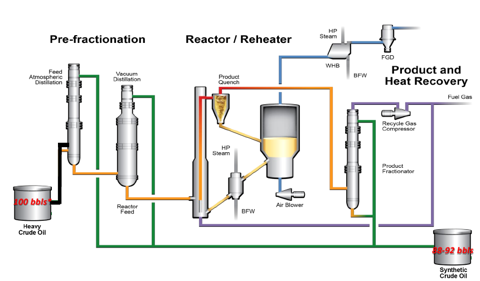 Source: Ivanhoe Corporate Presentation, July 2013
HTL is based on the time-tested concept of thermal cracking and carbon rejection. The main features are:
The key innovation is speed: HTL incorporates ultra short processing times compared with significantly longer times for conventional technologies such as delayed coking

Added advantage over coking technologies: it converts by-product coke to on-site energy, instead of incurring the costs of accumulating and managing large stockpiles of low value coke

Does not require diluent, catalysts, hydrogen or natural gas

The net result is relatively small scale, low cost facilities that can be field located where energy and other heat integration benefits are maximized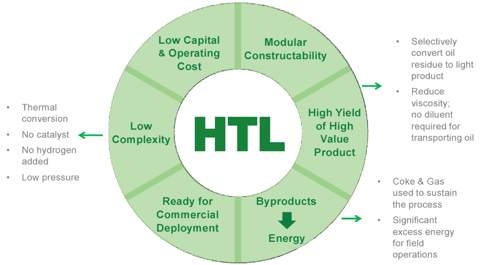 Source: Ivanhoe Corporate Presentation, July 2013
According to the company, HTL is a close analogue to FCC (Fluid Catalytic Crack), a very common processing unit found in most refineries worldwide. FCC's circulate catalyst to produce transport fuels mainly from vacuum gas oils, while HTL circulates common sand as a heat transfer agent to convert heavy oil, including pure vacuum residues, to upgraded light oil. While HTL is an innovative, patented and proprietary technology, the fundamental engineering, equipment and materials handling aspects underlying HTL are well understood by fluid solid systems engineers.
Ivanhoe's HTL process represents the application of a commercially proven technology to a new feedstock, and incorporates the benefits of a development process that spans over 25 years.
Traditional heavy oil upgraders have a very large economic minimum scale, around 150,000-barrels-per-day, as well as a very high capital cost-per-barrel of capacity. Energy produced from upgrading by-products is largely sufficient to run the facility and also to meet the requirements of the field.
Furthermore, HTL upgraded oil is more valuable than raw heavy oil, allowing the producer to capture the majority of the heavy-light differential. Shown in the chart below, HTL SCO (synthetic crude oil) is comparing favorably to other crudes.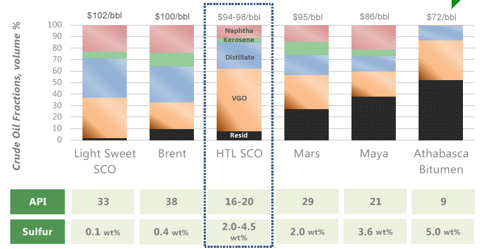 Source: Ivanhoe Corporate Presentation, July 2013
The picture below illustrates the netback differentials between traditional upgrading process and HTL, the latter unlocking a significant opportunity: enhanced cash flows, superior economic returns and reduced financing risk due to capital efficiencies.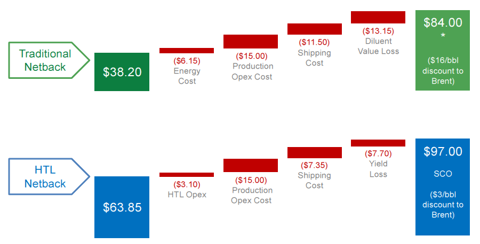 Source: Ivanhoe Corporate Presentation, July 2013
The net result is that significant known quantities of heavy oil remain undeveloped. Integrated HTL development solves each and every one of these challenges as its heavy oil production can add incremental economics and lower risk in heavy operations with established infrastructure, such as the Athabasca oil sands in Canada, and it is also able to free the value of stranded oil in fields that cannot be economically produced using conventional technologies, such as Pungarayacu asset owned by the company in Ecuador.
Tamarack Project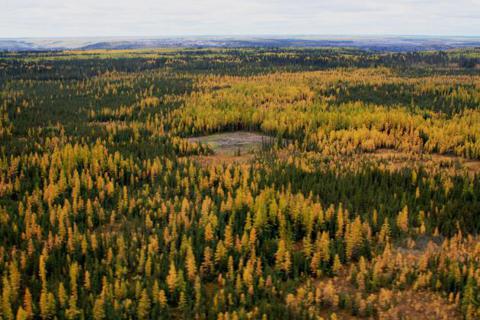 Source: Ivanhoe Energy
In mid-2008, Ivanhoe closed its first transaction in western Canada, acquiring Leases 10 and 6 from Talisman Energy (NYSE:TLM). Lease 10, renamed the Tamarack Project, is a 6,880-acre contiguous block located approximately 10 miles northeast of Fort McMurray. The company holds 100% of the working interest in the project, subject only to a 20% back-in right held by Talisman Energy, which expired in mid-2011.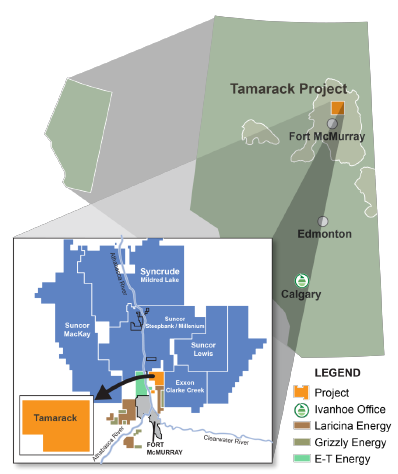 Source: Ivanhoe Corporate Presentation, July 2013
Tamarack is an in-situ heavy oil development project using SAGD, and has none of the environmental challenges specific to oil sands mining projects such as extensive land disturbance, tailings ponds, and significant water usage.
Tamarack is considered to contain high-quality sands, with clean and continuous average net pay of approximately 65 feet, without significant top or bottom water or top gas issues. The average porosity is at 34%, average bitumen saturation is at 79% and permeabilities are between one and 10 Darcies, all of which are considered excellent reservoir characteristics. As a matter of fact, the reservoir characteristics are similar to those at the 30,000Bls/d (barrels per day) MacKay River Project operated by Suncor, located nearby, across the Athabasca River. MacKay River is widely recognized as one of the most successful and longest-producing SAGD projects in the Athabasca oil sands.
The high quality of the asset is expected to provide for favorable projected operating costs, including attractive SOR (steam-oil ratios) and recovery efficiencies using SAGD development techniques.
In November 2010, Ivanhoe filed an application with Alberta Environment and the ERCB for regulatory approval to proceed with the Tamarack integrated oil sands project, which is comprised of a two-phased 40,000Bls/d and HTL facility. Phase 1 and the HTL facility are expected to be commissioned for 2016 while Phase 2 has not been determined yet by the company.
In 2012, the company responded to two additional rounds of supplemental information requests. In January 2013, Ivanhoe received a Completeness Determination from AESRD (Alberta Environment and Sustainable Resource Development). This determination confirms that the AESRD has no further technical questions and has deemed the application complete. The producer expects to secure regulatory approval, which is now anticipated to occur in Q3 of 2013.
Tamarack has a recoverable potential reserves of 520Mmboe (million barrels of oil equivalent) valued at $1.8 billion, with proved and probable reserves of 175.7Mmbls (million barrels).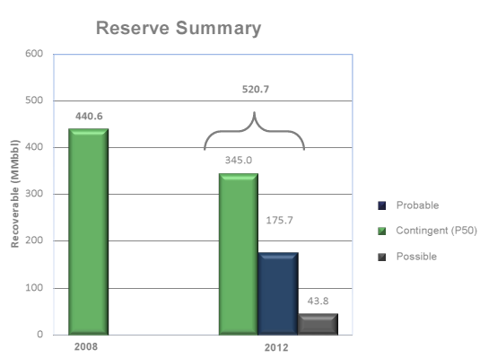 Source: Ivanhoe Corporate Presentation, July 2013
Financials At A Glance
In Q2 of 2013, the company had a net loss from continuing operations of $8.4 million, which is an increase of $2.1 million compared to $6.3 million in the same period in 2012. This change is primarily due to lower derivative instrument gains and a number of smaller changes including slightly higher general and administrative expenses and operating costs related to the timing of payments. These increases were partially offset by lower exploration and evaluation expenses and higher deferred income tax recoveries.
The following chart shows the cash from operations for the trailing twelve months. The producer is absorbing losses from its operations since late 2009 and it totaled $38.75 million at the present time. However, with potential reserves valued at more than $1.8 billion, Ivanhoe's development of Tamarack appears to be a potential game changer for the company and its shareholders will have to be patient and remain confident in the management while the boat is at bay.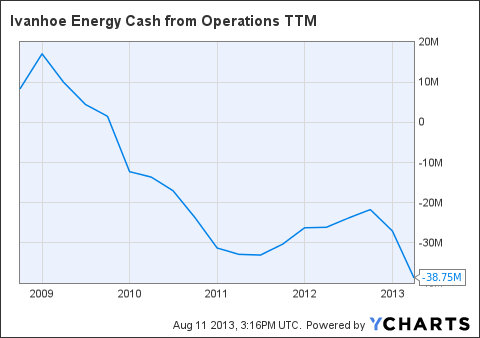 Cash used in operating activities for the first six months of 2013 was $20.6 million, which is $9.5 million higher than in the same period of 2012. The increase is primarily due to the inclusion of China operating revenues, net of operating costs, in the 2012 amount but excluded from the 2013 total. The increased cash use was partially offset by the collection of contractual payments associated with the divestment of the Chinese operations.
According to its Q2 of 2013 financial results, capital expenditures were $4.6 million, as compared to $24.6 million in the same period of 2012. The lower 2013 amount is caused by the divestiture of the Chinese assets and reduced activity in both Ecuador and Canada.
Capital investments in the second quarter include the investment of an additional $1.8 million to complete the seismic and drilling program designed to provide further information for initial development of the Tamarack Project.
At June 30, 2013, Ivanhoe had approximately $49.2 million in cash and cash equivalents, as compared to $27.4 million at the end of the same period of 2012. Currently, the producer has $61.98 million on hand. According to the company, it would have sufficient liquidity to fund operating activities in 2013 and into 2014.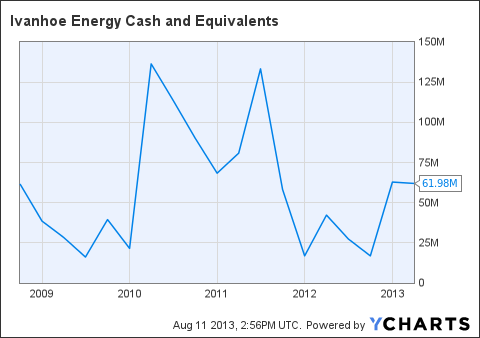 Ivanhoe has reduced its long-term debt to $64.4 million over about $120 million recorded at the end of 2012, reducing its debt by almost half. The company has a long-term debt to equity ratio of 22.23, giving the producer enough financing flexibility to pursue the development of its projects. The LT debt to equity ratio of its industry's average is much higher at 68.80. I believe that Ivanhoe's management has done a great work recently to strengthen its balance sheet by reducing its long-term debt and divesting some non-core assets.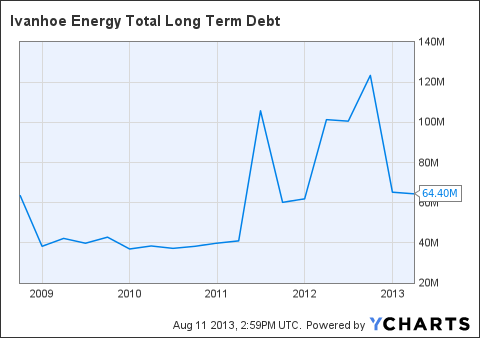 Bottom Line
I like the potential of Ivanhoe's Tamarack Project as well as its promising soon-to-be commercialized HTL process. The developed expertise of the company in the Canadian oil sands should translate into profitability when Tamarack will be commissioned. However, patience will be key. Its stronger balance sheet should help along the way as well, to further develop new opportunities.
In addition, as shown in the chart below, Ivanhoe's stock price will eventually grow in value, supported by its value assets and its overall potential going forward. I believe that a value between $5-6$ a share is achievable and realistic given the potential that both Tamarack and the HTL process has to offer.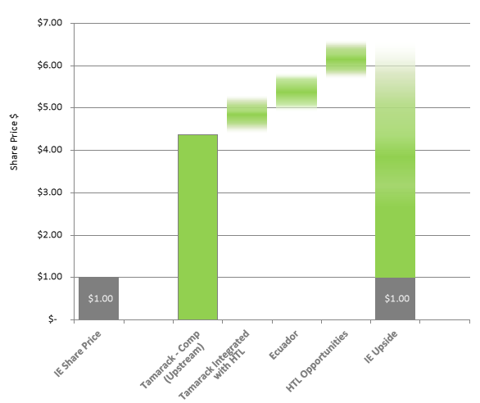 Source: Ivanhoe Corporate Presentation, July 2013
Finally, the following chart is interesting for the investor. As a matter of fact, the chart shows Ivanhoe's valuation with its peers by comparing its enterprise value per barrel. This gives a favorable perspective of the producer with comparable peers involved in the oil sands.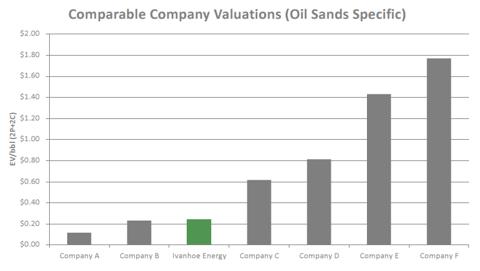 Source: Ivanhoe Corporate Presentation, July 2013
In conclusion, here are the upsides identified for a potential investment in Ivanhoe Energy's stock:
HTL patented heavy oil upgrading process with potential marketing
The potential of Tamarack Project with $1.8 billion in value
Low-risk operating position associated with the Canadian oil sands
Low long-term debt adds strong flexibility to pursue projects development and new opportunities
However, here are the potential risks associated with a junior producer:
HTL technology has no proven guarantee and may not be commercially viable
The return on investment made so far for Tamarack is only possible in about three years from now
The risk associated with doing business in foreign countries partially offset by its activities in the Canadian oil sands
The long-term financial capacity of the company to carry out its projects to profitability is unpredictable
Disclosure: I have no positions in any stocks mentioned, and no plans to initiate any positions within the next 72 hours. I wrote this article myself, and it expresses my own opinions. I am not receiving compensation for it (other than from Seeking Alpha). I have no business relationship with any company whose stock is mentioned in this article.