If you follow Arena Pharmaceuticals (NASDAQ:ARNA), you are well aware that the perceived value in the company is tied to the anti-obesity drug Belviq. While the company does indeed have a pipeline of other drugs, the viability of the company has, like it or not, been linked to Belviq. Because of this, weekly sales figures are closely monitored by long-term investors and active traders alike. In my opinion, there is a lot of potential upside in the prescription anti-obesity space, but it will take time to develop and come to fruition. The biggest challenges are cost, insurance reimbursement and general acceptance by physicians and consumers.
The weekly prescription sales figures are geared more toward active traders, of which Arena has many. Longer-term investors take the weekly sales to try to establish a trend line and determine the potential of the company, or at least estimate when the potential can be realized. It has long been my opinion that we need to see 12 to 16 weeks of data to properly assess the sales through the end of the year and beyond. With 3 to 4 months of data we can begin to recognize the pace of growth and see how prescription refills are tracking. Part of the success of a drug is in seeing patients get a positive response and refilling their prescription. Before moving on to the numbers this week, I have my usual qualifiers in place:
· The data used is from IMS Healthcare (orange). This company reports numbers each Friday.
· I adjust the IMS data up 30% to account for any underestimates that can arise for a number of reasons.
· Another company, Symphony Health, also tracks sales data. It typically comes out later in the day, and after the sales data from IMS has carried its impact on the markets. I track Symphony data, and I adjust it up by 20%. I am adding a Symphony data line (in green), though it will be 1 week trailing due to the timing (unless Symphony releases prior to submission of the article).
· The tracking blue path is a model on how Eisai (OTCPK:ESALY) can arrive at $150 million in gross sales by the end of the year. More realistically, in my opinion, sales are pacing toward between $60 million and $70 million (gross) by the end of 2013 and the $150 million goal will not be met. Analysts like Leerink Swan and Jefferies (yellow line) are likely in the right neighborhood on their respective gross sales expectations. It is important to understand that gross sales is the sales number prior to discounts and adjustments. The blue lines track Eisai's "hopeful aspirations" goal, not Arena's goals.
· The charts have an "analysts' expectations" line (depicted in Yellow). This line now tracks to $68 million in gross sales by the end of the year. In theory, $68 million in gross sales will pay out about $10 million in "royalties" (percentage of net sales) to Arena. I use an average net script price of $100 (down from $125). In the most recent quarter the average was $82. I am adjusting upward because the weight of free trials should improve as the next 6 months pass. The analyst line represents what sales would have to track to get to the $12 price target that they have established.
· While I talk about gross sales frequently, the driver for Arena is its percentage of net sales. It is gross sales that determine things like blockbuster status, while net sales get to the meat and potatoes of what Arena garners from the sale of the drug.
· The orange line depicts my 30% adjusted IMS sales. It is currently pacing below the blue hockey stick model and above the yellow analysts' model.
· The green line depicts my 20% adjusted Symphony sales. It is currently pacing below the blue hockey stick line and above the analyst line.
· I have not stated that the company will track to any particular line.
This week the IMS scripts came in at 3,461. Last week the number was 3,135. Week over week growth was about 10%. As stated, I adjust that number up by 30%. My adjusted IMS script number is 4,499. The chart below is a 12-week blow-up of the larger 30-week chart. As you can see, the current adjusted script pace is just above the yellow analyst line that would, in theory, generate a $12 price target. Scripts are also pacing just below the blue hockey stick model that would pace Arena to $150 million in gross sales by the end of this year.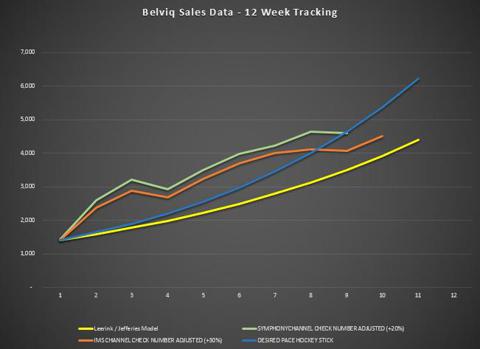 Click to enlarge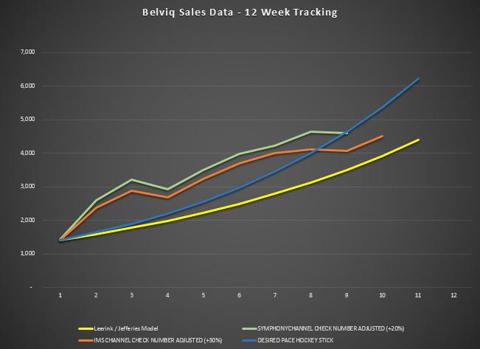 Click to enlarge
The 30-week chart below outlines the overall pace and projected paths through the end of 2013. The current pace for script sales is pointing toward $60 to $70 million in gross sales. It would now take roughly $68 million in gross sales to garner Arena the $10+ million in revenue analysts are looking for in $12 per share valuation targets.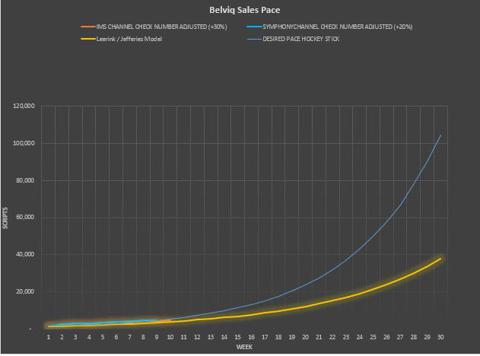 Click to enlarge
Last week we witnessed script numbers flattening out a bit. I have offered the opinion that periods of flattening is to be expected due to the patient churn effect taking shape. Not every patient that tries a drug will respond. As more patients try Belviq, there will come a point in time where people cease prescriptions. This could happen because of side effects, cost, or simply that the drug does not work for a particular patient. When churn is introduced into the equation, it takes more gross additions to offset those that cease treatment while still showing growth. This week the gross additions were such that decent growth was attained.
As I have stated, there is an active traders dynamic to the weekly script numbers. If they are low, the stock will suffer. If they are as expected the stock will maintain. If they are high, the stock can appreciate. Unfortunately, the bar for high scripts is set pretty high each week. By example, had unadjusted IMS scripts come in at 4,000 or more investors would take notice. For the equity to make a stark move up on a weekly script count the step up has to be substantial.
Summary
· Weekly IMS numbers show 10% improvement week over week
· The current adjusted pace is below the $150 hockey stick model
· The current pace is tracking well with the analyst model
· Current unadjusted IMS sales are at 25,373
· Current 30% adjusted IMS numbers are at 32,985. This is pacing just below my stated goal of 40,000 in 12 weeks
· Estimated YTD gross sales (to consumers) is $6,580,487*
· Estimated YTD net sales (to consumers) is $3,298,500*
· Estimated YTD Arena share (from sales to consumers) $1,039,028*
*Arena is not using sales to consumers to book revenue. They are using sales to the wholesaler to account for revenue. Eisai books sales to wholesalers as well. Weekly scripts are tied to actual consumer sales, thus the translation in revenue modeling.
Disclosure: I am long ARNA. I wrote this article myself, and it expresses my own opinions. I am not receiving compensation for it (other than from Seeking Alpha). I have no business relationship with any company whose stock is mentioned in this article.
Additional disclosure: I have no position in Eisai