Bummed out about rising interest rates? The market certainly is - the DOW is down around -2.75%, and the S&P 500 has stalled, down around -0.73%, since the May Fed "taper" scare, which sent interest rates up rapidly.
Well, there's a way you can fight back - we've found 2 undervalued stocks which benefit from a rising interest rate environment. Normally, we only write articles about dividend stocks, but in this case, these 2 stocks have very attractive options yields, which can use to generate some income now, and profit from the new rising interest rate environment.
Nationstar Mortgage Holdings, (NYSE:NSM), is based in Texas, and operates as a residential mortgage loan servicer in the United States. It operates in two segments, Servicing and Originations. The company services loans as the owner of the mortgage servicing rights (MSRs) and also services loans on behalf of other MSRs or mortgage owners.
Ocwen Financial Corp., (NYSE:OCN), is the biggest specialty mortgage servicing company in the U.S., and focuses on high-risk loans. OCN's Revenue has more than doubled in the last year,as it has won new servicing business from banks and other mortgage holders.
Atlanta-based Ocwen is known for reducing delinquencies on non-prime loans, including Fannie Mae and Freddie Mac-backed loans.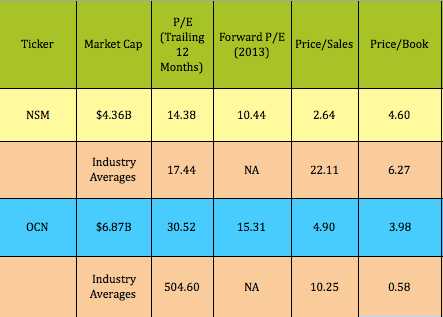 Both companies had big earnings and revenue growth in the 2nd quarter of 2013...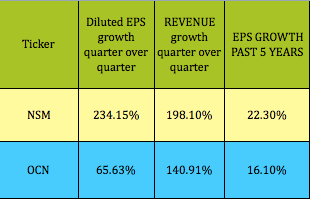 ...and analysts are projecting them to continue this strong growth in 2013 and 2014, as the banks turn to outside servicing firms to handle more of their mortgage servicing needs. Even though they've had big price gains this year, both stocks still look undervalued on a 2013 and 2014 PEG basis: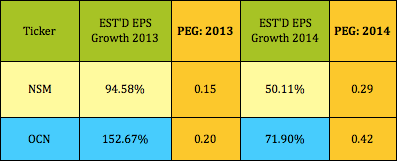 High Options Yields: If you believe that interest rates will continue to rise over the next 18 months, these 2 option-selling trades offer you a way to earn a good yield now.
These 2 trades expire in January 2015; both yield over 15%.
You can find more details about these and over 30 other call trades in our free Covered Calls Table:

Covered Call trades downside risk: We've listed your breakeven points for the above Covered Call trades for NSM and OCN.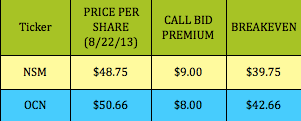 Selling Puts: An alternative strategy is to sell cash secured puts below each stock's price/share, and achieve a lower break-even. These trades also expire in January 2015, and yield over 15%.
Downside risk on these Put trades: Your breakeven for NSM is $37.10, which is 23.90% below NSM's share price. Your breakeven for OCN is $41.80, which is 17.49% below OCN's share price.
You can see more details about these and over 30 other put-selling trades, in our free Cash Secured Puts Table:

Performance: Both stocks have had big price gains year-to-date and over the past 52 weeks, and are sitting just below their 52-week highs: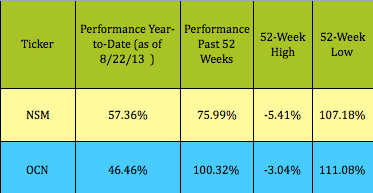 Financials: Both stocks' metrics look good vs. their respective industries, with the exceptions of NSM's much higher debt load, and lower ROI.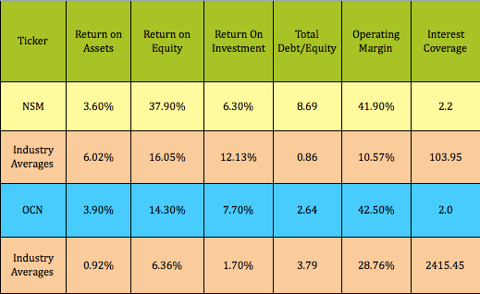 Disclaimer: This article was written for informational purposes only. Author is not responsible for any actions taken by third parties as a result of reading this article.
Disclosure: I am long OCN, NSM. I wrote this article myself, and it expresses my own opinions. I am not receiving compensation for it (other than from Seeking Alpha). I have no business relationship with any company whose stock is mentioned in this article.
Additional disclosure: I'm long OCN and NSM, via being short put options.