Suburban Propane Partners LP (NYSE:SPH) markets and distributes fuel oil, kerosene, diesel fuel and gasoline to residential and commercial customers, and is the third largest retail marketer of propane in the United States, measured by retail gallons sold.
This article analyzes the most recent quarterly and the trailing twelve months ("TTM") results of SPH and attempts to look "under the hood" to properly ascertain sustainability of Distributable Cash Flow ("DCF"). The task is not easy because the definitions of DCF and other non-GAAP measures of liquidity (such as EBITDA and "Adjusted EBITDA") typically used by master limited partnerships ("MLPs") can be complex. In addition, each MLP may define these terms differently, making comparison across MLPs very difficult.
Nevertheless, estimating sustainable DCF is an exercise that must be undertaken in conjunction with evaluating an MLP's growth prospects. Sustainable distributions coverage provides some protection in a downside scenario. When faced with such a scenario, MLPs that cannot maintain their distributions, or are totally reliant on debt and equity to finance growth capital, are likely to suffer significantly greater price deterioration.
Table 1 provides key operating parameters for the quarters ended 6/30/13 and 6/30/12 (noted as 3QFY13 and 3QFY12, respectively, because SPH's fiscal year ends in September) and for the trailing-twelve months period ending June 30. The difference between EBITDA (earnings before interest, depreciation & amortization and income tax expenses) and Adjusted EBITDA results from several items excluded by management in deriving the adjusted number. Examples of such items are unrealized gains or losses on changes in fair value of derivatives, loss on debt extinguishment, losses on asset disposal and, in the most recent period, a $6 million charge covering SPH's withdrawal from pension plans covering certain employees. Given the seasonality of SPH's business, it usually reports a loss in the June quarter; thus a review of TTM rather than quarterly numbers tends to be more meaningful for the purpose of analyzing changes in sustainable DCF. However, I present both.

Table 1: Figures in $ Millions except per unit amounts
The third fiscal quarter ending 6/30/13 is also the third quarter of operations following the acquisition of the retail propane business from Inergy L.P. (NRGY) on August 1, 2012. This transformative acquisition effectively doubled the size of SPH's customer base and expanded its geographic reach into 11 more states, including a new presence in portions of the Midwest. However, the 2012 numbers in Table 1 exclude the effect of the acquisition and the periods are thus not directly comparable. Pro forma data provided by SPH is shown in Table 2 below:

Table 2: Figures in $ Millions except per unit amounts
The improvement in profitability for the TTM ending 6/30/13 over the prior-year period is attributable to a combination of colder average temperatures, lower wholesale propane costs, continued savings in operating expenses of the combined businesses, and better performance in SPH's legacy operations.
SPH does not report DCF numbers. Based a methodology used by other MLPs (see article titled "Distributable Cash Flow") I generate an estimate of DCF that SPH would have reported had it used that method.

Table 3: Figures in $ Millions
SPH typically sells ~ 2/3 of its retail propane volume and ~ 3/4 of its retail fuel oil volume during the peak heating season of October through March. Consequently, the bulk of sales and operating profits are concentrated in the quarters ending December and March 31, while cash flows and DCF coverage ratios are greatest during the quarters ending December and June; this is when customers pay for product purchased during the winter heating season.
A comparison of sustainable cash flows to partnership distributions is provided in Table 4 below. Results for the prior year TTM period are omitted because they precede the Inergy Propane acquisition and are thus not really comparable.

Table 4: Figures in $ Millions except coverage ratio
The conclusion that can be drawn from Table 4, namely that distributions are not being funded through the issuance of debt or equity, is reinforced by the simplified cash flow statement in Table 5 below.
Simplified Sources and Uses of Funds: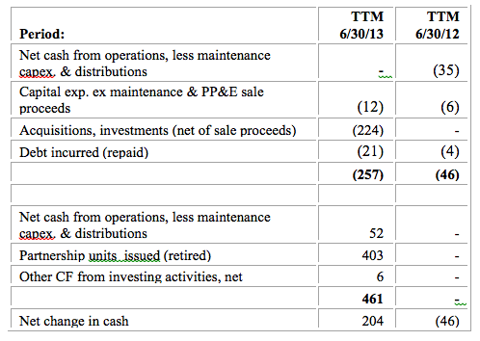 Table 5: Figures in $ Millions
Table 5 indicates that net cash from operations, less maintenance capital expenditures, exceeded distributions by $52 million in the TTM ending 6/30/13. Although SPH issued additional partnership units in the latest TTM period (7.245 million units at $37.61 in August 2012, followed by the issuance of 3.105 million units at ~$48.16 on May 17, 2013), proceeds were used for acquisitions, debt repayment and building up cash reserves. On August 2 and 6, a portion of that reserve was used to repay ~$157 million of 7.375% senior notes due 2021. Proceeds from units issued were not used for funding distributions.
A comparison of SPH's yield to that of the other MLPs I follow is presented in Table 6 below:
| | | | |
| --- | --- | --- | --- |
| As of 08/22/13: | Price | Quarterly Distribution | Yield |
| Magellan Midstream Partners (NYSE:MMP) | $54.70 | $0.53250 | 3.89% |
| Plains All American Pipeline (NYSE:PAA) | $52.05 | $0.58750 | 4.51% |
| Enterprise Products Partners (NYSE:EPD) | $59.18 | $0.68000 | 4.60% |
| Targa Resources Partners (NYSE:NGLS) | $49.31 | $0.69750 | 5.66% |
| El Paso Pipeline Partners (NYSE:EPB) | $42.50 | $0.63000 | 5.93% |
| Buckeye Partners (NYSE:BPL) | $70.24 | $1.06250 | 6.05% |
| Kinder Morgan Energy Partners (NYSE:KMP) | $83.00 | $1.32000 | 6.36% |
| Regency Energy Partners (NYSE:RGP) | $27.60 | $0.46500 | 6.74% |
| Energy Transfer Partners (NYSE:ETP) | $52.37 | $0.89375 | 6.83% |
| Williams Partners (NYSE:WPZ) | $49.33 | $0.86250 | 6.99% |
| Boardwalk Pipeline Partners (NYSE:BWP) | $30.13 | $0.53250 | 7.07% |
| Suburban Propane Partners | $45.59 | $0.87500 | 7.68% |
| Inergy | $14.05 | $0.29000 | 8.26% |
Table 6
I established my SPH position in the hope that management scrubbed the balance sheet and that charges taken in fiscal 2012 (acquisition-related costs, losses on asset disposals, legal settlements, debt extinguishment) were indeed one-time. While the very low leverage and high distribution coverage ratios achieved by SPH in prior years (pre-acquisition) were, to an extent, due to a much more favorable price and demand environment, they also reflected a careful, disciplined and conservative management style. I also hoped this approach would be applied to the acquisition of NRGY's retail propane business. Results from the first nine months of operations following the acquisition of the retail propane business from NRGY are encouraging. Given its exposure to propane prices and the weather, SPH should yield more than pipeline MLPs. The question is how much more. I believe there is an opportunity to both capture an attractive yield and benefit from some capital appreciation through a modest narrowing of the spread relative to other MLPs.
Disclosure: I am long EPB, EPD, ETP, PAA, SPH, WPZ. I wrote this article myself, and it expresses my own opinions. I am not receiving compensation for it (other than from Seeking Alpha). I have no business relationship with any company whose stock is mentioned in this article.