David Einhorn must be feeling really smug this morning. His Microsoft (NASDAQ:MSFT) position is climbing back to its 52-week highs, and - more importantly - his wish to see current CEO Steve Ballmer out the door is coming true.
It's no secret that Mr. Ballmer was viewed as an impediment to Microsoft's share price, particularly as the company's questionable strategic approach to the tablet/smartphone markets has left a bitter taste in the mouths of investors and consumers alike. While I believe that the departure of Ballmer and an installation of a new, less-hated CEO, will drive near-term sentiment (as evidenced by the ~$24B in market capitalization that the company gained just on this "news"), I'm not sure whether a new CEO can materially affect the long-term story, or if the strategy is set to change dramatically.
Ballmer Made Microsoft Bank
The entire purpose of a corporation is to grow and to generate cash for its shareholders, and in that respect, Microsoft has done an admirable job of doubling free cash flow over the last decade, particularly impressive given the firm's gargantuan size.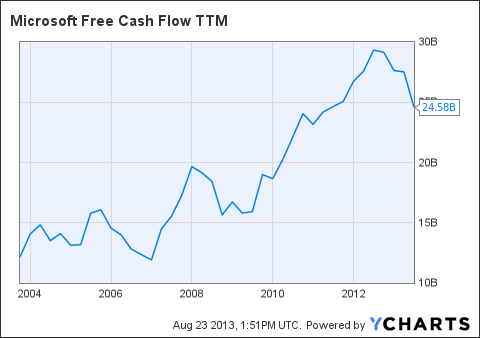 MSFT Free Cash Flow TTM data by YCharts
Further, Microsoft is surprisingly diversified, with Windows only accounting for 25% of the firm's revenue base. While the "death of the PC" has had a toll on Intel (NASDAQ:INTC) - the other half of "Wintel" - Microsoft's stock price has been largely unscathed. Further, as Microsoft is an ecosystem provider (rather than a component vendor), the long-term success of its mobile platforms will pay off with the initial sale of the OS as well as a recurring revenue stream from the "cut" it receives from each application sold.
Microsoft is, by all means, an excellent free cash flow machine, and as a result will continue to offer limited downside and a solid dividend. However, many investors - particularly in tech - want to see growth, particularly after seeing the meteoric growth that Apple (NASDAQ:AAPL) has exhibited over just a few short years.
Windows 8 Strategy Is Fragmented, Windows RT Is A Flop
However, what keeps the enthusiasm over these prospects limited is that Google's (NASDAQ:GOOG) Android and Apple's iOS largely own these new form factors, which are proving to be highly popular with consumers. Apple's smartphone and tablet products continue to own the high end, while devices that run Google's Android (built and sold by a variety of vendors) are quickly capturing the lion's share of the unit volume by virtue of the fact that it's free and highly customizable.
However, the real problem here is that Microsoft has never really leveraged its strengths here. According to Interbrand's list of top global brands, Microsoft is the fifth most powerful brand, and its "Wintel" partner Intel is the 8th most powerful brand - both of whom are actually ahead of Apple (but behind Google). In the PC space, Microsoft and Intel have used their brand muscle to help support a vast ecosystem of system integrators, including ASUS, Dell (NASDAQ:DELL), HP (NYSE:HPQ), Lenovo (OTCPK:LNVGY), and others. Now, while the PC space has begun to fall off (as tablets represent a form-factor shift), Microsoft is trying to compete with its own customers with its "Surface" line of tablets while at the same time charging said customers for a Windows 8 license.
Further, Microsoft's "Windows RT" stunt, which buys the company nothing except for very confused customers and large write-downs, seems to be backfiring. While it's clear that Microsoft was simultaneously trying to ride the ARM (NASDAQ:ARMH) hype, coupled with a "brilliant" scheme to have a platform in which it forced users to buy all of their applications from the Windows store, it ultimately ended in limited adoption of its own Surface RT (~$900M write down, anybody?) and complete abandonment from its OEMs. Now, the latter part isn't so bad if the OEMs are pushing Microsoft's own Windows 8, but the mere existence of RT could confuse users into thinking that even the full Windows 8 convertibles won't run their applications.
Microsoft, with RT, threw away its legacy software base - the only reason Windows' monopoly in the PC space has been an impossible nut to crack for the dozens of Linux variants.
Anyway - the point is that this strategy is highly flawed. Microsoft should stop competing with its paying OEMs (Google's OS is free, so it can "compete" with its "customers" all it wants), and it should be devoting 100% of its efforts to making the OEMs use Android less, and to have these devices try to kick the butts of Apple's iOS products. Nokia (NYSE:NOK), interestingly enough, is a great example of this on the smartphone side of things - Microsoft enables Nokia to do awesome things, instead of trying to compete with them.
The Bottom Line
I'm really not sure if a new man at the top will really do much to drive too much upside to the actual trajectory of the top and bottom lines over the next several years. But what could change is what the market is willing to pay. The truth is that despite the woes with Windows 8/consumers, this only represents 25% of the business. The rest of the firm's end markets seem to be doing well from a growth and competitive positioning standpoint, although these are not as "sexy" as the growth in ultra-mobile computing.
I expect Microsoft to, if it prices Windows 8 for tablets low enough, see a steady growth in its market share in the tablet space. Further, as Windows XP reaches end-of-life next year, there will be a pretty nice PC refresh cycle in the corporate/enterprise space, although I expect these machines to move to Windows 7 rather than Windows 8.1. Finally, the new Xbox One should help the firm's console/game license revenues as the stale Xbox 360 enters retirement. Interestingly enough, the new game console could actually further drive PC refresh among gamers, as PCs that were once overkill for the current crop of Xbox 360-ported games suddenly become required.
I think this initial "Ballmer-pop" fades, particularly as there is no clarity as to who will actually be replacing Ballmer, but once it does it could be an excellent time to pick up some shares.
Disclosure: I am long INTC. I wrote this article myself, and it expresses my own opinions. I am not receiving compensation for it (other than from Seeking Alpha). I have no business relationship with any company whose stock is mentioned in this article.