Jinko Solar (NYSE:JKS) has shown strong performance over the last couple of years after seeing its stock price crash by more than 90% since its IPO. On June 20th, I had written that JKS could triple from that point of time despite the strong stock run. The stock has gone up by more than ~60% since that point of time and I think that the stock has the potential to reach $24. Solar stocks are not for the weak hearted and can show tremendous volatility, but the current trend is upwards after the extremely bad 2011 and 2012 when solar panel ASP fell by almost ~80%, leading to persistent losses for the industry. Jinko Solar recently came out with very good results in which the gross margin soared to nearly ~18% with ASP stabilization and continuous cost reduction by the company. This has allowed Jinko to return to the black after 2 years and I think that the margin improvements can continue given that panel ASPs are increasing. I continue to be bullish about Jinko Solar given that the stock is heavily undervalued and the industry fundamentals are improving.
Why Jinko has been amongst the Best performing Solar Stocks
1) Great Quarterly Results - Jinko Solar gave a great set of quarterly results in which it managed to increase revenues, shipments, margins and increased its guidance as well. The company shipped nearly ~500 MW this quarter which makes it amongst the top 10 solar producers in the world. The company's gross margin came at 17.7% which is easily the best among the other Chinese producers such as Trina Solar (NYSE:TSL), Yingli Green Energy (NYSE:YGE), Canadian Solar (NASDAQ:CSIQ) etc. The company raised its full year guidance to 1.5-1.7 GW from 1.2-1.5 GW earlier.
2) Solar Panel ASP is Stabilizing - Jinko Solar has been a low cost supplier to solar developers and system integrators. The company has kept its solar prices low as it does not have the brand recognition of the other Tier 1 makers such as Sunpower (NASDAQ:SPWR), Yingli and others. The company said that its solar panel ASPs has stabilized at the ~60c/watt level which is good news. The Chinese solar industry has not been able to benefit from the sharp reduction in manufacturing cost as ASP has fallen faster. But with the panel ASP on a stabilizing to increasing trend, the companies are showing a positive growth in margins.
3) Gross Margins Show Sharp Jump - The biggest driver of the current solar rally has been the improvement in margins due to ASP stabilization. JKS has one of the best margins in the industry due to its extremely low cost structure, with module costs of just 50c/watt. The company should be able to sustain/increase its margins as module ASP does not look like that it will fall much further.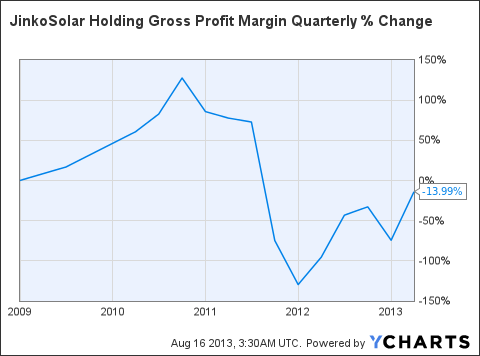 JKS Gross Profit Margin Quarterly data by YCharts
4) Geographic Diversification - Jinko Solar has managed to diversify its sales across the globe with only 25% of its overall sales coming from Europe this quarter. Note Europe used to be a prime driver of solar panel sales till 2012, accounting for more than 70% of the global demand. However, the sharp fall in solar electricity prices has made solar energy demand surge in all parts of the world especially in Japan and China. The company said that more than 60% of its demand came from Japan, China and India.
5) China-European Deal will be Good for Margins - The China-European deal is expected to help the Tier 1 Chinese solar panel companies as it will put a floor on the prices of the solar panels at 56 eurocents/watt. This will allow gross margins of 40% for sales to Europe for Jinko Solar and help improve its overall margins. Though the company will face a volume quota like others, 7 GW annual quota is a pretty decent figure.
All these first tier PV suppliers like Jinko who have solid brand recognition, strong bankability feedback and the highest technology and quality from our modules can secure demand from loyal customers willing to pay such high price per watt.

The situation will become exquisitely more challenging for second and third tier Chinese companies as aggressive pricing no longer distinguishes or differentiates them.

Source - Seeking Alpha
6) Strong Government Support - Jinko Solar has a billion dollar credit line from CDB which means that the company does not face any liquidity issues like LDK Solar (NYSE:LDK). The Chinese government is trying to consolidate the highly fragmented Chinese solar panel manufacturing industry around a few strong players. Jinko Solar with its leading margins should be one of the contenders in my view.
7) China's 35 GW 2015 target and large Project Sales - The Chinese government has increased its solar target to 35 GW by 2015, which means that the demand in China should stay at 10 GW a year. Jinko Solar is also close to selling around 200 MW of projects that it has built in China which should help with solid cash inflows for the company.
Jinko Solar Risks
Share Dilution - The Chinese companies such as Canadian Solar and JA Solar (NASDAQ:JASO) are looking to raise money by selling equity to take advantage of the surge in their stock prices. The Chinese companies are heavily indebted and they need to improve their debt equity ratios. Jinko Solar would also look to do the same to reduce the pressure of the high debt ratios. First Solar (NASDAQ:FSLR) saw its stock price fall sharply after the company sold a big chunk of equity.
Debt - Jinko Solar like other companies in the solar industry had taken high amounts of debt to fuel aggressive capacity expansion during 2009-2010. The industry losses during 2011 and 2012 have added to the debt. Though the company does not have any big debt issues like Suntech Power (NYSE:STP) and LDK Solar, the large debt reduces their flexibility.
Demand Falls - Japan is seeing a massive boom in solar demand which is driving up solar panel prices. Even though Europe has pulled back on solar installations, Japan and China are expected to install nearly 15-20 GW of solar panels in 2013. Solar demand has also been rising in other parts of the world as solar electricity prices are now reaching 10-12c/kWh. This is competitive with fossil fuel prices in a lot of places. Solar rooftop installations are becoming highly popular throughout the globe as capital costs have gone down drastically. However, there remains a risk that Japan and China might cut down their targets as the grid may not be able to support a large amount of intermittent solar installations.
Future Prospects
a) Factors driving Future Revenues and Profits
The biggest driver for Jinko Solar's revenues and profits going forward will be solar panel pricing. Despite the massive cut on manufacturing costs, JKS has been hurt by the relentless fall in solar panel pricing. The margins for Jinko Solar have improved in 2013 due to the stabilization in solar panel pricing. Bankruptcies of major solar module makers and the rising demand has led to a stabilization in prices at 60-70c/watt. This has allowed JKS to improve its margins as the company keeps on cutting its cost almost every quarter. Global solar panel demand should keep on increasing in high double digits for the medium term and given JKS's low cost position, the company should keep growing by at least 15-20%.
b) Jinko Solar Becoming Less Dependent on Government Subsidies
The solar industry is becoming a bit less dependent on the global economy, as it requires less subsidies from the governments. The reason being solar electricity prices becoming more competitive with fossil fuel generated electricity. There are already solar plants being built in various countries such as Brazil, India and Spain without any subsidies. Solar Energy is going to grow at a rapid pace in Latin America, Asia and Africa. Asia will become the biggest region for solar demand overtaking Europe for the first time in 2013. Though major solar energy countries like Germany and Italy will slow down, Japan and China will more than make up for the decline. India, Turkey and the UK will also become important solar panel markets in 2013. IHS is predicting that solar energy demand will grow by more than 20% in 2013 to reach 35 GW which is a new all time record.
Solar energy in India has been driven by subsidies given by the central and state governments. However, the sharp reduction in solar system costs have made it possible for it to compete with fossil fuel electricity prices now. The first case of a large scale plant to be built without subsidies is coming up in Andhra Pradesh. This 6.5 MW plant is being built by one of India's biggest media groups - Eanadu. The European solar manufacturer Renewable Energy Corporation (REC) is going to supply the solar panels for this plant.

Source - Greenworldinvestor
c) Competition Analysis
Jinko Solar is well placed amongst its peers, having the lowest module cost pricing at just 50c/watt. It is at least 2-3 quarters ahead of peers like Trina Solar, Yingli Energy and Canadian Solar in costs. Jinko Solar has been the first amongst the big Chinese module companies to return to the black. TSL expects to return to profitability only by the end of 2013. Jinko Solar's shipments are also starting to catch up to the others, with around ~500 MW of solar product shipments in the current quarter (TSL and YGE are at 650-700 MW). Given JKS's past track record, the company should continue to be among the 5 lowest cost panel players in the world. This makes the company's competitive position quite robust and sustainable in my view.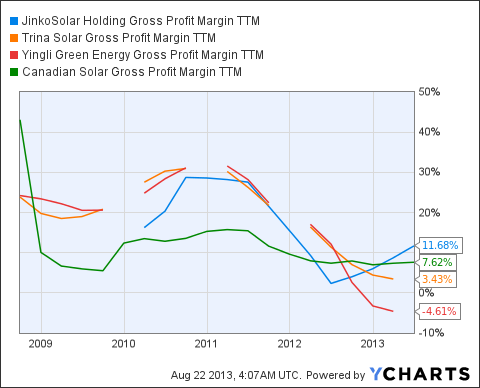 JKS Gross Profit Margin TTM data by YCharts
Stock Price and Valuation
Jinko Solar has been a multi-bagger over the last year returning almost ~470%. Even in the last 3 months the stock has seen stellar returns doubling to $14 now which is just 10% shy of its 52 week high. The sharp stock run means that the stock could pull back a bit, however I think that the low stock valuation means that Jinko can still go up quite a bit. JKS is trading with a P/S of just 0.4x and a P/B of 1.5x. This is much lower than US solar panel producers and I think that the stock can easily trade at 0.8-1x as the solar industry returns to normalcy.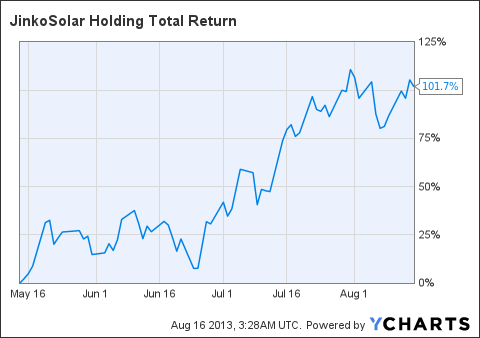 JKS Total Return Price data by YCharts
Summary
Jinko Solar has been one of my favorite picks in the Chinese solar industry space along with Renesola (NYSE:SOL) and Yingli Green Energy. The company has performed well in surviving the vicious industry downturn and is set to benefit from the improvement in industry fundamentals. The company has managed to substantially improve its margin structure coming out of the downturn. I don't see big risks to the margins going down, as these levels are necessary to keep the industry in the black. I expect that the company can improve its margins going forward as solar electricity prices have become competitive with grid prices at these solar panel prices. I would remain long and wait for a PT of ~$24 before rethinking my position.
Disclosure: I have no positions in any stocks mentioned, and no plans to initiate any positions within the next 72 hours. I wrote this article myself, and it expresses my own opinions. I am not receiving compensation for it (other than from Seeking Alpha). I have no business relationship with any company whose stock is mentioned in this article.