There is a lot of good news on housing these days. For the example, the NAR reported 17% annual gain in sales, with the median price for used homes rising 14% to $213,500, marking the 17th consecutive month of annualized gains, and leaves the benchmark just 7% shy of its all-time high set in July 2006.
However, if housing is doing so great, how come housing stocks have gone nowhere for the past year? Please have a look at the top five housing stocks by market cap below. As you can see, unless you have been in and out of these stocks over the past year, at best you are where you started off last year.
Please also note that all the stocks, Lennar Corp (NYSE:LEN), Pulte (NYSE:PHM), DR Horton (NYSE:DHI), Toll Brothers (NYSE:TOL) and Standard Pacific (SPF), are trending below their 200 day moving average. While trending below the 200 day average does not mean anything fundamentally, it is a sign that these stocks have snapped their long-term uptrend.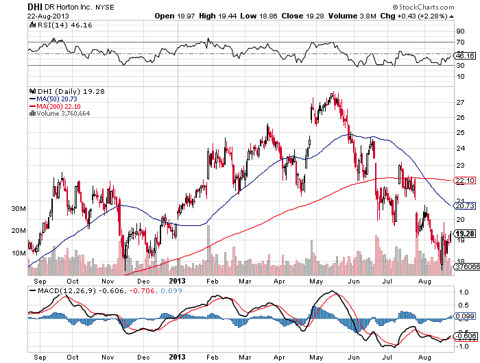 Click to enlarge
(Click to enlarge)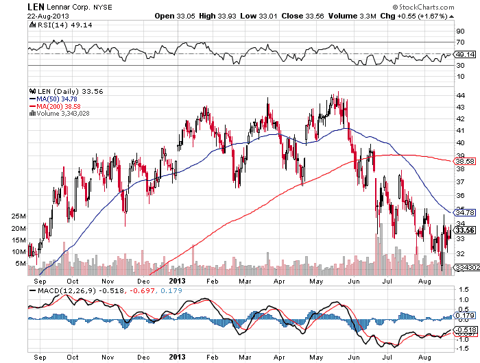 Click to enlarge
(Click to enlarge)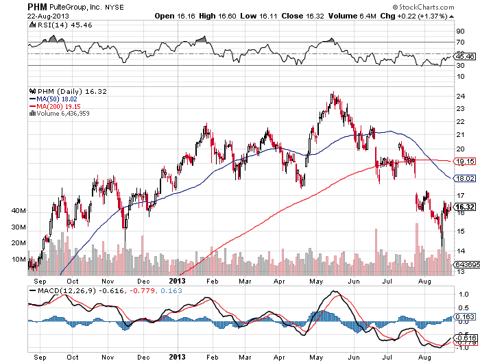 Click to enlarge
(Click to enlarge)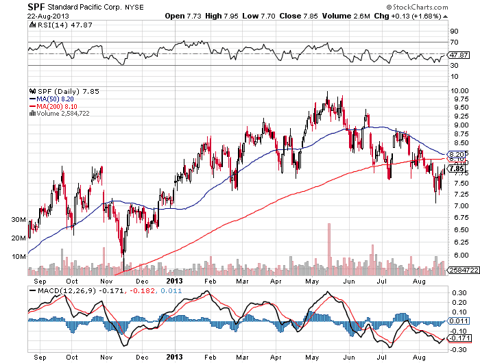 Click to enlarge
(Click to enlarge)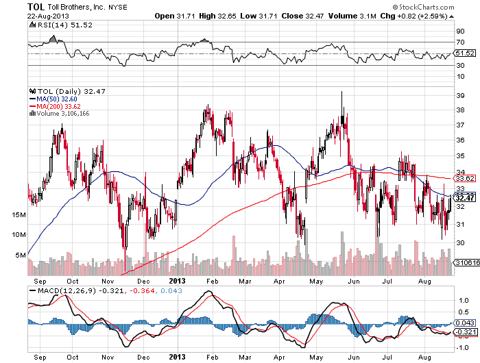 Click to enlarge
(Click to enlarge)
My thesis for housing stocks for a while now has been that they have priced in all the good news, and any further upside is limited. So far this thesis held intact.
And I think they will continue to go nowhere, unless the fundamentals become positive by a lot in the future. And not only do the fundamentals need to improve, but the sector needs to do away with the current headwinds.
Headwind No1 - affordability.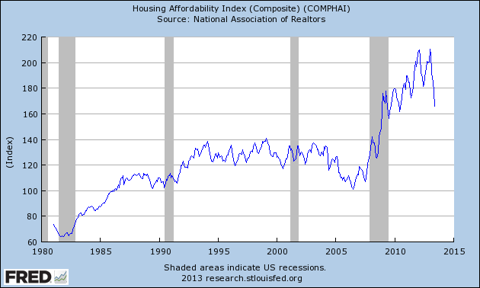 Click to enlarge
(Click to enlarge)
I would not say that U.S. real estate is expensive, but it is getting less affordable. And while the current housing momentum can carry on for a while, sooner or later the affordability factor will kick in and sales will drop.
In fact we might be seeing a drop in sales already. As reported today, new home sales reported a huge miss, plunging 13.4% month-over-month in July to an annualized pace of 394,000. Economists polled were looking for a 2% fall.
Headwind No2 - mortgage rates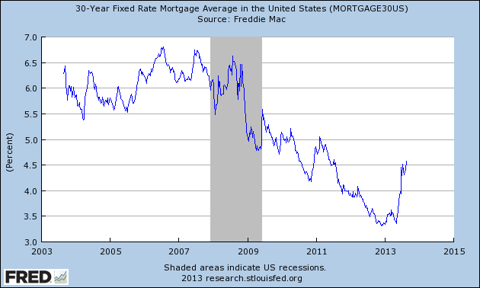 Click to enlarge
(Click to enlarge)
There are many that have said that the U.S. (and the Fed) can withstand higher rates. While that might be true, "withstanding" does not that everyone will be rushing to buy a house, as they were when rates were lower. Because when 75% of all new jobs created are part time, I doubt this leaves much room for housing optimism in the future.
Higher rates will put a brake on the market, not drag it down. Yes people will adjust and within a certain period of time, 5%-6% 30 year rates will be normal again. But that will lower new sales and mute building activity.
Headwind No3 - All-Cash Housing Purchases
According to a recent study by Goldman Sachs, more than half of all homes sold last year, and so far in 2013 have been financed with cash. The study estimates while only around 20% of all homes sold before the housing crash were "all-cash" sales, today that figure is above 50%. In fact, according to Goldman, around 44 cents of every $1 of homes sold currently is being financed, compared to 67 cents before the crisis.
At the same time, purchase-mortgage origination volumes have fallen from around $1.5 trillion in 2005, to around $500 billion in each of the last two years. Goldman does estimate however that around 40% of the decline is due to the drop-off in the amount of financing per home.
Why is this a headwind? We all know a big portion of this cash comes from foreign buyers. Florida has been a favorite of South American buyers for years. But with the turmoil in many emerging market economies (Brazil for example), how long can the U.S. real estate market continue to count on all these cash transactions? Logic dictates that at some point, cash buyers will dry up.
And when today's cash purchasers dry up (and they will), who will fill the gap? Credit conditions are already tight, and will probably only get tighter with 6% rates in the future. And for those hoping to buy a house with no money down, forget it. Those days are never coming back again. Banks will never be so generous with home buyers again in the future.
Bottom line
While I do not consider Lennar, Pulte, DR Horton, Toll Brothers and Standard Pacific bubbles, I think that investors who buy them will probably not gain much in the future, as has been the case over the past year. The sector has many headwinds, some of which I touched upon above.
This seems to be confirmed by the charts, with all stocks giving up their 200 day moving average. A sign that the bull market of the past several years might be over, even if the news continues to be good.
Disclosure: I have no positions in any stocks mentioned, and no plans to initiate any positions within the next 72 hours. I wrote this article myself, and it expresses my own opinions. I am not receiving compensation for it (other than from Seeking Alpha). I have no business relationship with any company whose stock is mentioned in this article.