From a scientific standpoint, graphite is full of potential. The material has a variety of purposes such as building graphite electrodes to melt scrap metal, and as a heat-resistant composite. It is used in steel production, transportation, alternative energy, chemicals, oil and gas exploration, and other industries. More recently, advanced technologies have allowed for the creation of atomic sized plates known as graphene. This substance holds paradigm-shifting capabilities in battery technology and superconductivity.
Commodities overall have unfortunately suffered thanks to the current global slowdown. The steel tracking ETF Market Vectors Steel (NYSEARCA:SLX) is down over 16% year to date. On July 9th, the IMF has reduced its growth forecast for 2013 for the third time to 3.1%. Later in the same month the World Steel Association reported steel production down 2.7%, if data from China is excluded. It's the kind of environment where we can find fundamentally sound stocks being sold at a discount.
Graftech International (GTI) is a leading manufacturer of carbon and graphite products for industrial applications, like graphite electrodes and advanced composite materials, that counts itself among those struggling in an anemic economy. They operate in two major segments: Industrial Materials (IM), which includes graphite electrodes and needle coke products that primarily serve the steel industry, and Engineered Solutions (ES), a division that deals with advanced graphite materials, electronics, and composite materials.
According to Graftech's second quarter earnings report, the IM segment saw sales decline 12% while the ES segment experienced record sales of $70 million -- up 31% from last quarter and representing 25% of the company's total revenue. According to management, the latter division is being expanded in light of the success of new products being developed by R&D, and should provide a solid foundation during down steel cycles. Despite the mixed signals, the company hasn't missed meeting Wall Street earnings expectations for the last 14 quarters.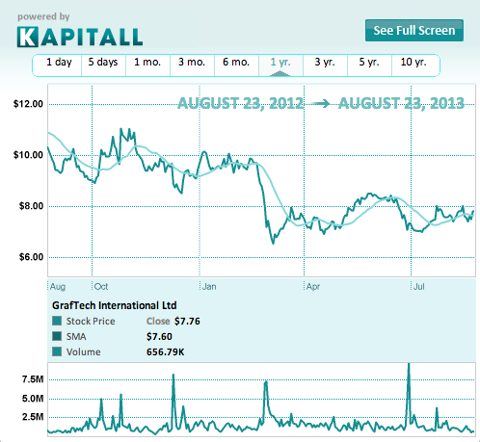 Sourced from Zacks Investment Research.
The diverse nature of the company means it has no direct competitors in the United States and only a few internationally like the privately held Baosteel Group Corporation in China and the Nippon Carbon Co. in Japan. Graftech supplies 15% of the world's graphite electrodes, making them the global leader.
A look at the fundamentals tells us why this stock is on sale. The income statement reveals profit margins above 10%, which gives the company room to breathe during difficult environments. Earnings growth is anticipated to be above 22% for next year based on its historical 3, 4, and 5-year averages and with a current P/E ratio of 15, it gives Graftech a price-to-earnings-to-growth ratio of 0.68, a sign that investors are undervaluing the stock. A figure of less than 1 is telling us that investors are discounting Graftech's price given its expected growth prospects.
The company is currently trading at a discount to its price-to-book value at 0.76, and that should draw investor's attention - the industry average is 2.34. Graftech's balance sheet reveals a company with enough assets on hand to handle its debt obligations, so the price parity may be caused by the turmoil in the overall commodities market and not internal issues.
The most telling sign that Graftech is undervalued is the amount of insider activity that's taken place this year. In March, 54,000 shares were bought between the CEO and CFO - that's over $394 million dollars worth of purchases. Interestingly enough, this was done in spite of the large short interest of 25.27 million shares - 18.7% of shares outstanding. The heavy short interest could make the stock primed for a short squeeze with a positive catalyst.
Graftech's stock is down 19.5% year-to-date, but seems to be signaling a bottom at $7.50. The technical indicators in moving averages are pointing to a settlement price of $8.25, but the company has significant upside potential that could translate to double digits over the next 12 months. If earnings continue to beat expectations, as they have during the last 14 quarters, the stock price should be fairly valued at around $15 per share.
Disclosure: I have no positions in any stocks mentioned, and no plans to initiate any positions within the next 72 hours.
Business relationship disclosure: Business relationship disclosure: Kapitall is a team of analysts. This article was written by Daniel Cross, one of our writers. We did not receive compensation for this article (other than from Seeking Alpha), and we have no business relationship with any company whose stock is mentioned in this article.