Millicom (OTCPK:MIICF) is a telecommunications company completely dedicated to emerging markets. Its operations are focused in Africa and Latin America, providing strong growth prospects. Additionally, the company offers an attractive dividend yield of 3.3%, which means it offers the best of both worlds: growth and yield. Milicom's market capitalization is about $8.2 billion, and is traded in the U.S. in the over-the-counter market.
Company Overview
Millicom offers products and services from mobile voice, to pay-TV, fixed and mobile internet access, and mobile financial services in 16 emerging markets across Latin America and Africa, mainly under its Tigo brand. The company was formed in 1990, aggregating the international operations of Swedish company Tele 2 and Millicom Incorporated, adopting its current name Millicom International Cellular (Millicom). Thereafter, Millicom continued to seek cellular licenses in markets where rapid economic development and limited telephony infrastructure created significant demand for mobile services. Its headquarters are in Luxembourg, but it is primarily listed in Sweden.
Millicom is focused on four core areas: mobile, cable, mobile financial services, and,commerce and services. Mobile is the company's biggest segment, representing more than 80% of its revenues. The company had about 47 million customers at year-end 2012, an increase of 10% from the previous year. At the end of 2012, Millicom had 18.9 million customers in Africa, 15.6 million in Central America, and 12.7 million in South America. However, by revenue South America is the company's biggest market, accounting for about 40% of the total. On the other hand, Africa only represented 20% of Millicom's revenues despite having a higher number of customers, justified by lower household incomes on average leading to less use of telecom services. Millicom is the market-leader or second operator in several Latin America countries, and usually the number two or three operator in Africa. On average, the mobile penetration rate in markets where Millicom has operations is only 73%, and Millicom's market share is on average about 30%.

Source: Millicom
Financial Overview
Millicom has achieved strong growth over the past few years. In 2012, its revenues amounted to $4.8 billion, an increase of 6.3% from the previous year. However, this was the slowest annual growth rate of the last five years, due to lower average revenue per user [ARPU]. Millicom was impacted by regulatory pressures and increased competition, leading to a 3.8% decline in ARPU compared to 2011. The company expects to stabilize and grow ARPU in 2013, especially through higher use of data services. In Central America and Africa a small percentage of its customers are data users, so the growth opportunity of up-selling and cross selling is huge. Its revenues are also impacted by exchange rates fluctuations, given that its operations are predominantly in other currencies other than USD, its reporting currency.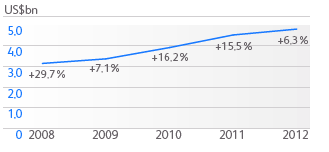 Source: Millicom
Millicom's profitability is very high given that during the past year the company achieved an EBITDA above $2 billion, or an EBITDA margin of almost 43%. Still, the margin declined about 3% compared to 2011 due to an increase in operating costs. Its net profit for the year was above $500 million, representing $5.02 per share. In the second quarter of 2013, Millicom remained on its growth path with revenues increasing 9.4% year-on-year [yoy] to more than $1.2 billion.
In 2013, the transition from voice to data in mobile and from analogue to digital TV, should support the company's growth. Millicom expects its EBITDA margin to decline less than in 2012, and remain above 40%. The company will continue to invest on its growth, but its capex to sales ratio should peak at 20%. Over the long term, Millicom enjoys strong growth prospects in the majority of its markets through increased mobile penetration or strong demand for internet connectivity. The company continues to push mobile data penetration and incentivize its customers to use data services and migrate to smartphones.
Dividends
Millicom has a very good dividend history. In 2012, the company returned $731 million to shareholders through a combination of a $2.40 per share ordinary dividend and a $3.00 per share extraordinary dividend. Additionally, the company also purchased its own stock during the year. Going forward, Millicom aims to achieve progressive dividend growth, and in last May it paid a $2.64 per share ordinary dividend, an increase of almost 15% compared to the previous ordinary dividend. At Millicom's current share price, the dividend yield is about 3.3%.
The dividend payout ratio was 52%, up from only 27% in the previous year, but is still at a relatively low level within the telecoms sector. The company's dividend policy is to pay at least $2.00 per share and no less than 30% of its normalized net profit per year. Given its growth prospects and high profitability, Millicom has plenty of room to increase its payout ratio even further, supporting its dividend growth over the next few years.
In 2012, the company invested 19.1% of its revenue in capital expenditures, for a total amount of $922 million. This was fully covered from its cash flow from operations of $1.6 billion. However, free cash flow was not enough to pay its distributions to shareholders, leading to slightly higher balance sheet leverage. As of June 30, 2013, Millicom's net debt was about $2.3 billion. Nevertheless, Millicom's balance sheet is still very strong, given its low net debt to EBITDA ratio of 1.2x at the end of the second quarter of 2013, up from 1x in 2012. Therefore, the dividend seems safe and has good growth prospects.
Valuation
Millicom is currently trading at relatively fair valuation multiples compared to its peers MTN Group (OTCPK:MTNOY), America Movil (NYSE:AMX), Telefonica (NYSE:TEF), and Vodafone (NASDAQ:VOD), which means it appears to be fairly valued by investors. Currently, Millicom is trading at 16.7x 2013 estimated earnings, a 40% premium to its peers. Based on price to book value and dividend yield, Millicom is trading more expensively than its peers group. However, this higher multiples are justified by its strong growth profile. On the other hand, based on enterprise value multiples, its valuation is much less demanding. It is trading at 5.7x its EV/EBITDA, and only 1.9x EV/Sales. Given the company's low indebtedness and good profitability, these multiples appear to be relatively low.
Conclusion
Millicom is a telecom company fully exposed to growth markets, in Latin America and Africa. Given that mobile penetration rates in these markets are still relatively low, the company should continue to enjoy good growth over the next few years. Even though Millicom appears to be fairly valued, its dividend yield of 3.3% is attractive, making the company a compelling investment opportunity within its sector.
Disclosure: I have no positions in any stocks mentioned, and no plans to initiate any positions within the next 72 hours. I wrote this article myself, and it expresses my own opinions. I am not receiving compensation for it (other than from Seeking Alpha). I have no business relationship with any company whose stock is mentioned in this article.