CRA International's (NASDAQ:CRAI) third quarter results were disappointing. The company earned 31 cents per share, significantly down from the Zacks Consensus Estimate of 47 cents.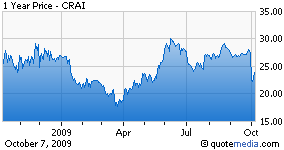 Results were impacted by the ongoing uncertainty of the global recession as clients reduced their spending, while the company continued to experience stalled litigation cases and consulting project delays.
Revenue for the quarter was $86.3 million, down from $111.2 million in the prior-year period. Gross margin was 32.9% compared to 33.8% in the year-ago period, reflecting a decrease in revenue.
Selling general and administrative expenses were down to $20.0 million from $24.9 million in the year-ago quarter as a result of CRAI's aggressive cost-control efforts.
Operating income for the quarter was $6.2 million, down from $10.2 million the year-ago period. Operating margin declined 190 basis points to 7.2%.
Utilization rate during the quarter was 69%, a decrease from 71% reported in both the prior quarter as well as in the year-ago period. The recent utilization rates are well below management's long-term target of maintaining mid-to-high 70s.
CRA International reported net income (on a GAAP basis) of $2.9 million or 27 cents per share in the quarter, compared to $4.2 million or 39 cents per share in the year-ago period. However, excluding the restructuring costs, a foreign currency gain attributable to a substantial liquidation of the company's New Zealand operations in fiscal 2008, gain from convertible bond repurchases and NeuCo's results, the company earned $3.4 million or 31 cents per share compared with $3.5 million or 32 cents per share in the third quarter last year.
In early June, CRAI announced the acquisition of Marakon Associates, a reputed strategic consulting firm known for pioneering value-based management. Management stated that the integration of Marakon has been proceeding smoothly. This acquisition significantly expands CRAI's client offerings in major markets.
CRA International competes with a broad range of public and private consulting firms. Its closest publicly traded peers to CRA International include FTI Consulting Inc. (NYSE:FCN), Huron Consulting Group Inc. (NASDAQ:HURN), LECG Corporation (OTCPK:XPRT) and Navigant Consulting Inc. (NYSE:NCI).
The company has seemingly fallen into a repeated pattern of delivering disappointing quarterly results and surpassing lowered expectations before disappointing once again. The company's operating environment remains challenging, with client demand slowing and utilization rates remaining weak amid recent restructuring activities.
We anticipate that investors will demand evidence that management has properly addressed the company's operational problems before affording a higher multiple to CRAI shares. We therefore maintain our Underperform recommendation on shares of CRAI.