Emerging country stocks have been hammered as investors pulled out amidst Fed tapering concerns. Meanwhile, frontier market exchange traded funds are outpacing their more developed emerging market counterparts.
The iShares MSCI Frontier Markets 100 ETF (NYSEARCA:FM) has remained relatively flat over the past week but gained 16.2% year-to-date. In contrast, the iShares MSCI Emerging Markets ETF (NYSEARCA:EEM) dipped 6.3% over the past week and fell 14.2% year-to-date, and the Vanguard FTSE Emerging Markets ETF (NYSEARCA:VWO) was also 6.4% over the past week and down 14.3% year-to-date.
In addition, FM has garnered $263 million in inflows year-to-date, whereas EEM has lost $7.7 billion in assets and VWO saw $3.1 billion in redemptions, according to IndexUniverse.
Strategist point out that frontier markets rely more on local demand, which makes them less vulnerable to global trade, writes Victor Reklaitis for MarketWatch.
Due to the frontier markets' somewhat insulated nature, the underlying MSCI Frontier Markets 100 index has exhibited low correlation to developed markets - from March 2009 through last month, the frontier market index showed a 0.47 correlation with the S&P 500, compared to the MSCI Emerging Market Index's 0.77 correlation.
Moreover, the iShares FM ETF's underlying country holdings are quickly improving. Specifically, Qatar and the United Arab Emirates, which make up about 33.7% of FM, are slated to upgrade to the emerging market status next year, according to MSCI.
FM also has a 4% exposure to Argentina, which has also been a leading performer among developing countries.
However, potential investors should be aware that frontier markets come with increased risks. For instance, FM's have higher-than-normal tracking error, are relatively small and are less liquid.
Investors have fled emerging market stocks as the prospects of easy money will soon come to an end with the Fed thinking about cutting back its accommodative policies.
iShares MSCI Frontier Markets 100 ETF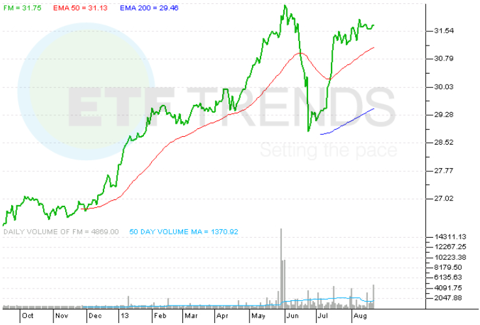 Click to enlarge
Max Chen contributed to this article.
Full disclosure: Tom Lydon's clients own EEM.
Disclosure: I am long EEM. I wrote this article myself, and it expresses my own opinions. I am not receiving compensation for it. I have no business relationship with any company whose stock is mentioned in this article.