Share price at time of writing: $41.80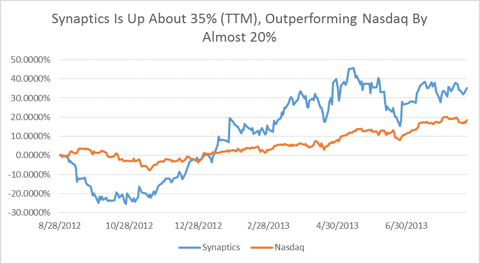 Synaptics (NASDAQ:SYNA) offers growth without a sky-high valuation. Its current P/E is just below 15, its forward P/E falls under 11, and it has a low PEG ratio of about 0.86. It trades at about 2x revenue, with projected revenue growth of over 20% for its next fiscal year.
With its fairly muted valuation, Synaptics is a clear opportunity for investors to make solid gains without taking on the risk that most growth stocks impose. In this article, I will cover some of Synaptics' qualitative strengths and share my conservative base-case valuation to figure out what price range represents a good buying opportunity.
A Clear Leader in Both PC and Mobile Human Interface Solutions:
Today, Synaptics is mostly in the business of making touchpads and touchscreens for its large list of customers. It owns around 70% of the PC touchpad market, and supplies touchscreen solutions for almost all best-selling smartphones other than the iPhone. This makes it the perfect play on global Android and Windows Phone smartphone growth.
Synaptics' dominance of this market allows it to use its cash to innovate and stay ahead of the competition. Comparing Synaptics-touting smartphones to others shows a clear story: while the iPhone 5 still has a regular touch screen, Nokia smartphones have glove and fingernail touch support, as well as more impressive touch resolution at 500+ dpi. Synaptics' market dominance gives it the volume to make investments in touch technology more valuable than any of its competitors, which allows it to invest more into this very specific (but important) function. In the future, touch hardware innovation will likely be more impressive on Synaptics-backed devices than on others.
Dominating the growing touch market has opened up two major catalysts for its business:
1. Worldwide smartphone market growth. While most of the latest earnings reports showed signs of a slowing smartphone market, worldwide smartphone sales are still growing strongly, making dominant players in the supply chain extremely valuable.
2. Transition to touch-screen laptops and desktops. Following the release of Windows 8, the inevitable has happened: most new PCs have touchscreens. This should return growth to Synaptics' PC component sales as more consumers buy into this technology. As a leader in touchscreen technology, and with 70% market share of PC touchpads, Synaptics should have no problems dominating the PC touchscreen business.
These two catalysts should be enough to drive YoY revenue growth of over 20% for the next couple of years.
Accumulate Shares Under $40:
Synaptics' management predicts revenue growth of over 20% of FY 2014, which about the same as its growth for FY 2013. Following this current growth trend without moving to explosive growth yields fairly conservative revenue projections. If you would like to download a valuation model to test your own assumptions, you can buy one here. Below are some of my operating assumptions: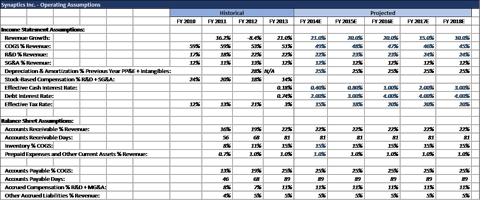 I project a continued decline in COGS due to cheaper components, as well as rising pressure to spend on R&D due to competition and different product lines. These projections lead to the following operating results: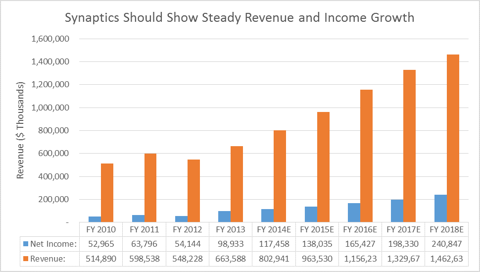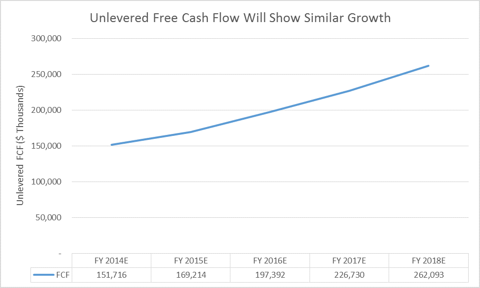 Applying a discount rate of 15.5% (based on the stock's current beta) yields the following valuation: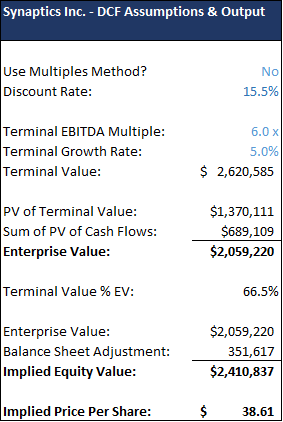 This gives us a downside of about -8% (for the conservative case). However, I believe that the market-given discount rate of 15.5% is unjustly high. Taking this into account, it is interesting to examine the valuation graph produced by my assumptions: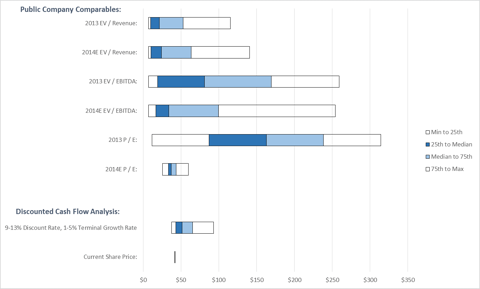 Synaptics appears to be undervalued, with a valuation below the 75th percentile in several comparable measures, and on the low-end of the DCF valuation when the discount rate and terminal growth rates are varied. Nevertheless, to maximize their margins of safety, I recommend that investors be patient and scoop up shares whenever the stock dips under $40.
Conclusion:
Synaptics offers investors growth without a crazy valuation. It's a play both on the dynamic smartphone market, and a stake in the turnaround of the PC market (should return to growth in 2014 and onwards). In addition, the transition to touch-screen PCs should boost sales of large touchscreen solutions.
We are speeding through a transition towards touch-based interaction with all of our electronics. Synaptics is perhaps the strongest direct play in touch, and with its down-to-earth valuation, it deserves a close look. Investors looking for a long-term play with 30-50% upside should consider accumulating shares whenever the stock dips below $40.
Disclosure: I have no positions in any stocks mentioned, and no plans to initiate any positions within the next 72 hours. I wrote this article myself, and it expresses my own opinions. I am not receiving compensation for it (other than from Seeking Alpha). I have no business relationship with any company whose stock is mentioned in this article.