3D Systems (NYSE:DDD) is a remarkable technology company that holds many of the first patents on an amazing technology. Three-dimensional "printing" as it's called uses computer-aided design and manufacturing applications to recreate objects from a software blueprint, using special polymers to that are added in precise layers. In the industry, this technology is referred to as "additive manufacturing."
I first discovered the company in January 2012 when a friend told me to watch a video of how one of the company's industrial-strength printers could replicate a working adjustable wrench in a few hours just from scanning its dimensions with their proprietary technology. The multiplicity of uses for aerospace, automobiles, and other durable goods in constant need of lighter and stronger parts seemed obvious.
Game-Changing "Wow!"
One of the most exciting applications of the technology, I thought, was in medicine where doctors and scientists would be able to create precision anatomical/biological aids and replacement parts. Then I learned the company was launching a home version of their printer for about $1,200 with an online resource for "design democracy" and collaboration.
I immediately went and bought the stock at $16 and traded it three times for average swing gains of 25% each last year. As you may know, the competition has been a hot story as well, with Stratasys (NASDAQ:SSYS) moving from $40 to $105 in these same 20 months. This week, I almost bought DDD again because I liked the way the chart is consolidating between $44 and $50, threatening an upside breakout like so many others this year. In fact, DDD's chart looks a lot like that of Green Mountain Coffee (NASDAQ:GMCR) since May. GMCR just broke out above $82 this week.
But then I took a look at the Zacks Rank for DDD, which dropped to a No. 5 Strong Sell this month. Upon further investigation, I found that the company has hit some bumpy patches in their growth story that caused at least two analysts to lower earnings estimates. The analysts are concerned about acquisition costs, sales growth execution, and R&D spending.
Here are the EPS estimate tables that describe what's happened with the earnings outlook into next year:
Click to enlarge image.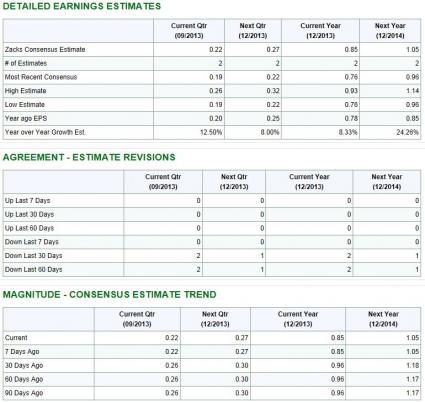 Second-Quarter Details
Although they missed the EPS consensus by 4 cents (18%), 3D reported overall solid second-quarter results on July 30. Revenue increased 44.5% year over year to a record high of $120.8 million, as all product categories contributed positively for an overall organic growth of 30.1%. That top-line number beat the consensus by $5 million.
Revenues for 3D printers and other products more than doubled to $54.2 million from the year-ago quarter, print materials revenues grew $3.1 million to $29.3 million, and services revenues improved $6 million to $37.3 million. Healthcare solutions revenues increased 55% in the reported quarter, contributing about $18.9 million to total revenues.
The healthy revenue growth is attributable to new product launches that were well-accepted by the market, resulting in a strong demand pull. During the reported quarter, 3D Systems introduced significant new products including professional 3D printers, advanced 3D print materials, and powerful new designer software packages.
Despite a nearly twofold rise in research and development expenses in the quarter, 3D Systems recorded a gross profit increase of 46% year over year, while gross profit margin expanded 40 basis points to 51.8%. Management believed that the growth reflected the inherent strength of the diversified portfolio of the company, productivity of its sales channels, and effectiveness of its strategic initiatives to continuously focus on R&D and marketing program.
Net income for the reported quarter was $9.3 million or 10 cents per share, compared with $8.3 million or 11 cents per share in the year-earlier quarter. Although the absolute earnings increased year over year, it declined on a per share basis due to higher number of shares outstanding for the reported quarter. Excluding non-recurring items, earnings for second quarter 2013 were $18.9 million, or 18 cents per share, compared with $13.9 million, or 18 cents, in the year-ago quarter. The recurring earnings missed the Zacks Consensus Estimate by four cents.
Cash flow from operating activities for the first half of the year was $12.8 million compared with $21.4 million in the prior-year period. Cash and cash equivalents at quarter-end was $349.3 million.
Solid Growth, but Expectations Were High
From the subsequent downward estimate revisions, it's clear that the analysts were looking for more in this report. JPMorgan analysts pick 3D Systems as the leader in the space with 20%-plus CAGR growth and improving visibility and margins from a shift to materials and design "authoring" services.
But they also see some execution challenges causing the company to need to raise R&D spending, so the analysts are keeping their price target at $44. William Blair analysts wrote that while the company reaffirmed guidance, they don't believe the targets are achievable -- this caused them to be one of the group that lowered estimates.
As much as I'd like to own DDD for the long term, I think I can wait and buy it cheaper. What am I waiting for? A turnaround in these EPS estimate revisions. When the company gets through this rough patch, we'll know it as the analysts bump estimates back up.
3D Systems: Free Stock Analysis Report (email registration required)
Stratasys: Free Stock Analysis Report (email registration required)