No doubt about it: gold is the flavor of the day.
Everybody is buying gold, from macro hedge funds to retail investors. Gold prices seem poised for an endless increase. What is the limit? $1500 an ounce? $2000 an ounce? The market sentiment is as bullish as can be.
Well, does it remind you of something? Have you heard the word bubble before?
Personally, when I see everybody buying something, I would refrain from doing so. Once there is a shift in market sentiment, this could unleash considerable bearish forces.
Let us review the reasons that may drive gold price higher.
1. Gold is a good hedge against inflation
This not entirely true. It is true for periods of hyperinflation or stagflation as in the 1970s. But historically, gold has performed poorly as a hedge against inflation in periods of mild inflation (1945- 1969 and 1982-2009) as the chart below shows.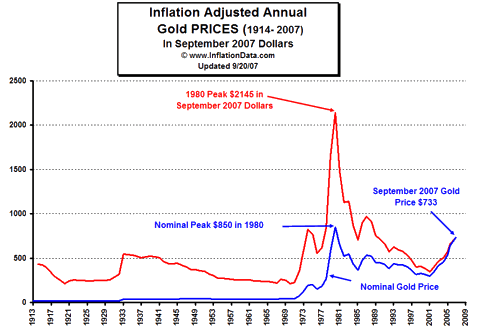 Source : inflationdata.com
Hence, if you really believe in hyperinflation then you SHOULD buy gold. But if you think, like me, that this fear is largely overdone, then you would do better to think twice before rushing into gold.
With sluggish growth ahead in the US and elsewhere in the developed world, I don't see the prospect for "core inflation" (purged from volatile commodity prices) to rise higher than the 2% - 2.5% range implicitly targeted by the Fed. This is a great deal short from hyperinflation!
If private demand does not pick up with all this massive deleveraging going on, I am more worried about the potential for a protracted deflation and a Japanese "lost decade" scenario.
2. Gold is a hedge against dollar weakness
True. Gold may be seen as the ultimate store of value. But if you believe, like me, that the dollar will eventually rebound in the next 3 to 6 months (this would be the case if the Fed, despite its current wait-and-see approach, raises its policy rate before the ECB, somewhere between March and June 2010), then you should not be so bullish about gold.
3. Gold is a hedge against uncertainty
Half true. Gold could be a hedge against policy uncertainty but this will eventually recede for the reason indicated above: monetary policy normalization.
4. Gold is a pure monetary asset
Less true than before. Gold is affected by supply-demand dynamics. After all, gold is nothing more than a commodity as "precious" as it is. From the supply side, the investments made in the pre-crisis years by the major gold mining companies could increase capacity by a substantial amount in the coming years. From the demand side, rising demand from India and other developing countries is likely to be a temporary phenomenon. Women in rural India buy gold because the financial system is still underdeveloped over there (only 20% of the people have a banking account in India).
5. Technical factors support gold
This may be true in the short run. Technical analysis is indeed a powerful tool for predicting market movements at short horizons (10 to 20 days). However, technical analysis is no guide for the long term. Fundamentals will eventually prevail.
All that said, I still agree with gold bulls that the upward price trend could probably go on for some time (maybe for 2 or 3 months), until the Fed finally decides to "get out of the woods" and states clearly its exit strategy, which I believe will not be very different from previous recessions.
But I don't buy "the gold rush" story. Eventually all bubbles crash. The current gold bubble is no exception.
Disclosure: No positions