By David Urani
New-home sales for July came in today, and it was quite the surprise. Sales reportedly crashed by 13% month to month to 394K annually adjusted, from 455K previously. That was a far cry from the 487K consensus as well. Looking at it regionally, the weakness was seen all around. In the meantime, inventory rose by 4% to 171K. It's quite a contradiction as well to Wednesday's strong existing-home sales (which, to be fair, is a more lagging indicator).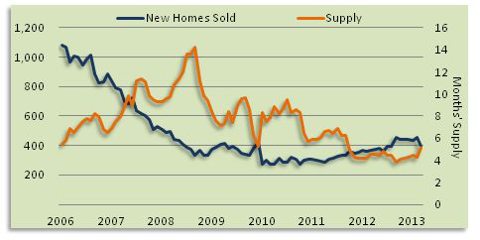 To begin with, a sales deceleration was something most everyone has been bracing for and, in a way, seeing them fall was always going to be understandable with the rising mortgage rates. However, the magnitude is alarming. I will say that these home sales data do tend to be volatile, especially so considering they are annually adjusted, so it may take a couple of more months to understand the true trend here. Nevertheless, this is a sobering report.
Interestingly, this result comes shortly after the NAHB's report for August homebuilder confidence, which is apparently still sky high. The HMI index had hit 59, the highest point since 2005. That said, single-family housing starts as reported by the Census had been slowly meandering lower and could have projected some of this sales softness.
So, then, perhaps the builders saw this coming to an extent, but at the same time they remained as confident as ever. It's always popular to say that the NAHB likes to put a rose-colored lens over their analysis, which is plausible. Yet you wouldn't expect them to be too outrageously out of line, especially considering that over time (see below) the HMI has generally trended with starts and sales. It's likely that homebuilders on the ground level are seeing things from a long-term point of view.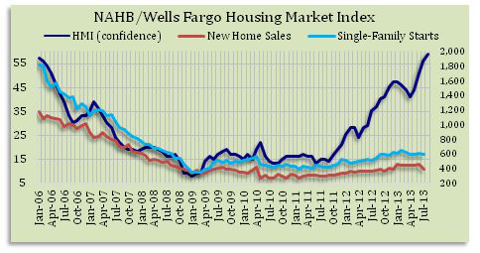 Clearly, all the volatility surrounding interest rates and the Fed is disrupting the market in the immediate term. However, in the grand scheme of things, we may look back at this as a hiccup as rates readjust. In the long term, home sales are still less than a third of peak levels and have plenty of lost ground still to recover (even if a lot of it was a bubble). Also note that new-home sales, which currently stand at a 394K annual rate, had gone past 1,300K in 2005 with a 30-year rate above 6%, whereas rates are running around 4.5% now. Likewise, inventories remain quite low by historical standards.
The sour home sales report had housing stocks (as measured by the Dow Jones U.S. Home Construction Index) down 2.6% this afternoon. Yet, it's not nearly as bad a panic as one may have expected considering how skittish the market has been over housing stocks lately. One item of note is a spike in gold prices on the release of the housing data at 10:00 a.m. ET. We all know the Fed is at a crossroads right now, deciding whether or not to start to taper off their QE program next month. And we also know housing is a major point of interest for the Fed. So, seeing today's sales data, perhaps the market is now wondering if the Fed has the guts to step off the gas.
Gold - Intraday