A few weeks ago, the European arm of the Interactive Advertising Bureau (IAB) attacked Mozilla [PDF] on the grounds that the latter had "lost its values" because it insisted on including a Do Not Track feature in its browser. In taking both Apple's cookie-less Safari policy and Microsoft's trackless IE10 policy to its logical conclusion, Mozilla has not only put the penultimate nail in the coffin of smaller content publishers who depend upon third party ads, but bolstered big data management platforms like Google (NASDAQ:GOOG) and Facebook (NASDAQ:FB) in the process.
Cookies, Cookies Everywhere
Do Not Track allows users to set their own cookie policies, which in turn allows users to prevent unwanted micro-targeted advertisements from being "pushed" onto their PCs and mobile devices by third party advertisers.
Anyone who considers cookies to be benign bits of info-fluff are thinking in terms of a different era. Today, the average web surfer in the brave new world of Web 2.0+ collects about 112 cookies per minute, 40 of which are tracking cookies, 25 of which are third party cookies.
Fig. 1: The Cookie Crunch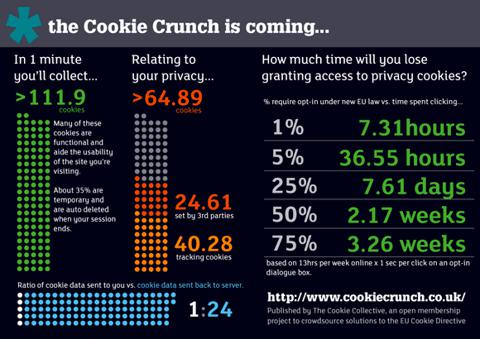 (Source: The Cookie Collective)
Enabling Do Not Track and disabling cookies simultaneously would eliminate the ability of advertisers to micro-target consumers based upon their surfing habits. According to a plea recently published the Digital Advertising Alliance [pdf] entitled "Keep Mozilla from Hijacking the Internet", Mozilla -
...wants to be "judge and jury" for business models on the Net.
What the Digital Advertising Alliance isn't saying is if the fallout will be limited to third party publishers. Premium first party content providers such as Facebook and Google are ideally positioned to take up the slack. Like Facebook's Atlas cookies, Google's first-party Doubleclick cookies will be able to pass through the filter, even while most of its smaller competitors are being screened out.
Redistributing Advertising Wealth-Upward
Online advertising is already heavily concentrated at the top, with the top 10 leading ad-selling companies accounting for 72% of total revenues in Q4 2012.
Fig. 2: % share of total revenues (Top 1-50 companies)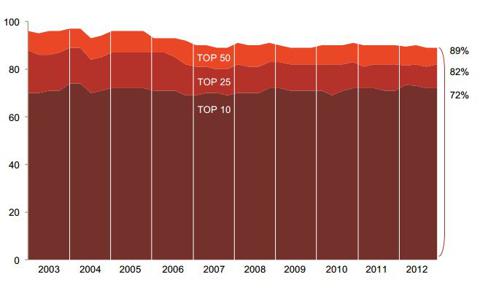 (Source: IAB)
By comparison, companies ranked 11th to 25th accounted for 10% of revenues in Q4 2012, despite 32 out of 40 quarters of positive growth in the advertising market since 2003, while companies ranked 26th-50th accounted for just 7%.
Advertising revenues in the United States have already surpassed those of cable television and will likely exceed those of broadcast television this year. 2012 full year internet advertising revenues totaled $36.57 billion, up 15% from the $31.74 billion reported in 2011.
Fig. 3: Annual Revenue 2003-2012 ($billions)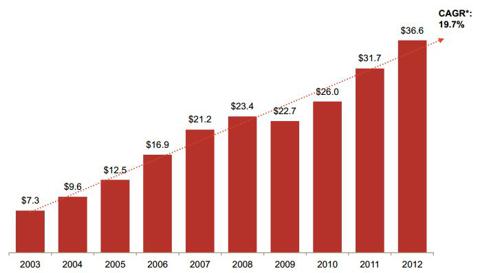 (Source: IAB)
All else being equal, those liberated ad dollars will flow to content publishers with the largest 1st party databases (of which Google and Facebook are naturally the largest), a fact that Facebook highlighted back in March when it let advertisers for cross-reference demographic first party transaction data from aggregators like Datalogix and Acxiom (NASDAQ:ACXM) with Facebook's massive user base.
The Decline and Fall of CPM
It's easy for lobbying arms like IAB to point a finger at the Silicon Valley club and accuse them of violating the sanctity of undermining "greater transparency" and denying consumers "more control" over their shopping experience. But the ugly truth is that the Cost per Thousand Impressions (CPM) model was already suffering death by a thousand cuts. The chart below illustrates the slow-motion collapse of the CPM model.
Fig 4: Pricing Models % Share FY 2012 (Total - $36.6 billion)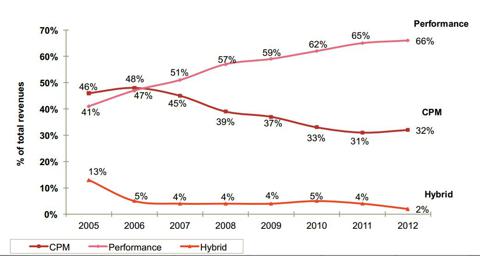 (Source: IAB)
According to E-Marketer, the decline of third party advertising on mobile was already due for premature obsolescence, declining from 31.9% to 23.9% in 2013 alone, most likely due to the limited "real estate" of touchscreens. With Pandora (NYSE:P) coming under fire from Apple's (NASDAQ:AAPL) iRadio, and Twitter signaling that it will honor both Internet Explorer and Firefox's Do Not Track signal, there are precious few other places for those mobile dollars to go other than the Google-Facebook-Apple troika.
Conclusion
Troikas are a historically popular but inherently unstable power arrangement. Eventually, two will combine to ditch the third wheel, then declare total war against each other. Companies are little different than governments in this regard, which begs the question: "Who will benefit the most from the consolidation of the internet advertising industry?"
Facebook.
As many of you reading this are no doubt aware, I've expressed numerous concerns in the past about Facebook's long-term viability, concerns which I still believe to be both valid and compelling: Statistical metrics like Daily Active Users (DAU) and Monthly Active Users (MAU) are not only misleading, but inappropriate indicators that tell you nothing about the long-term viability of a network. More important are the metrics that aren't make available to investors, such as the intensity and quality of friend-to-friend activity, the impact of "Likes," the rate at which new friends are deleted and acquired, and overall user satisfaction with the network.
That being said, many of Facebook's recent initiatives are a step in the right direction, and the advertising advantages that Facebook currently enjoys are undeniable. Case in point: While Desktop banner growth projected to decline for the first time by 2014-2015, while mobile spending is expected to spike from $7.65 billion in 2013 to $27.98 billion in 2017. Mobile advertising is on a strong upwards trajectory. Mobile spending is expected to spike from $7.65 billion in 2013 to $27.98 billion in 2017.
While Google and Pandora will account for 19.6% and 11.1% of mobile ad revenues (respectively), Facebook is projected to pocket over one in three mobile display dollars this year. Investors can expect Facebook to continue "leaning in" on mobile advertising rather than give up its incumbent advantage, and for the stock to be well rewarded by investors for doing so. However, I would caution investors from taking a "Big Future" approach to Facebook's prospects until it becomes clearer that the company is in the position to deliver one.
Disclosure: I have no positions in any stocks mentioned, and no plans to initiate any positions within the next 72 hours. I wrote this article myself, and it expresses my own opinions. I am not receiving compensation for it (other than from Seeking Alpha). I have no business relationship with any company whose stock is mentioned in this article.