With the ACA (Affordable Care Act, aka "Obamacare") start date only a little more than a month away, I thought it would be a good idea to create a portfolio of ETFs with the goal of outpacing medical inflation. While the goal of the ACA is admirable "Affordable care for everyone," the reality is that health care costs will continue to rise. The chart below from the Heritage Foundation shows the estimated significant increases in individual market premiums for each state. Say, best case the rate increases come in at the low end of the estimated range for each state, the average using the lowest estimated rate increase for each state would be 50.23%. According to YCharts, which retrieved its data from the CPI of Medical Care, the long-term average of medical inflation is 5.53%. In constructing my portfolio, the main goal I will have is to create a portfolio that has an average annualized total return of greater than 5.53%.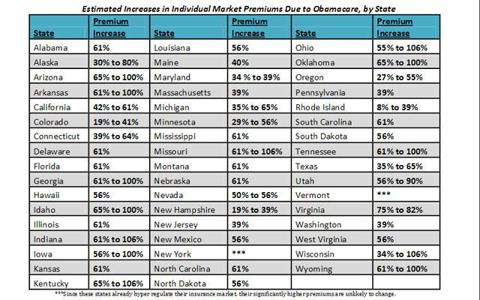 Source: "The Price of Obamacare's Broken Promises," report by the House Committee on Energy and Commerce Majority Staff, Senate Committee on Finance Minority Staff, and Senate Committee on Health, Education, Labor & Pensions Minority Staff, March 2013.
ETF Selections
ETF #1: If you can't beat them, join them.
The first ETF I chose to include in the portfolio was the iShares U.S. Healthcare providers ETF (NYSEARCA:IHF). This was an easy choice for the portfolio because insurance rates are rising, and with the ACA there will be a massive amount of uninsured consumers who now need insurance. The top 5 holdings for IHF make up 47.2% of the allocation of the ETF, therefore the ETF is highly concentrated in the top holdings, so there is some concentration risk. Using longrundata.com I found that the annualized total return of IHF since its inception in 2006 has been 8.49%, which is higher than the 5.53% rate of medical inflation, therefore IHF passed my test and I included it in the portfolio.
ETF #2: Booming Biotech
For this ETF selection I had a couple Biotech ETFs to choose from, there is the iShares Nasdaq Biotechnology ETF (NASDAQ:IBB), the SPDR Biotech ETF (NYSEARCA:XBI), and the First Trust Amex Biotechnology ETF (NYSEARCA:FBT). For my portfolio, I chose XBI because my first ETF selection of IHF had concentration risk, therefore I wanted to minimize that in this selection, which is why I chose the equal-weighted XBI. I chose a Biotechnology ETF because these companies are doing remarkable research and coming up with treatments for everything from cancer to weight loss. For example, companies like Arena Pharmaceuticals (NASDAQ:ARNA) and Vivus (NASDAQ:VVUS), who have brought weight loss pills to market, if successful could lower the cost of health care. The reason being if someone is able to control weight properly, then that could lead to them not having other health problems that are caused by obesity. According to longrundata.com I found that the annualized total return for XBI since its inception in 2006 has been 12.82%, which is higher than the 5.53% rate of medical inflation, therefore XBI passed my test and I included it in the portfolio.
ETF #3: Cash on Hand
For this ETF selection ,I wanted to have an ETF that represents "Cash" for those trips to the doctor that are minor of just a simple check-up. The ETF I chose for the portfolio to represent cash is the PIMCO Enhanced Short Maturity Strategy (NYSEARCA:MINT). The reason for wanting a cash ETF is based on a personal experience I had when I went to the doctor for an ear infection. Prior to going to the doctor I knew I had an ear infection I just needed a prescription for medication to take care of it; so my doctor looked at my ear, told me I had an ear infection, and wrote me a prescription, pretty simple. I went to pay and I asked how much it was if I paid cash for the visit and it was about $60. The lady at the desk helping me did not get that I did not want to bill insurance, and she sounded like she had never heard someone say that before. She tried multiple times to convince me to bill it to insurance and I said no and I paid cash for it. A couple weeks later I got a letter in the mail from my insurance company that said the doctor had billed the insurance company $85 for my visit. This was not a big deal, I got reimbursed but I learned two important lessons; first doctors want you to pay with insurance because if you do they can bill more to insurance companies. The second lesson I learned is that it is cheaper to pay with cash for minor trips to the doctor, that is why I chose to include MINT. According to longrundata.com I found that the annualized total return for MINT since its inception in 2009 has been 1.29%, which is lower than the 5.53% rate of medical inflation which is what I expected being a replacement for cash.
ETF # 4: ACA Cost Bait & Switch
For this ETF selection I wanted an ETF that would capitalize on the trend of rising rates because rates are near relative historical lows, and I believe increased debt brought on by the ACA will cause rates to rise. The ETF I decided to choose to capitalize on this is the ProShares Short 20+ Year Treasury ETF (NYSEARCA:TBF). In the same Heritage Foundation article listed above, they provided a link to a CBO (Congressional Budget Office) report which estimated that subsidies for the exchanges under the ACA will be $1.2 trillion over the next 10 years, which is higher than when the ACA was first passed. With this cycle being repeated once again like when Medicare was first implemented, the costs will rise to levels extremely higher than initially thought. A quote from a Senate Joint Economic Committee report in 2009 stated:
"Medicare (entire program). In 1967, the House Ways and Means Committee predicted that the new Medicare program, launched the previous year, would cost about $12 billion in 1990. Actual Medicare spending in 1990 was $110 billion-off by nearly a factor of 10."
Is there any reason with the excessive government spending to believe that things have changed and that ACA costs will be at least in the same ballpark as the estimate? I think that is a dream. That is why I chose TBF because as the national debt gets higher and higher I believe investors will demand a higher interest rate on treasury bonds because of the massive debt. Therefore, with rates still near the lowest levels in the last 30 years, owning an inverse long duration bond fund to profit from a rise in interest rates is appealing to me. According to longrundata.com I found that the annualized total return for TBF since its inception in 2009 has been -9.24%, which is significantly lower than the 5.53% rate of medical inflation, but I expected that because rates have been falling since 2009.
Final Portfolio
In the table below, I put all the annualized return data for each ETF I chose for my portfolio as well as weightings for each ETF. I chose to weight IHF and XBI higher because the underlying holdings are directly influenced by the ACA in a positive way I believe. The portfolio annualized return is 7.73%, which is more than the 5.53% long-term medical inflation which was the return I set out to outperform.
| | | | |
| --- | --- | --- | --- |
| Symbol | Weight | Annualized Return | Weight *Ann. Return |
| IHF | 40% | 8.49% | 3.40% |
| XBI | 40% | 12.82% | 5.13% |
| MINT | 10% | 1.29% | 0.13% |
| TBF | 10% | -9.24% | -0.92% |
| | | | |
| | | Portfolio Composite Ann. Return | 7.73% |
Closing Thought
I am adamantly opposed to the ACA, but unless the ACA is repealed or defunded it will be implemented, and this portfolio I believe is designed to take advantage of it. While the ACA might be good for health care providers and biotechnology companies, it is not necessarily good for consumers, therefore I believe this portfolio is a way for consumers and investors to be proactive with the coming implementation of the ACA, and it accomplished my goal of outpacing long-term medical inflation.
Disclosure: I have no positions in any stocks mentioned, and no plans to initiate any positions within the next 72 hours. I wrote this article myself, and it expresses my own opinions. I am not receiving compensation for it (other than from Seeking Alpha). I have no business relationship with any company whose stock is mentioned in this article.