On Monday Peregrine Pharmaceuticals issued a press release announcing Positive Results From the company's Phase II Bavituximab Lung Cancer Trial. A full copy of the press release is here. The PR had little, if any, influence on the stock price.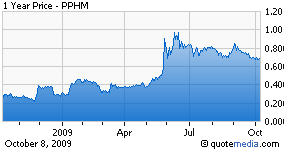 I started accumulating shares of this company earlier this year based on the potential of Peregrine's two leading clinical products - Cotara and Bavituximab - which are currently being investigated for effectiveness in Phase II trials to treat various cancer and infectious disease indications.
I'll continue to accumulate for the long term as long as the stock is trading below seventy cents.
Disclosure: Long PPHM