If you listen close to Luby's (NYSE:LUB) last quarter's conference call, you will detect a faint glimpse of a possible turnaround in progress. Things are looking up:
Culinary contract sales are up 61% .
Cost of food dropped 10 basis points to 27.3% of sales.
Its "other expenses " category fell 90 basis points to 22.6%.
Payroll costs dropped $1.2 million.
Management has a new marketing plan in effect.
On the negative side, the company's SG&A costs spiked $200,000 to 8.6% of sales, something management must quickly get under control.
Promotions on the rise: The chain is trying to jumpstart its sagging sales. It has implemented price reductions on over 100 menu items and is promoting these specials through 90 billboards and radio time. Such specials as "eat like a king-pick a meal deal", " Buy one combo, get one combo half off" or the famous "Luann" special for $5.99 are bringing hungry guests back in. LUB's CEO understands it's becoming harder and harder for customers to make ends meet, so his aim is to allow people the opportunity to eat out more often.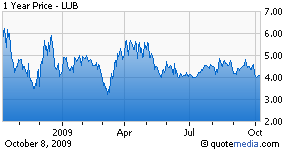 Earnings expectations: Fourth quarter earnings are due out Thursday October 15th and LUB's lone analyst (Will Hamilton of SMH Capital) has pegged revenue estimates of $86.6 million, producing a net loss of 7 cents. I expect these expectations are too low and LUB could surprise to the upside, especially since part of their sales promotions occurred in the fourth quarter. Look for sales to be nearer the $88 million mark and earnings to reach the two cent area. SMH capital recently dropped coverage of LUB, leaving the chain without any analyst following.
Major shareholder buying: Dimensional Fund Advisors's, LUB's single largest outside holder is quietly accumulating more shares and now has reached a 7.45% ownership position. The firm recently made a 31,000 share purchase.
Shares could rally: The fact that this low float stock has 566,000 shares sold short, could present the opportunity for a massive short squeeze to develop should any favorable news develops. If you add in the fact this company has a squeaky clean balance sheet (no debt), owns the real estate on most of its locations and is selling at a 40% discount to book, it is apparent that this company represents "compelling value" and a 20% rally by the close of the year is not out of the question.